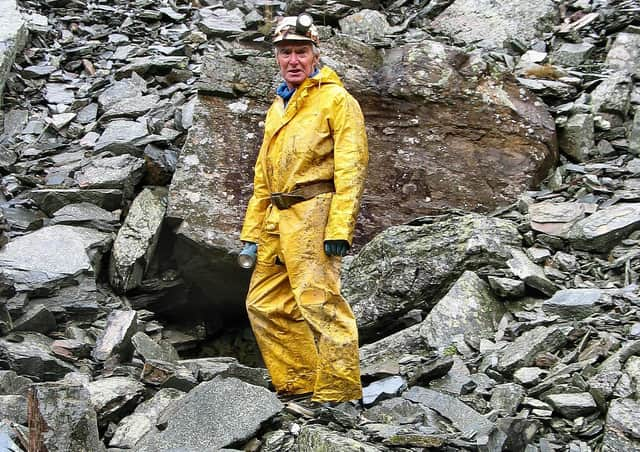 Jim Salvona
In the arcane world of Scottish cave exploration, the name of Jim Salvona stands out. He spent most of his life seeking out and investigating all manner of sub-surface phenomena, with credited first explorations in almost every corner of the country. Jim was born prematurely in 1928 at Skares Rows near Old Cumnock, Ayrshire. The doctor did not expect him to survive but he proved to be a fighter. He had two elder sisters, Margaret and Bertha, so was rather spoiled.
The Salvona family were descendants of a long-lasting dynasty of showmen who operated circuses, travelling fairs and other performance activities. Even as a child, Jim had roles to play in this regard, but his attention was drawn increasingly to the natural world and he was more likely to be found roaming the countryside of Wigtownshire than assisting with the shows.
After his father was killed at Dunkirk, Jim left school and worked as a labourer and joiner's apprentice. Although he never completed his apprenticeship, his skill at woodworking never left him; friends and colleagues possess delightful animal carvings by him. Jim also hand-built a Canadian-style canoe which saw excellent service – even underground on occasion.
In 1946 he was called up for National Service, serving as an aircraft engineer on board HMS Ocean, a light aircraft carrier in the Mediterranean.
Returning to civilian life, Jim worked briefly as a lifeguard at Portobello open-air pool. Here he met his wife Louise, an enthusiastic swimmer. Louise's brother suggested Jim consider a career in sales and this proved to be good advice. He worked in this field for most of his professional life, first in the world of shopfittings, then in agricultural supplies. His final job was as a storeman at Sighthill College of Commerce. He wed Louise in 1952 and even on their honeymoon, Jim could not resist examining a cave near Port Patrick. They had two children, Brian and Joyce, both born while living in Edinburgh, Jim's adopted town.
Jim was an "all-rounder" when it came to outdoor pursuits. As an indefatigable rambler, he acquired a wide-ranging knowledge of Highlands and Lowlands alike. He went canoeing, gliding, sailing and once even hang gliding; he would try anything. However, caves were Jim's first and fiercest passion.
He formed a close partnership with his cousin John "Jinx" Jenkinson and in the early 1950s this determined duo set out to track down and explore just about anything underground – old mines, caves, tunnels, souterrains or rock shelters. Not over-blessed for cash, they manufactured their own caving equipment. Their flexible ladder, constructed from fence wire and conduit tubing, whilst derided by more advanced potholers, did the job, allowing descents into inaccessible cliff sites and mine shafts without mishap.
An example of their tenacity was chiselling their way along a flat-out wet crawl in Jeanie Barrie's Cave in the Pentland Hills near Carlops, to reveal 30-40 metres of new passage – even if voted by others something of a "collector's item", that is, a tight-angled squirm greased with gritty mud, making progress a distasteful experience! They travelled to Skye, the Arrochar Alps and North West Sutherland, itemising and exploring caves, on one occasion contributing to Scottish cave rescue statistics when Jim slipped and fractured an ankle in Assynt's Uamh Pol Eoghainn (Cave of Ewan's Pool). It fell to Jinx to reach the nearest hamlet and organise Jim being carried back to the main road and transport.
In 1963, this dynamic duo upped sticks and emigrated with their families to Australia. It is said Jim sought out a more enlightened Liberal government, but was rather taken aback to discover the Australian version seemed further to the right than the British Tories he had escaped from! Jim settled in Adelaide, promptly joining the Cave Exploration Group of South Australia and Adelaide Bushwalkers Club, embracing sailing and canoeing trips in addition to the traditional pursuits of rambling and caving.
Sadly, Jinx died in Australia, possibly the spur that caused Jim and family to return to the Scotland he missed. They arrived back in 1970, settling once more in Edinburgh. Jim was an active member of the All Year Ramblers, frequently leading walks which once again allowed him to familiarise himself with Scotland's stunning scenery. He joined the premier caving club – the Grampian Speleological Group of Edinburgh – participating in many digs and discoveries. It dawned on fellow cave explorers that here was a man whose knowledge of underground sites was nothing short of astounding.
By the 1980s, he was firmly recognised as the authority on Scotland's underworld, reflected in two publications he wrote or co-wrote: Caves of the Southern Highlands (1988) which catalogued many limestone caves scattered diagonally across mid-Scotland, and A Guide to the Awe-Inspiring Raasay Fissures in 2009, these latter being deep, dangerous mica schist slip faults requiring vertical caving equipment to bottom successfully. One of his best achievements was the discovery of the highest limestone cave in the UK – the remote Uamh nan Uachdar (Cave of the High Ground) near Geal Charn, Inverness-shire, at 895 metres. This record is not likely to be beaten, there being no other limestone at a higher altitude in Great Britain. In all, Jim published over 80 articles and notes. In recognition of his contribution to Scottish speleology, in 2016 he was presented with a festschrift, a collection of essays in his honour entitled A Wanderer in Dens and Caves of the Earth.
Jim wrote much poetry and was renowned as a reciter of Robert Burn's work, especially Tam O'Shanter, thus always in demand for Burns Suppers.
Jim's caving and walking life lasted well over 70 years. His last recorded caving trip was to Crofthead Limestone Mine and Cleaves Cove, Ayrshire, in November 2018, aged 90. He would probably have kept his cave-hunting activity at a high level into his nineties but for an unfortunate accident in 2011. Soloing a six metre shaft (by homemade ladder) in Bilston Glen, Edinburgh, he slipped while re-ascending and suffered bruising to his back, which prevented him from sitting down. Found after an overnight search, he was instantly dubbed the club's "longest-standing member"!
He always took a keen interest in his grandchildren, Maryann, Andrew and James, and great grandchildren, Samuel, Eilidh and Finn. His marriage to Louise lasted almost 68 years and to the end they were self-sufficient in looking after themselves, their house and garden.
A staunch, quiet Scot, outdoor activity man par excellence, connoisseur of whiskies, talented wood carver and good friend, we bid farewell to an extraordinary cave explorer, possibly the oldest continuous active caver in the UK.