Obituary: Jack Dryburgh, ice hockey Hall of Famer and British ice sports administrator
John 'Jack/Jackie' McGregor Dryburgh, ice hockey player and sports administrator. Born: 14 January, 1939 in Kirkcaldy, Fife. Died: 21 August, 2020 in Milton of Balgonie, Fife, aged 81.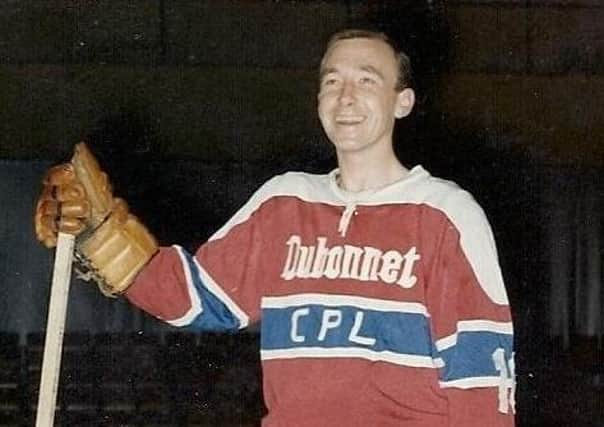 Jack Dryburgh, one of Britain's outstanding ice hockey players and ice sports administrators, has died. He was 81.
Nicknamed "The Wee McGregor", Dryburgh was an immense presence in British ice sports. As an ice hockey player he was celebrated for his speed and goal scoring ability on the ice and, post-playing, his positive impact on those he helped and influenced throughout the development of the game.
He was also an excellent all-round sportsman. As a child tennis prodigy, following victory at the Scottish Junior tennis Championship when he was 17, he was invited to play at Junior Wimbledon. Unfortunately, the family was unable to finance the trip; Dryburgh was distraught and he refused to play tennis again. He was also an excellent footballer and had interest from both Rangers and Sunderland but he turned them both down to focus on ice hockey.
Dryburgh's professional ice hockey career started with the Murrayfield Royals in 1956/57, followed by spells with Nottingham, Wembley, Southampton and Brighton. He made only one appearance for the national team, at the World Championship (Pool B), where despite remaining unbeaten, they finished runners up following a 5-5 draw with Norway.
It was at Brighton, from 1961-65, that he was at his peak, finishing top scorer with 205 goals and 262 assists in 131 games over his four seasons there. The Brighton Tigers were the most successful team of their era, winning every domestic honour. Dryburgh was awarded the Sussex Sports Personality of the Year in 1964– the runner-up was the then England cricket captain, Ted Dexter.
When the Brighton Ice Rink closed in the mid-60s, Dryburgh moved to play professionally in Europe with Liege in Belgium and then Kitzbuhel in Austria. He retired from playing in 1968.
The following year he moved into leisure management at the recently opened Aviemore Centre, but still found time to create the Aviemore Blackhawks ice hockey team and the summer league.
Solihull beckoned in 1977 and, in a short stint, he turned the failing Baron's fortunes around, but was attracted back to Aviemore the following year before finally settling in his native Kirkcaldy in 1980.
At Kirkcaldy he was charged with turning the fortunes of the then faltering Fife Flyers around. His impact was immense and his master stroke was importing the famous 'Plumb Line' executed by Ronnie Plumb, Danny Brown and Dave Stoyanovich from Canada.
Hockey at Kirkcaldy was sold out every week and the Flyers grew from strength to strength, culminating in their British Championship victory at Wembley in 1985.
After leaving Kirkcaldy in 1990, Dryburgh went on to share his knowledge more broadly at Livingston, Elgin, Dumfries and finally Dundee. He also served as chair of the British Ice Hockey Association.
Dryburgh's impact however went much further than his beloved ice hockey. As a sports administrator and events organiser he was responsible for establishing the Aviemore Summer Skating festival which ran successfully throughout the 1970s and into the 1980s. It was Britain's foremost ice-skating festival at the time and attended by the best nation's best skaters, including the 1980 Olympic Champion, Robin Cousins.
He also organised national and international curling events, including one World Junior Curling Championship in 1976, two European Championships (1978 and 1982) and four Scottish Men's championships, as well as the 1978 World short-track speed skating Championship.
He was renowned for his anecdotes and insight and was widely respected. A man of high-energy he was also known to hold court in night-long sessions at the ice rink where he was always happy to share his knowledge and experiences. Accolades and tributes poured in on social media from across the country's ice sports communities following the news of his passing.
Dryburgh was an icon of British ice sports; one of the foremost personalities in the history of British Ice Hockey. In acknowledgement of his impact and contribution he was inducted into the Ice Hockey Hall of Fame in 1991.
He is survived by his four children from his marriage to Jacquie Dryburgh (deceased); Carolyn Caddick, Stewart, Douglas and James Dryburgh and his long-term partner, Joy Walker.
Comments
 0 comments
Want to join the conversation? Please or to comment on this article.