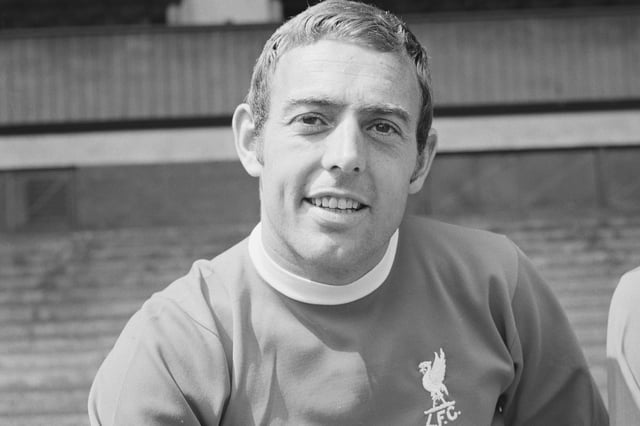 Ian St John was idolised by Liverpool fans for his goalscoring exploits
Ian St John was one of the best known names throughout the world of football, firstly as an outstanding centre forward for Motherwell Liverpool and Scotland and thereafter as a highly successful broadcaster, particularly celebrated for his collaboration with Jimmy Greaves in the hugely popular TV show Saint and Greavesie.
His consequent media high profile tended to overshadow just how good a career he enjoyed on the pitch: 21 caps for Scotland, a key member of the wonderful Motherwell team 'The Ancell Babes" and an iconic player for Bill Shankly's Liverpool team of the 1960s that won two top tier League titles, an FA Cup and created the culture of ambition at Anfield.
A goalmouth predator with non-stop energy, he never gave defenders any peace and although at 5ft 8in not the biggest, was more than capable of looking after himself, an admittedly quick temper causing occasional problems. Off the pitch he was articulate and very personable with a good sense of humour, qualities which along with forthrightly expressed opinions and on-screen chemistry with Greaves contributed to broadcasting success.
Ian St John was born and brought up in Motherwell, one of six children of Alex and Helen. Like many local men his father worked in the town's steel industry but sadly died aged 36 when St John was only six, a devastating blow. His upbringing in a basic two-roomed tenement flat with outside toilet was tough and from an early age he had part time jobs to eke out family income, despite which he usually had holes in his shoes. He showed early promise at various sports including boxing, cricket and running with the local YMCA Harriers before concentrating on football, playing for local teams including North Motherwell United, where he came under the beneficial guidance of mentor Pat McCourt, leading to his first representative honour aged 16, for Scottish Association of Boys' Clubs.
Next he signed provisionally for Motherwell who 'farmed' him out to Junior team Douglas Water Thistle where he played for several months before being called up by the Fir Park side. After some reserve games he made his senior debut against Queen of the South in August 1957 and by 1961 would make 140 appearances and score 104 goals. An outstanding talent, by May 1959, aged 20, he made his Scotland debut against West Germany in front of 103,000 at Hampden Park and in addition to his 21 full caps would earn two under-23 and four League caps.
Although that Motherwell team assembled under manager Bobby Ancell, known as 'The Ancell Babes' for his belief in giving youth its chance, never won a trophy it played some spellbinding football while achieving several outstanding results. In his autobiography St.John described playing for them as "in some ways the best football I'd ever known….including my time at Liverpool".
He was part of a young forward line slight of stature but full of skill that he described as "five little wizard boys all in a row" and credited Billy Hunter particularly for his "brilliant wing play". They defeated top foreign teams in floodlit friendlies including Brazilians Flamengo 9-2, with St John bagging six goals, while Leeds United fell 7-0. On another occasion he netted five against Airdrie with hat tricks a regular occurrence, including his record of one in two-and-a-half minutes against Hibs. Ex-teammate John Martis commented "he had the heart of a lion" while another, Bobby Roberts, remarked he was "awesome".
Unsurprisingly English clubs began showing interest and Bill Shankly signed him for Liverpool in May 1961, having originally watched him two years earlier playing at Falkirk in a Scottish trial match. To secure him he paid £37,500, more than double Liverpool's highest transfer fee – "my first great buy". St John immediately endeared himself to the fans by scoring a hat trick in his debut against Everton and thereafter cementing his place in folklore by winning two League titles and their first FA Cup, in 1965, adding to his lustre by scoring the winning goal, an expertly taken header. These were heady times on Merseyside with the success of the Beatles and others coinciding with Liverpool's on the pitch, both fusing to create unforgettable atmosphere on the Kop where St John was idolised.
Disappointment did occur when the team narrowly lost the European Cup Winner's Cup Final in 1966 at Hampden to Borussia Dortmund. But later St John suffered particular disappointment when in autumn 1969 Shankly dropped him from the side without telling him, leaving him to learn through a journalist. That caused a rift that never fully healed and signalled the beginning of the end at Anfield, which he left in 1971.
Thereafter he had spells with Coventry City, in South Africa and Tranmere Rovers followed by managerial posts at Motherwell and Portsmouth, the latter bedevilled by financial problems. He began doing media work leading to appearances in the On the Ball programme and then the highly successful Saint and Greavsie show between 1985 and 1992, when Sky's virtual takeover of football coverage spelled the end of the programme.
He continued in the public eye as a football pundit on television and radio, occasional journalism and after dinner speaking while for some years he ran successful summer football camps.
In 1958 he and Betsy were married having met at a dance in Bellshill and enjoyed over 60 years of marriage during which they had Elaine and Ian. He is survived by them and several grandchildren.