Obituary: Ian MacDougall, Scottish historian with a special interest in the Labour movement
Ian MacDougall, historian. Born: 14 December 1933 in Edinburgh. Died: 11 April 2020, aged 86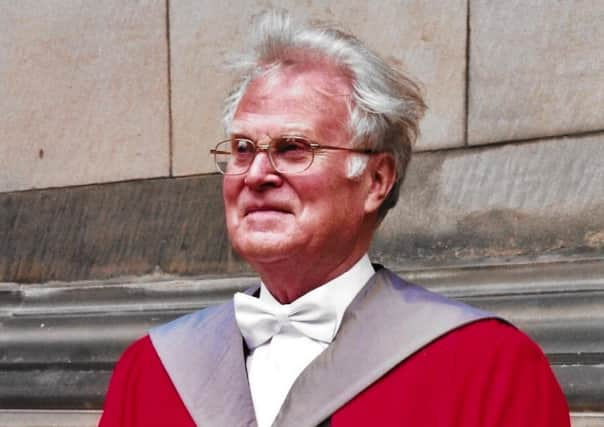 Ian MacDougall, who has died as a result of coronavirus, was one of the finest and most productive Scottish historians of his generation. His commitment to the history of the Labour movement and of working people was a lifelong one and his most recent book on the experiences of ordinary women caught women caught up in the Second world War came out only last year.
This commitment dated to soon after he graduated from Edinburgh University in 1960, when he played a key role in compiling a groundbreaking bibliography of Scottish Labour records and sources. This was the basis for a much fuller catalogue which he finally brought out in 1978. Much of this material might have been lost or destroyed without his efforts and those of others who worked with him in the Scottish Labour History Society.
Ian was a driving force in this body's formation in 1966 and three years later it launched a journal edited by Professor Hamish Fraser, as he later became. It still comes out and over the years has achieved wide academic recognition.
The importance of oral history was something that Ian was quick to see and he was indefatigible in his pursuit of taped interviews with men and women who had vivid stories to tell about their working lives, as well as events like the inter-war hunger marches, the 1926 General Strike and the civil war in Spain.
For this obituarist, his 1984 book Voices from the Spanish Civil War still seems an outstanding work. It gives a voice from beyond the grave to a brave generation of Scottish anti-fascists who risked everything in support of a brave cause.
As with so much of his work, it owed much to the tireless help and support of his wife Sandra, something Ian never failed to acknowledge and to be grateful for.
There was no cessation to Ian's output, not least with the creation in 1992 of the Scottish Working People's History Trust. This was a charity to fund the publication of books drawn from people's recollections of their working lives. A whole sequence of fine books followed, nearly all of them compiled and edited by Ian. Amidst this Stakhanovite work rate Ian also made time to complete a long-cherished project on the thousands of French prisoners of war held in Scotland between 1803 and 1814. The product of 20 years of research, his book runs to more than 900 pages and is a monumental piece of scholarship, as well as moving testimony to these men's long captivity. Its title is All Men Are Brethren.
Ian MacDougall was born in Edinburgh in 1933. His mother was Mary Laurenson, a laundry worker, and his father George was in the Merchant Navy, having qualified in marine engineering. He was twice decorated for bravery at sea during the Second World War. With two older brothers, Ian grew up in the Stenhouse and Chesser areas of Edinburgh but two years of his primary schooling took place in the village of Lilliesleaf near Melrose, where he was a wartime evacuee with the younger of his brothers.
This was a happy time which he never forgot and Ian kept in touch with the farmworker and his wife with whom they had stayed. In 1993, as a birthday present for Ian, Sandra renamed their house after the village and Ian kept a promise to himself and others to write a book about Lilliesleaf. His study of life and work there in the 20th century came out in 2015.
Once back in Edinburgh, Ianwent on to secondary schooling but left as soon as he could to join the Daily Record, where he became one of its junior reporters.
At the age of 18 he was called up for National Service, initially in what was then the Royal Army Service Corps, followed by a posting to the Nato headquarters near Versailles. His time there and his friendship with a local family implanted in him an enduring love of France which Sandra shared and they spent many happy holidays there, though with Ian on the lookout for useful oral sources.
After the army he decided to study for university entrance and began a History degree at Edinburgh University in 1956. Ian graduated with Honours in 1960, having been much influenced by William Marwick, a pioneering teacher of Labour and working class history, and also by the internationally eminent Marxist, Victor Kiernan.
A period of school and further teaching followed until 1966, when Ian was given a research fellowship at Strathclyde University.
In 1969 he returned to adult education and in 1971 he was appointed as a tutor at Newbattle Abbey College, where he remained until 1984, leaving a year or so before the lamentable decision of a Tory Secretary of Scotland to close it down. From then until his retirement in 1996 Ian worked as public relations officer for Midlothian County Council.
He brought to that rather different role all the energy and enthusiasm that had earned him so much admiration from his students.
While there in 1989 he organised one of the biggest commemorations of the French Revolution's bicentenary to be held anywhere outside France itself. Out of this was born the Midlothian World History Society. Needless to say, Ian became its secretary until 2006 and he threw himself into the work of getting speakers and organising its numerous meetings in and around Dalkeith.
Sandra Campbell, as she was when they met as students, was at Ian's side and supportive of all his work.
They married in 1966 and had two children, Alan and Fiona. Sandra taught Classics for a time and then joined what was then Lothian regional Council as an education welfare officer. It was always clear that, amidst all his many commitments, the children and Sandra meant everything to him, as did Alan's partner Tracy and their children Liam and Ceitidh.
Ian MacDougall was a man of transparent decency. In a full life he gave much and asked for little in return, even appearing surprised when two honorary degrees belatedly came his way. He was unfailingly generous about the work and writing of others and had a talent for winning people over to projects he believed in by his bonhomie and self-effacing good humour.
As well as being truly a man of the people he was also, in the words of the song, "A man you don't meet every day".
Comments
 0 comments
Want to join the conversation? Please or to comment on this article.