Obituary: Ian Donnachie, Scots academic who helped New Lanark win World Heritage status
Ian Donnachie, Emeritus Professor of History in the Open University. Born: 18 June 1944 in Lanark. Died: 14 June 2020, aged 75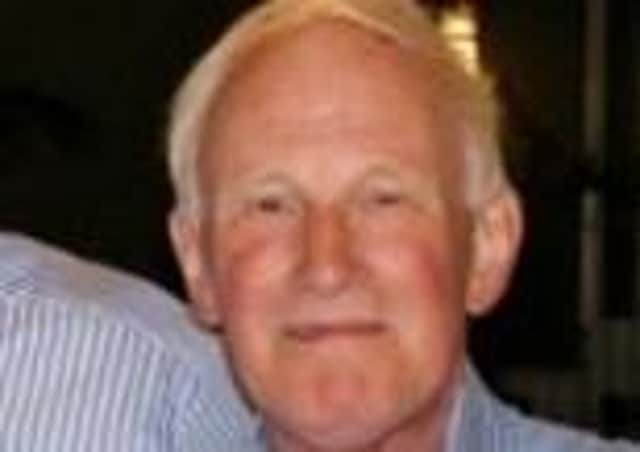 Professor Ian Donnachie
The death of Ian Donnachie, Emeritus Professor of History in the Open University, has taken from us an exceptionally fine scholar and teacher, a prolific author and a man of transparent decency and generosity of spirit.
He was born in Lanark and brought up there by his mother, Christina, a childrens' nurse.
He was educated in the town and in 1962 went on from Lanark Grammar School to Glasgow University.
Four years later he took an Honours degree there in Economic History.
After a brief period in teacher training he worked in Edinburgh as a lecturer in further education before joining the newly founded Open University in 1970 as one of its Staff Tutors in Arts.
From the start this work was relentlessly demanding. He had a key role in appointing its part-time tutors from all over Scotland and, decades before the internet, he had to coordinate, support and monitor their work.
Constant travel to local study centres was involved, as well as preparing teaching material and ensuring its distribution.
Ian had an easy rapport with students, knowing very well the pressures involved in part-time study as he was completing his own Ph.D at this time.
It was duly awarded to him by Strathclyde University in 1976. For those of us whom he took on as tutors as tutors in these early years he was a superb mentor and colleague, and a convivial one as well.
Quite a lot of business back then seemed to be done in a couple of pubs in William Street, close to the Open University's Scottish office in Edinburgh and big decisions had to be made in them, like who was getting the next round. Ian was never found wanting where this was concerned, though with colleagues like Angus Calder and Henry Cowper there could be some quite big rounds.
Ian loved company and had an endless capacity for friendship with colleagues, students and all who worked for the university.
Nowhere was this more apparent than at its legendary summer schools. Many who studied for their degrees in the early years will recall him as a bustling course director, a kenspeckle, benign figure with flowing hair, knee-length jacket, psychedelic tie and flared trousers and always ready to help a student or a colleague with a problem. He was always a cheerful in the late night revelry that was part of these events.
His commitment to the Open University's ethos of open access learning for all was absolute and the work he did for it was prodigious.
He wrote high quality material for a wide range of courses, from Foundation Year Arts to third level courses on world war and social change to inter-disciplinary modules like From Enlightenment to Romanticism, 1770-1830.
In 1982, and again in 1985, he went to Australia to to study distance learning systems and taught at the universities of Deakin and Sydney, where he worked as a Visiting Fellow.
He also designed with Professor Chris Whatley – as he later became – a Scottish History jointly taught by the Open University and Dundee University. Launched in 1998 this was a groundbreaking success and a major contribution to the upsurge in Scottish history that coincided with the successful movement to restore the national parliament and set up a devolved government in Edinburgh.
Amidst all this, Ian's academic output never ceased and there is not the space in this obituary to do full justice to all the articles and books he gave us. These ranged over industrial archaeology, brewing, textile production, crime and the varying patterns of population movement in Scotland. In 1989 he drew much of his work together when he co-wrote, with Dr George Hewitt, an alphabetically arranged Companion to Scottish History from the Reformation to the Present.
In 2003 they updated this with their Dictionary of Scottish History and both books remain indispensable and readable works of reference. Prior to that they co-wrote Historic New Lanark, which was re-published in 2015. Ian had worked tirelessly and for many years with the Friends of New Lanark, a campaigning group whose goal was to save and restore the historic site near the Falls of the Clyde.
There Robert Owen had put into practice his belief in humane and enlightened working conditions which he saw as a template for a new and morally better society.
Ian's work and the book he had co-written with Dr Hewitt became integral to the case successfully presented to Unesco for New Lanark's recognition as a World Heritage Site.
This status was finally awarded to it in 2001. For Ian this was the culmination of his major part in a long and collective endeavour. His brilliantly researched and written, indeed, definitive, study of Owen had come out the previous year and in 2005 it was re-published under the title Robert Owen: Social Visionary. He never lost his passion for the subject and from 2008 until 2016 he chaired the Friends of New Lanark.
Retirement made little difference to his activity but prior to it he was made a Fellow of the Royal Historical Society and in 2003 the Open University finally gave him a chair in History, which they later converted to an Emeritus Professorship.
The University of Wisconsin also appointed him Visiting Professor at its Scottish campus near Dalkeith. He threw himself into his teaching there with typical enthusiasm and on the day of his funeral, 26 June, the Saltire on the campus was flown at half-mast in his honour.
These awards were the very least that he deserved, though Ian Donnachie wore his learning lightly and was self-effacing about his achievements. Academic titles and preferment never mattered a lot to him. He valued people not for their titles but simply for themselves.
For him, as with Burns, "the rank was but the guinea's stamp". His guiding star was history, its retrieval and re-interpretation and the teaching of it in vivid and accessible ways.
Without it, he rightly thought, humankind would be condemned to inhabit a permanent and increasingly mindless present in which people and communities were denied any sense of the forces that had made them what they were.
He will be hugely missed, not least by his partner of many years, Dr Claire Cartmel, a widely experienced literature teacher and a much respected Open University tutor, as well as a noted breeder of Scottish deer hounds at their home in Fife.
Their relationship meant every thing to Ian and he was close to her daughter from a previous marriage, Elise, and to her partner Rob. He also maintained a warm and supportive relationship with Paul, the son of his former wife, the late Maureen Gaughan, but he enriched the lives of all of us who knew him.
Much more will be said and written about Ian and when safer times return a public celebration of his life will be held for the many people who will want to be there
Want to join the conversation? Please or to comment on this article.