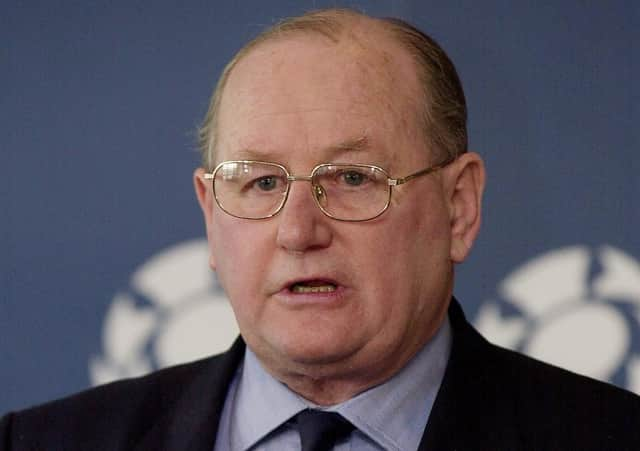 Iain Laughland will be remembered as one of the giants of Scottish rugby in the second half of the 20th century, serving the SRU as a 31-times-capped internationalist, then as an administrator, with London Scottish, the Anglo-Scots and as a member of the SRU committee from 1986, and President in 2000-01.
He was born in Bombay, as it then was, the son of a banker, being sent back to Scotland, to prep school in Pitlochry, prior to going on to Merchiston Castle School.
Here he played in the XV and the cricket XI, captaining Scotland's schoolboy cricket team in 1953.
He did his National Service as a lieutenant with the Seaforth Highlanders, where, while stationed at Fort George, he played football for Nairn County in the Highland League, before service overseas, in Aden, Gibraltar, and as part of the British Force in Egypt, during the Suez Canal Crisis. It wasn't all soldiering, however; he found time, in Egypt, to represent the Army at cricket.
On returning to civilian life, he opted to bypass university and go straight into business, with National Cash Register, then Union Discount Company, before spending the bulk of his working life with Benn Brothers, a trade magazine publishing house.
He also joined London Scottish, going on to give the club many years of service as a player and administrator. His decision to join Scottish was, he would joke, because: "I saw former schools rugby rivals such as Kenny Scotland and Gordon Waddell getting capped out of Scottish, so thought, if they can do it, why not me?"
A good first half in the final Scotland trial, in December, 1958, got Laughland promoted to the Scotland side for the second half, and, when the selectors met to choose the side to open the 1959 Five Nations, in Paris, he was given his first cap, playing in the centre, alongside Tom McClung. Scotland lost 0-9 and Laughland was dropped, not re-appearing until the return match, at Murrayfield, in January, 1960. He held his place throughout that season, but tasted victory only once, a 6-5 win over Ireland in Dublin.
From then until 1966, Laughland was a Scotland regular, most – 28 of his 31 caps – being won at centre, with the other three at stand-off.
In 1966, following a disappointing loss in a Cardiff mud heap, he was appointed captain for the visit to Lansdowne Road, leading the Scots to an 11-3 win, before leading the side to a 6-3 win over England in the Calcutta Cup game – the final international of the season.
He told the Scotland selectors not to select him again, deciding that captaining a winning Calcutta Cup side was the perfect point at which to retire from international rugby. However, he was enticed back the following season, but dropped out of Scotland contention after a poor display in the first trial of the 1966-67 season. However, he was recalled, at stand-off, for one final international, the Calcutta Cup game at Twickenham in 1967, a match Scotland lost 14-27.
Laughland continued to play for London Scottish, where he was a key man in their great sevens squads, who were regular winners at the Middlesex Sevens, at Twickenham. That Scottish squad is often credited with changing the face of sevens, slowing the game down and waiting for the gaps to appear. However, Laughland himself credited Kenny Scotland with devising those tactics. The Scottish seven won six Middlesex events in a row, between 1960 and 1965, and also won at Melrose in 1962 and 1965.
Then, while serving on the Scottish committee, he became an influential figure on the Anglo-Scots committee, ranging the length and breadth of England to unearth Scottish-qualified players such as Ian McGeechan at Roundhay, Andy Reed at Bath and David Sole at St Luke's College, Exeter, all of whom would go on to captain Scotland.
There is also the story of how, turning up when the London Scottish pre-season trial had already started, he pointed to a player playing for the potential 3rd XV and asked what he was dong there.
On having his question challenged by one of the coaches, Laughland pointed out, the man in question – Alistair McHarg, newly arrived from Irvine – was a current member of the Scotland international team, who hadn't thought to make too-much of his pedigree on his first day at the club.
He was known for playing with a smile on his face, and enjoying rugby's vibrant social scene, but, on the park he was a formidable competitor. He was mentioned as a possible British and Irish Lion in South Africa in 1962, where Arthur Smith was the Tour Captain, but, rather than touring, he married Ann in May of that year and did not tour. He was, naturally, a Barbarian.
Away from rugby, he was a formidable golfer, at his best playing off three, at Rye Golf Club in East Sussex, while he continued to have a life-long interest in cricket. He also enjoyed the opportunities for foreign travel which arose through his work with Benn Brothers, where he rose through the ranks from humble sales rep to a seat on the Board of Directors.
Iain Laughland is survived by Ann, children Andrew and Rosie, and six grandchildren.