Obituary: Hugh Peskett, genealogist who proved Ronald Reagan's Paisley ancestry
Hugh Peskett, genealogist. Born: 26 April, 1932, in Ilford, Essex. Died: 24 February, 2020, in Winchester, aged 87.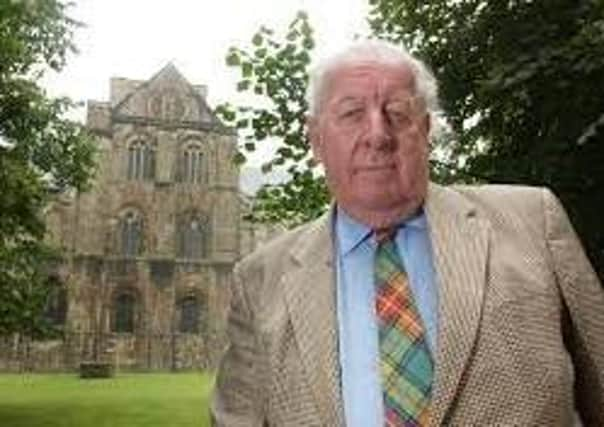 Hugh Peskett merited his title as "a gigantic figure in the genealogical world". For over half-a-century, he bestrode family history, his list of clients reading like a global Who's Who.
He proved chiefships and peerages, and managed not only to locate Ronald Reagan's paternal ancestry in a tiny Irish village, but also demonstrated that the president enjoyed Scots blood from Paisley.
Mildly interested in genealogy in boyhood, Hugh's step into serious family research was prompted when his Buchanan grandmother, herself directly descended from a Buchanan of Leny, urged him to find the rightful chief of Buchanan, the chiefly line having died out by 1682.
The task took the better part of 60 years, with ultimate recognition of his efforts given in 2018 when Dr Joseph Morrow, Lord Lyon, accepted the claim of Michael Buchanan of Arnprior and that Ilk to be chief of Buchanan. It was no coincidence that Hugh was rarely seen without a Buchanan tartan tie.
Hugh Millar Peskett was born in Ilford, Essex and educated in Norfolk and at agricultural college in Devon. He would quietly boast of his Scottish forebears, in that he was "only one eighth English, and even that eighth is Cornish".
Told by a careers adviser that his stammer made him "unemployable", he successfully sought help from Lionel Logue, speech therapist to King George VI. In later life his impediment would surface when he became excited – a matter almost always concerning a genealogical discovery.
Young Hugh went into sheep farming on Dartmoor, walking up to a dozen miles daily, until an accident with sheep-dip caused a debilitating illness preventing any contact with sheep again. He decided on a career in genealogy, and given that his paternal line emanated from a Cornish family who moved to Winchester in the 15th century, he settled in what had been the ancient capital of England.
It was there that a Pescod (Peskett) ancestor had his coat-of-arms recorded in a heraldic visitation to Hampshire in 1575.
His father's mother, descended from the MacVurichs, hereditary genealogists to the Lords of the Isles, came from Mull, while his mother stemmed from a ship's captain on the Clyde and his Argyllshire wife. Hugh would recall that both grandmothers were deeply interested in genealogy, adding: "They made me what I am."
Through his early Buchanan work, his initial expertise lay in Scottish records. He was the agent behind tracing the true claimant to the Earldom of Annandale and Hartfell (Patrick Johnstone, in 1986), and Harry Borthwick, recognised by the Lord Lyon as 23rd Lord Borthwick that same year.
And in that year he began examining more than a dozen generations of the MacArthur family tree, indicating James MacArthur in Edinburgh as heir-apparent, a chiefship again recognised by the then Lord Lyon.
Hugh's researches went back to 1770, showing that James was the heir male of John MacArthur of Drissaig, third son of Charles MacArthur of Tirivadich. Through Peskett, MacArthur's claim demonstrated that all the more senior lines had died out, leaving James MacArthur of Milton as lawful heir.
Hugh's knowledge of ancient or dormant chiefships and feudal titles made him one of the preferred genealogists recommended by the Clan Hay Society over the last two decades, and his profound knowledge of Scottish feudal baronies saw him appointed an honorary member of the Convention of the Baronage of Scotland.
At the time of his death, his work on the disputed Earldom of Breadalbane took him to Hungary – where the claimant is the 74-year-old Magyar and one-time transport contractor Huba Campbell.
Ronald Reagan, at that time US president, was his highest profile client. In 1984 Hugh not only traced the president's paternal great-grandfather to Ballyporeen in County Tipperaray in 1840, he also established presidential Scottish roots through a Wilson marriage of 1807 in Paisley.
A major contributor to many genealogical reference books, he was a long-time editor of Burke's Peerage, leaving a particularly valuable legacy to researchers of the future in his volume of Burke's entitled The Kingdom in Scotland.
Snobbery was the antithesis of Hugh's character – though in the case of a disputed Highland chiefship, he faced pretentiousness as well as research problems. The claimant's father had been a railway platelayer, and the paramount chief made it plain how unwelcome recognition of this particular chiefship would be.
Hugh's comprehensive knowledge of Latin (matched by expertise in French, German, Gaelic and Channel Island dialect) proved his pleasant undoing one day. Relaxing over a drink after Annandale research in the nearby Public Records Office, he wrote a cheque to his usual barman as an advance for cash. "What's this, guv?" came the response. Hugh, in the midst of reciting to a colleague a major discovery in the 15th-century archive, had written the cheque in Latin.
The scholarly and quietly spoken Hugh Peskett is survived by his wife Pamela, a long-serving Liberal Democrat councillor and one-time mayor of Winchester, and his son Christopher – the 15th of the name in the family, and in direct descent of Christopher Pescod, whose will was probated in 1510.
Comments
 0 comments
Want to join the conversation? Please or to comment on this article.