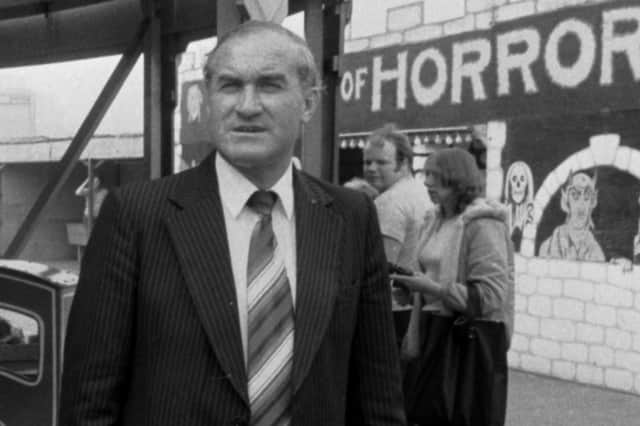 When in 1994 the child killer Robert Black was convicted, at Newcastle Assizes, of the abduction and murder of three young girls, it brought a fitting close to the police service of Hector Clark, one of the most gifted detectives of his generation. For more than a decade he had tirelessly led a nationwide investigation to track down the killer, and in an outstanding display of tenacity and leadership he had finally delivered justice.
Along the way he had been the first officer to be appointed to the role of Officer in overall command of a joint,multi-force, inquiry and had pioneered the use of computers in criminal investigation.
At its peak, the search for Robert Black involved five police forces in Scotland and the North of England. Given the political sensitivities of policing it was an exacting role but Hector was ideally suited.
A hugely experienced detective, he was respected on both sides of the Border. He possessed an easy charm that was irresistible – with a mixture of gentle cajoling, logic and sheer force of will he secured the full support and finance from the partner forces. A firm believer in meeting people, he constantly shuttled between partner forces, only resorting to phone calls and letters when he had to. Others have filled the role of Officer in overall command of linked enquiries but none have managed five partner forces over such a long period. Few have equalled his performance in that role and none have surpassed it.
It was a challenge for which he was perfectly fitted. Born in April 1934 in Felton, Northumberland, Hector Goodfellow Clark was a talented footballer of professional standard but in his heart he was always a policeman.
Following National Service in The RAF he joined Northumberland County Constabulary in 1955. He soon found his niche in The CID and quickly rose through the detective ranks to become head of CID in Northumbria.
By the time he was appointed Assistant Chief Constable in Northumbria he had investigated or supervised the investigation of more than 70 murders and gained the reputation of a first class detective and senior investigating officer.
In the time before the Family Liaison role had been developed, Hector was always mindful of the victims of dreadful crimes. During all the investigations he led he regularly visited the families of victims to update them on developments. When, in 1983, it was decided to appoint an Officer in overall command to coordinate the sprawling linked investigation into the abduction and murder of three young girls, in Scotland and England, he was the natural choice. Even so, it was a challenge.
With no experience in Scots law and very different investigative techniques on either side of the Border, a lesser man would have faltered. As it was, Hector quickly won the confidence of partner forces, leading the huge investigation forward in a team effort.
During his work in Edinburgh he quickly won the respect of Lothian and Borders Chief Constable Sir William Sutherland, so it was no surprise that when the post of Deputy Chief Constable fell vacant, Hector was appointed.
For the next ten years the pair steered the force through a comprehensive programme of modernisation.
The use of computers, the civilianisation of non-Police posts and the improvement of media relations were among the radical reforms. They also invested in youth – promising young officers were given responsibility and, if successful, moved quickly through the ranks.
The legacy of this enlightened approach can still be seen in the current command team of Police Scotland.
As well as leading many of these reforms, Hector continued to run the joint investigation. Always able to delegate, he chose his senior detectives wisely and never lost his grip of his huge range of responsibilities.
But behind this driven and most professional of men lay a family life that supported him. His wife Anne, a nurse by training, was warm and gregarious and every bit as bright as Hector – they made a formidable team. With their son Andrew they were an engaging and popular family.
In retirement Hector was struck by tragedy when his beloved Anne died. It was a devastating blow but he gradually recovered enough to move to the Borders to be closer to his son, also a senior police officer, and his family.
In his final years he suffered ill health but still enjoyed watching football, and the company of his grandchildren.
If the history of the turning points in criminal investigation is ever written, Hector Clark will merit his place as an outstanding leader who had the vision to champion the use of computers in criminal investigation and who first filled the role of Officer in overall command with such aplomb.
In the final weeks of his life Hector would have been proud to know that his youngest granddaughter had joined the Northumbria Police Cadets.
The wheel has come full circle.
If you would like to submit an obituary, or have a suggestion for a subject, contact [email protected]
A message from the Editor
Thank you for reading this article. We're more reliant on your support than ever as the shift in consumer habits brought about by coronavirus impacts our advertisers.
If you haven't already, please consider supporting our trusted, fact-checked journalism by taking out a digital subscription.