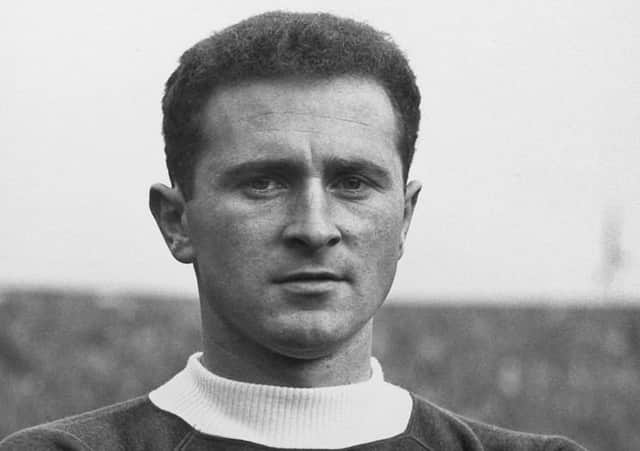 Football history is littered with instances of ­players remembered for one ­particular game or act: ­"Jimmy Cowan's Wembley," "Gordon Banks' save from Pele," "Jim Montgomery's FA Cup Final save," to name but three.
Harry Gregg, who has died in his 88th year is another great goalkeeper remembered for a string of saves – the lives he prolonged by his valour on the snowy runway of Munich ­airport, on 6 February, 1958.
Gregg, the team's goalkeeper, was knocked out when the ­airliner bringing the team home from a European Cup tie in Belgrade crashed on take-off.
He came round, then ­selflessly returned to the ­burning wreckage to bring out team mates Bobby ­Charlton, ­Dennis Violet and Jackie Blanchflower, plus team manager Matt Busby, before ­saving a Yugoslav diplomat's wife, Vera Lukić, who was carrying unborn son Zoran, and toddler Vesna Lukić.
George Medals have been awarded for less, but Gregg accepted the praise and ­simply got on with doing what he was best at – at the time he was ­recognised as the best goalkeeper in the world. However, his heroics on that wintry morning defined him for the remaining 62 years of his life.
His potential was spotted early. In Northern Ireland, he combined his joinery apprenticeship with playing for Windsor Swifts, a youth team attached to Linfield, before going senior with Coleraine, where his form won him, while still a teenager, a ­transfer to English football, with Doncaster Rovers.
In the spring of 1954, he won the first of an eventual 25 caps for Northern Ireland when chosen for the Home International against Wales. ­However, it was another Home International which would change his life.
Northern Ireland had never beaten England at Wembley, but, on 6 November, 1957 they triumphed 3-2. Jimmy McIlroy, Sammy McCrory and Rangers' Billy Simpson might have scored the Irish goals, but it was Gregg's defiance at the back which set up the win, as he pulled off a string of exceptional saves.
Busby was in the crowd of 40,000. He was convinced his first-choice goalkeeper, internationalist Ray Wood, was still suffering from the ­buffeting he had taken in the FA Cup final in May. Busby reckoned his ­confidence had gone and he was looking for a new ­goalkeeper. The way Gregg handled that big ­occasion ­convinced him that this was the man he needed, and he paid a then-world record fee for a goalkeeper, £23,000.
Gregg thrived at Old ­Trafford, playing behind the legendary Busby Babes. ­However, his bravery in those days, when goalkeepers were fair game for tough ­forwards, would ­frequently see him injured and in nine years with the club he only played 247 games, ­keeping 48 clean sheets.
He never won a winner's medal with the club. He was on the losing side in the 1958 cup final, when he was fouled by Nat Lofthouse for the winning goal, and injury denied him a possible two League Championship and one FA Cup winner's medals, when injury sidelined him and, in the case of the league campaigns, he did not play enough matches to qualify for the medal.
His courage in emerging from the wreckage of the airliner to play again almost immediately was, however, rewarded in the summer of 1958. He went to the World Cup finals in Sweden with ­Northern Ireland, the first time they had qualified.
He ­performed heroics in the group games, but was injured and missed the ­play-off against the Czechs to settle which country advanced to the quarter finals. Replacement Norman Uprichard was also injured and a ­hobbling Gregg, his ankle heavily strapped up, had to play in that last eight match against world champions West ­Germany. The ­Germans won,but Gregg's heroics cemented his place in the Team of the Tournament, and the status of Top Goalkeeper. He was now recognised as not only the world's most-expensive 'keeper, he was also the best.
In December 1966, he left United for Stoke City, before hanging up his gloves at the end of that season. He then went into management, leading Shrewsbury Town from 1968 to 1972, then spent three years in charge at Swansea City, before moving on to Crewe Alexandra.
He returned to Manchester United as goalkeeper coach under Dave Sexton in 1978, before becoming assistant to Lou Macari at Swindon Town. He and Macari fell out, and Gregg moved on to assist Bob Stokoe at Carlisle United, where he took over as manager, his final job in football.
His Munich heroics were never forgotten, however, and he was always front and centre when the various anniversaries came along.
He was made MBE in 1995, upgraded to OBE in 2012, while the University of Ulster ­conferred an honorary degree in 2008.
He had by then retired to Northern Ireland, living near Coleraine. However, his ­personal life was touched by tragedy.
His first wife, Mavis, died in 1961 from cancer. He then remarried, to Carolyn, in 1965 – she survives him, along with their four children, Julie, Jane, Suzanne and John-Henry, and Linda, his daughter from his first marriage. Karen, his ­second daughter from his first marriage also predeceased him, from cancer, in 2009.
To many, Harry Gregg is simply The Hero Of Munich – however, his extraordinary feats there should never be allowed to overshadow the fact that he was one of the ­finest goalkeepers in the history of the Beautiful Game, and, perhaps, the bravest.