Obituary: Glenda Jackson, Oscar-winning actress turned Labour politician
Glenda Jackson, actress and politician. Born: 9 May, 1936 in Birkenhead. Died: 15 June, 2023 in London, aged 87
After portraying characters hailed for their independence and conviction on the screen and stage, Glenda Jackson came to champion these attributes when she later turned her hand to politics.
Her acting career saw her star in Shakespearean productions, win two Oscars and portray numerous members of royalty.
She later gave it all up to serve as a Labour MP for 23 years and became a prominent critic of Sir Tony Blair's New Labour project.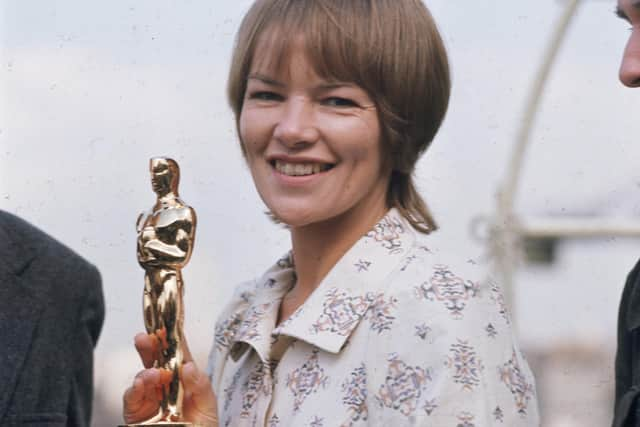 Born in 1936 in Birkenhead, in Wirral, Jackson was the daughter of a bricklayer and left school at the age of 16 after she failed her school certificate, leaving her with no option but to start working.
She previously told the Times magazine of her childhood on the Wirral: "Listen, I come from a family where if you didn't work, you didn't eat. That was the class structure."
While she was working at her local Boots store, she dipped her toe into acting by joining a friend at the YMCA amateur dramatics society. She went on win a scholarship to study at the Royal Academy of Dramatic Art.
After graduating, she began working in repertory theatres as an actress and stage manager.
She started performing for the Royal Shakespeare Company in 1964 and starred in numerous productions including Antony And Cleopatra, Hamlet and Love's Labour's Lost.
A year later, Jackson gained further notoriety in Peter Brook's stage production of Marat/Sade.
She won her first best actress Oscar in 1970 for her role as Gudrun Brangwen in the romantic drama Women In Love, an adaptation of D H Lawrence's novel of the same name.
In 1973, she picked up the prestigious prize again for the romantic comedy A Touch of Class where she starred opposite George Segal in a tale about a couple who are having an affair but find themselves falling in love.
Jackson played Queen Elizabeth I in the 1971 BBC TV series Elizabeth R, which won her two Emmy awards.
She portrayed two other royals in the same year when she starred in biographical film Mary, Queen of Scots and played Egyptian queen Cleopatra for an episode of The Morecambe & Wise Show with comedy duo Eric Morecambe and Ernie Wise.
Jackson later swapped her dazzling acting career to move into the world of politics and in 1992 she was elected as the Labour MP for Hampstead and Highgate. She held the seat from 1992 to 2010 and again from 2010 to 2015 as MP of Hampstead and Kilburn, following constituency boundary changes.
She served as a junior transport minister from 1997 to 1999 during Sir Tony Blair's government.
Jackson went on to become a critic of Sir Tony, opposing the Iraq War.
One of the most noted moments in her political career came in 2013 when she gave a scathing speech criticising Margaret Thatcher during a Commons debate which had been called to pay tribute to the former prime minister after she died.
In an interview with The Big Issue last year, Jackson said: "What persuaded me to give up acting and go into politics was Margaret Thatcher.
"That was the extremity of everything I thought was the worst way for the country to go forward.
"I was very fortunate to be re-elected five times and to occasionally be able to really help the people in my constituency.
"It's such a privilege to be a Member of Parliament, to be able to open those doors to help people if they need it."
Jackson also told the paper that Parliament had not been welcoming to women when she was elected.
She added that she felt the sexist culture in the House of Commons is "beginning to crack" nowadays but thought it was "by no means equal yet".
After more than two decades, Jackson called time on her political career and stood down as an MP at the 2015 general election.
Her return to the acting world, more than 20 years since her last project, came in the form of a BBC Radio 4 adaptation of a series of novels by French writer Emile Zola, titled Emile Zola: Blood Sex and Money produced in 2015.
She went on to appear in a number dramas for the radio station and won a Bafta for best actress in 2019 for her role in Elizabeth Is Missing, which followed the story of a woman suffering from dementia.
Before her death, Jackson had just finishing filming The Great Escaper alongside fellow double Oscar-winner Sir Michael Caine, who she had last acted with 48 years ago in The Romantic Englishwoman.
Last month, she watched the screening for what will be her posthumous appearance, which tells the true story of a Second World War veteran who escaped from his care home in Hove, East Sussex, to attend a commemoration of the 70th anniversary of the D-Day landings in France.
Her agent Lionel Larner said she died peacefully after a brief illness with her family at her side.
If you would like to submit an obituary (800-1000 words preferred, with jpeg image), or have a suggestion for a subject, contact [email protected]
Comments
 0 comments
Want to join the conversation? Please or to comment on this article.