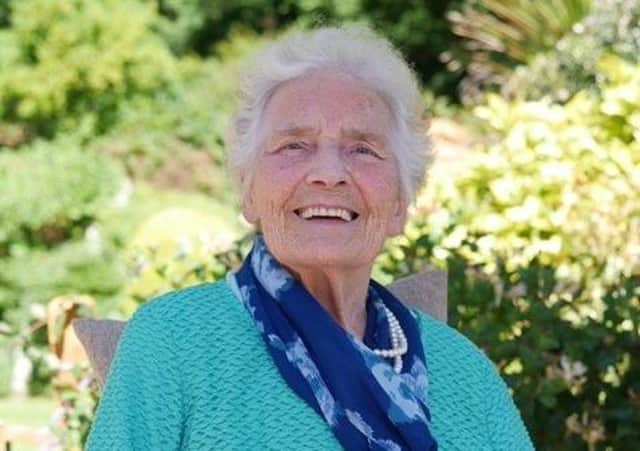 Ena Campbell passed away on July 1, just 11 weeks short of her 100th birthday
Aberdeenshire-born Ena Campbell, who met her future husband, Ack, in the Armed Forces, and was to spend almost 50 years of her life in north Sutherland, has died in a nursing home in Aberdeen, just 11 weeks short of her 100th birthday on July 1.
Not long after Ack's death, Ena left her home in Melvich and moved south to Aberdeen. She lived there for the final 29 years of her life, close to her son Eric's home in Bridge of Don, spending her last year in Grandholm Nursing Home, where she passed away on April 7. That last year was the hardest for her, as frailty beset her, and the tasks which had always occupied her became out of reach.
Ack and Ena became sweethearts while both were serving with the RAF, based at Edzell in Angus – Ena as a cook, and Ack serving as a military police sergeant. At the end of the Second World War in 1945, they were wed in Stonehaven in October of that momentous year.
The newlyweds moved north to Ack's homeland, where he continued in his pre-war post of resident gamekeeper on the Department of Agriculture's Bowmore Estate which was leased to the English gentry for shooting and fishing, in the scenic upland terrain south of Strathy. Bowside, a hamlet three miles south of Strathy, became their home for the next 40 years. Ack's main duties were to protect the abundant red deer on the estate and the salmon, weather permitting, fighting their way up the Strathy River to spawn.
This was a completely new way of life and a new culture for Ena – so different from the flat, rich farming lands where she was born, one of a family of nine, near Dunecht, in Aberdeenshire, redolent with the Doric language.
Her new life essentially revolved around gamekeeping and crofting, but it was a new life which she seized upon with energy and enthusiasm, and very soon became a "local". She happily raised a family of four – Donald, Mack, Carol and Eric, who never went hungry, enjoying the best of fare – thanks to a larder kept very well stocked by Ack, a most welcome by-product of his gamekeeping duties.
Ena was an excellent mother, homemaker, cook and a prodigious home baker. Ack could not have asked for a more capable and willing partner in all he did in the challenge of the changing seasons in Bowside. She covered the hills with the dogs bringing in the sheep, feeding the hens, cutting the peats, milking the cow, and also working at Bowside Lodge and a cottage which was rented out to paying guests who arrived for the shooting and fishing seasons.
She was always willing and able, and above all, always there – the rock in the life of her family.
Although there was never a spare moment she always had the time to love and care for her young family, providing a safe, warm haven when they returned home on their holidays from school in Dornoch and Golspie, and time to laugh with her friends when they met. As well as all these attributes, Ena was a caring, compassionate, empathetic and kindly soul, with the sunniest of dispositions - a much-loved and much-esteemed member of the North Sutherland community, which includes the villages of Strathy, Melvich, Armadale and Bettyhill and all the other scattered smaller settlements in the area.
She was invariably cheery, always smiling, always willing to lend a helping hand to her near and her far-flung neighbours, joining their celebrations in the good times and supportive and consoling when things turned bleaker. There is a term, used sparingly in the Highlands, in which you can be ranked no higher in a paean of praise than being described as …"the salt of the earth". Ena certainly earned her spurs in that regard.
The funeral was to Strathy Cemetery, not far from the village's beautiful, picturesque sands and the powerful, pounding waves of the North Atlantic ocean, on a day of brilliant, bright and clear April sunshine.
The brief committal service was conducted by the Rev David Macartney. At the graveside, as Ena was laid to rest in the heart of her adopted country, were the six permitted mourners – Mack and his wife Margaret – they currently live in Alness and have a daughter Marianne; Carol and her husband, Steve Burness, who live in Warrington, and have a daughter Stephanie ; and Eric and his wife Hughina. They live in Bridge of Don, Aberdeen, and have two daughters - Vicky and Amanda. Ena's eldest son, Donald and his partner Agnus, and his two children Mark and Carol were unable to make the trip north.
Ena had two surviving sisters, Frances, in Vancouver, Canada, and Ness, in Wales. Ena was so proud to have five great grandchildren -– Nicole, Danny, Maggie, Bobby and Harris and great-great grandchildren Teddy, Reggie, Sunny and Emma.
At the graveside, came the most heart-wrenchingly poignant of moments for the Campbell family. Instead of a graveside hymn, Carol Ann Farquhar from Strathy West, a most accomplished piper and close friend of the family, stood alongside Strathy churchyard and played "Amazing Grace." The beautiful, uplifting notes of that great spiritual hymn, one of Ena's favourites, drifted through the still air to reach the adjacent communities of Strathy West, Strathy East and across the silver sands to Strathy Point.
From vantage points, local folks, aware in advance of the burial ceremony of a much-loved lady connected with the tiny knot of mourners at the graveside and the sound of the pipes playing this wondrous tune. Had the coronavirus pandemic not so cruelly intervened, there would have been many, many more mourners in the cemetery to mark the passing of Ena who had become so very much one of their own over some 47 years.
However, they were all there in spirit and, at the end of the day, that is all that matters.