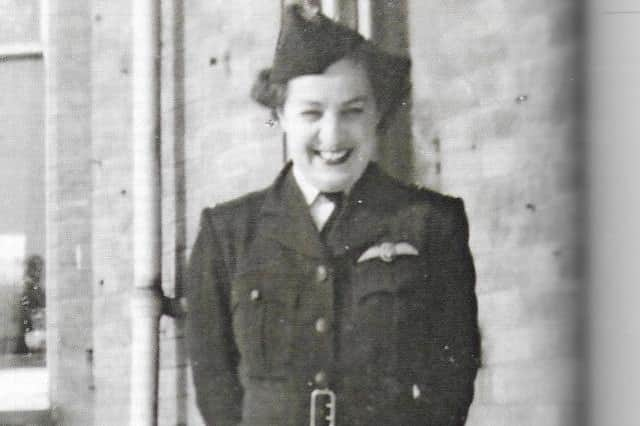 Eleanor Wadsworth, who has died aged 103, was one of the last three surviving World War Two "Attagirls," female pilots who delivered Spitfire, Hawker Hurricane and other fighter planes as well as heavy Lancaster and Wellington bombers, usually flying solo, from the factories or between Royal Air Force (RAF), American and other allied bases.
As a 24-year-old trainee architect with no flying experience, she had volunteered for training as a pilot with Britain's Air Transport Auxiliary (ATA, hence the Attagirls nickname), set up in 1940 to support trained RAF and allied pilots fully stretched by their combat duties. Although they saw no direct combat, the ATA's male and female pilots played a key role in the war effort. One of the Swordfish planes Mrs Wadsworth – at the time Miss Eleanor Fish and always known as "Beanie" – delivered was credited with sinking German U-Boat U674 on May 1, 1944, while protecting a Royal Navy convoy sailing to the UK from Kola in Russia.
Mrs Wadsworth, a great-grandmother of seven, died on December 21 in Bury St Edmunds, Suffolk, according to her son Robert. She was one of 166 young women, mostly British but including American and other volunteers, who trained as pilots to back up the RAF and other fliers who were too exhausted by combat to ferry planes from base to base or for repairs. The team also became known as the Spitfire Women.
She flew 22 types of warplanes, including 132 Spitfires ("my favourite"), 28 Hurricanes, numerous Mustangs, Swordfish and American Hellcats, unarmed until they were manned by their combat crews. Although the ATA pilots were not involved in combat, they still faced great danger in the air from raiding Luftwaffe fighters, British anti-barrage balloons or even mistaken "friendly fire" from anti-aircraft guns on the ground. In total, her flight books showed she had spent 590 hours in the air, 430 of them solo, including delivering mighty Lancaster and Wellington bombers built for crews of five or more.
Mrs Wadsworth and her young comrades, mostly in their twenties and most never having flown before they volunteered, recalled the astonished faces of RAF crew when they came down the ladder of a Lancaster alone. She flew biplane Fairey Swordfish torpedo bomber planes with an open cockpit and only her sheepskin-lined Irvin flying jacket to keep out the cold. What's more, the ATA pilots flew without compass or radio, guiding themselves via maps on their laps and following the paths of rivers or railway lines.
In an interview late in her life with her friend Howard Cook, a historic aircraft pilot and military historian, she recalled taking four days, due to extreme weather, to get her open-cockpit Fairey Swordfish from RAF High Ercall in Shropshire, via Dumfries, to RAF Machrihanish outside Campbeltown. She hitched a ride back to her English base on an RAF Wellington bomber.
During the war, the ATA delivered more than 309,000 aircraft using 1,152 male pilots and 166 women. It lost 159 men and 15 women in accidents, usually because of bad weather or failing to find highly-camouflaged air bases.
Eleanor Dorothy Fish was born in Nottingham on 15 October 1917. After school there, she trained as an architect with the firm Eberlin & Derbyshire, also studying at night school in association with Nottingham University. She took her exams at the Royal Institute of British Architects (RIBA) in London. In 1941, she was an Assistant Architect on ATA's new headquarters building at White Waltham airfield outside Maidenhead, Berkshire. It was there that she saw on a notice board that ATA was looking for applicants to train as non-combat pilots to back up the exhausted RAF and allied fliers.
"Beanie" was among the firt half dozen accepted and in June 1943 started flight training, first in a "Maggie" – a monoplane Miles Magister – and also de Havilland Tiger Moth biplanes. After only 12 hours' total flying – never having flown before – she first flew solo in a "Maggie." Having worked her way up through larger or more powerful aircraft at RAF Thame in Buckinghamshire, she flew her first Hurricane fighter on March 2, 1944, out of RAF Henlow, Bedfordshire, and would go on to deliver many of them to RAF combat pilots from the Hawker factory at Langley, Berkshire.
She flew her first Spitfire on 18 May, 1944, according to her interview with Howard Cook. "It was so perfect to handle, just lovely and flew like you would want it to," she told him. "What is often forgotten is that we were the first to get equal pay for equal work and this fact is often forgotten about the ATA."
She flew until the last day of the war, married Bernard Wadsworth the same year, 1945, and went on to have two sons, George and Robert, five grandchildren and seven great-grandchildren. She never piloted a plane again after the war. She had met Bernard at ATA, where he was a flight engineer, and they settled in the 1950s in Bury St Edmunds, Suffolk. They had been married more than 70 years when Bernard died in 2015.
She worked for many years for the Mann Egerton automotive and aerospace company in Norwich and for Greene King, the giant pub retailer and brewery company.
"There was no heroism," she once said. "We all had a job to do and it was my good fortune to have what was a very enjoyable job. There was no harassment or prejudice, no taking advantage. I was one of the guys."