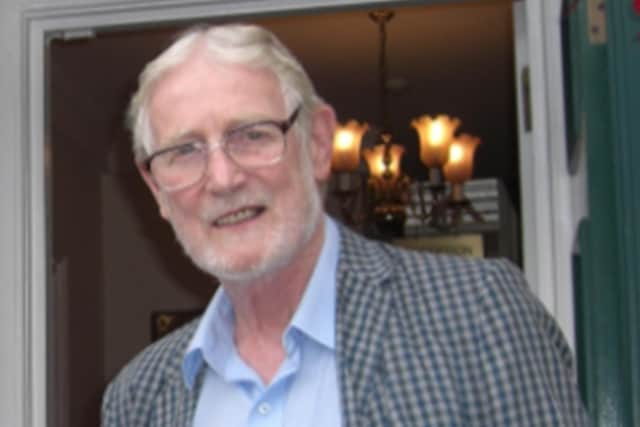 Dr Neville Belton
It is with much sadness that I relay the news, that my friend and colleague in the Department of Child Life and Health, Dr Neville Belton, passed away at the age of 82 years. Neville was a proud alumnus of the acclaimed Nottingham High School. He subsequently graduated from the University of Birmingham, obtaining an Honours BSc in Medical Biochemistry in 1959, followed by a PhD in 1963. He was awarded a CChem MRSC in 1962, and the prestigious FRSC from the Royal Society of Chemistry in 2013.
After working as a demonstrator in Birmingham, Neville moved to Chicago for four years, were he was a research associate in Neurology at Chicago Memorial with Gordon Millichap, a particularly productive research period for him, and then lecturer in Pharmacology and Biochemistry.
Following this he was appointed Lecturer in Biochemistry in the Edinburgh University Department of Child Life and Health in 1967 and senior lecturer in 1975. In this position he was a Senior Biochemist in the University, providing practical specialised biochemical analyses for both clinical purposes within the Health Service and for research.
He supervised and directed biochemistry research programmes alone and in collaboration with Biochemists in the University of Edinburgh and in other academic institutions.
His research area was firmly focused on nutrition in children, especially Vitamin D and mineral metabolism in pregnancy, infancy, and children; studies on the relationship between intracellular calcium, vitamin D, hypoxia and cell death; and iron deficiency in children. In the areas of both Vitamin D measurement and that of infant nutrition, Neville was a recognised authority, and he continued to be consulted whenever new developments appeared in these fields. Testament to his expertise are the professional associations he had with the College of Paediatrics and the College of Physicians, Associations of Chemistry and Clinical Biochemists, and Societies of Nutrition and Inborn Errors of Metabolism.
He was invited on to a number of national professional bodies – The Department of Health and Social Care working party on the composition of infant foods, Convenor of the British Paediatric Association nutrition, metabolism and pharmacology group, and Chairman of the Child Nutrition Panel of the UK and Ireland,
He published more than 100 papers, articles, abstracts and book contributions largely on paediatric biochemistry and nutrition and was an internal and external examiner for Higher Degrees in the University of Edinburgh and elsewhere in UK.
Neville had always been closely involved in the management of the University Department, with a major responsibility for all laboratory-based research involving children, the staffing, supervision, coordination of activities, etc.
He developed academic links between the University of Edinburgh and the Ministry of Health in Saudi Arabia and directed, and supervised, biochemical and medical personnel in programmes there, particularly with respect to Vitamin D metabolic studies, a subject of previously unexpected importance in that region.
Neville was an accomplished and professional biochemist and University staff member. He was an exemplary character with singular loyalty to the University of Edinburgh Department of Child Life and Health, to the Royal Hospital for Sick Children, to the University of Edinburgh, and to Scottish Paediatrics. A stalwart of the University Department and a great support to several heads of Department including Professor John O Forfar, tenured biochemists, laboratory technicians, medical and other staff.
He took an enduring interest in the Erskine Medical Library, the new medical library at the Royal Hospital for Sick Children and the original University Department library (Charles McNeil Library) in Hatton Place. This interest and commitment involved preserving publications by staff members, and books of historical interest and importance, by former Paediatric staff of the University and Child Health Services, for retention in archival collections.
Neville officially retired in 2000 but continued with scholarship, mentoring, and advice to others in his position as Post Retirement Fellow in the University of Edinburgh. He still contributed much with his regular visits to staff in Child Life and Health.
His extramural activities were many. Neville had a strong sense of community, evidenced by his commitment to the ethos of Rotary, that he served, as President and past president, for many years. He produced a book meticulously describing the history of The Rotary Club of Edinburgh.
Neville was a member of the Incorporation of Hammermen of Edinburgh since 1994, and an Elder of Cramond Kirk. He also began jointly working on a book on the origins and founder fathers of Child Life and Health.
Neville was good company and he enjoyed the annual Christmas lunch with staff from the Department, until recently. He will be greatly missed.
His colleagues send sincere condolences to his wife Elisabeth, their children Jane and Ian and all their family and friends.
Emeritus Professor, University of Edinburgh