Obituary: Doreen Leighton Ward, dancer and Scotsman legend
Doreen Leighton Ward. Born: 15 October 1931 in Leith. Died: 11 October 2020 in Edinburgh, aged 88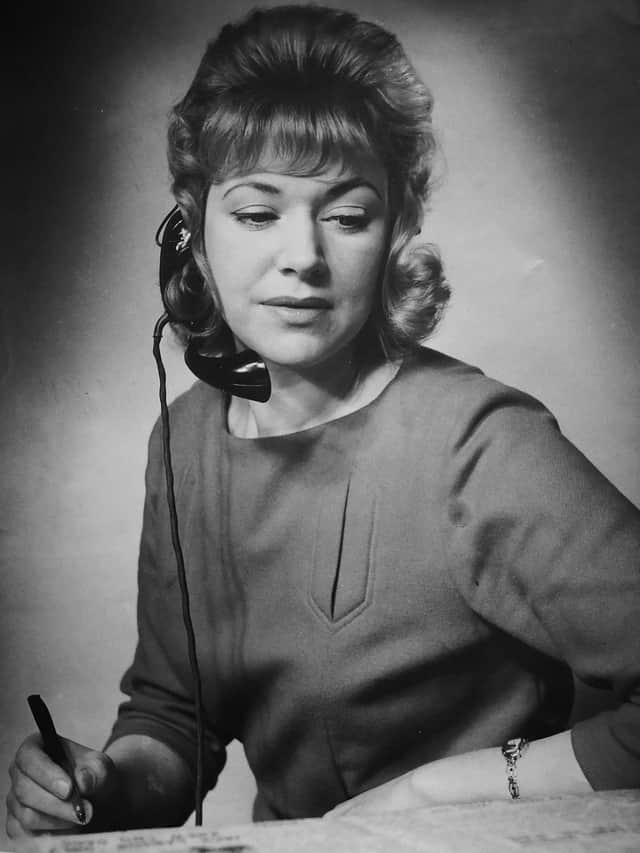 Doreen Leighton Ward during her time at The Scotsman
In the days when theatres survived and played to full houses, Doreen Leighton Ward was a young dancer with a well-known troupe called The Calder Girls.
Her career as a dancer lasted from 1946 to 1952, during which time she appeared at the Gaiety in Leith, the Empire in Edinburgh – now known as The Festival Theatre – and the Kings in Glasgow, following the usual career route of panto followed by summer seasons, working with popular comedians such as Lex McLean.
These were happy times for dancers apart from the fact that there was a certain reticence among some theatre managements to pay decent wages.
One Glasgow comedian actually expected his dancers to work for the two-week rehearsal period without wages.He was not alone.
Doreen Leighton Ward was up in arms about this state of affairs and took it upon herself to liaise with Equity to ensure this matter was addressed. Actor Duncan Macrae lent his support and the campaign was a success.
A photograph of Macrae later appeared in the Edinburgh Evening News and included a woman who was not identified at the time.
This turned out to be Doreen Leighton Ward.
Deciding to add some adventure to her life, Doreen and a friend emigrated to America, sailing on the RMS Queen Mary.
When they arrived she went to stay with a member of her family in Illinois, spending time in various jobs before returning to Scotland, where she went to the Plaza Ballroom for a night at the dancing and met her future husband, Robert (Bob) Ward, with whom she was to have two beautiful daughters, Melanie and Angela.
However, life was not about to stand still for Doreen Leighton Ward. After a stint in retail at Patrick Thomson's, the long-gone popular Edinburgh department store, Doreen took a job across the road at The Scotsman.
She was there from 1960 to 1966, when the newspaper 's circulation almost topped 100,000 and the editor was the great Alastair M Dunnett.
Doreen's daily uniform of tomato-red jersey wool two-piece suited her mass of blonde curls, blue eyes and dancer's figure.
Her job was training and running what was called "the tele ad" department, which was tucked away in a corner of the front office of the newspaper's imposing North Bridge offices – today the Scotsman Hotel.
Only well-spoken young ladies were accepted to work here and Doreen Leighton Ward gained a reputation as the best tele ad trainer yet seen. Her team adored her, although she never shared the fact that she had been on the stage, She epitomised professionalism.
And she was responsible to employing yours truly, training me in telephone selling and dealing with a variety of customers selling used cars and advertising births , marriages and deaths and, quite simply, people.
After her family came along, and once time allowed, Doreen became one of the Ladies of the Court at Dalhousie Castle, which held successful medieval parties as guests quaffed mead served by pretty costumed wenches and the beautiful ladies of the Court sang to entertain them.
Still not content to grow old gracefully, Doreen returned to dance classes and drama classes at the Theatre School in Stockbridge, Edinburgh, becoming a client at the famous Pat Lovat entertainment agency from whence she graduated to extra work in the popular TV series of the day, such as Taggart, while in Take the High Road she played Mrs McPhee.
In 1991 she achieved great success as the Duchess in An Ideal Husband at the Royal Lyceum Theatre and appearances in STV's popular Hogmanay shows followed.
Coincidentally, it was back at the Festival Theatre that she became involved with a programme called An audience with… which involved former theatre dancers getting together and putting their tap shoes back on.
A special TV programme captured the event and viewers could see the mature ladies still dancing their hearts out – within acceptable limits.
Doreen was able to add yet another credit to her theatre life when she was asked to recreate a dance routine she had designed called Mood Indigo and she was thrilled when the project came to fruition with a young team. She was also invited to be a part of the Leith Festival in 2018 at their Hidden Door Festival and did some choreography work for The Last Post at the Edinburgh Festival Fringe in 2017.
During the time of the Festival Theatre initiative, rehearsal facilities became scarce, meaning the mature dancers had nowhere to go. This did not daunt Doreen. She somehow managed to locate and borrow essential tap mats so that tap shoes could be utilised.
She then then invited her students to continue their classes at her Edinburgh home, placing the mats on her immaculate kitchen floor.
These students she renamed The Kitchenettes; once again Doreen Leighton Ward had found a recipe for success with a brilliant idea.
It was just another facet in the life of a much-loved, popular Edinburgh lady of talent for whom entertainment was a very happy way of life, both in the theatre and, for a brief spell, at The Scotsman.
Doreen was pre-deceased by husband Robert and is survived by her daughters Melanie, who became a solicitor, and Angela, a child carer.