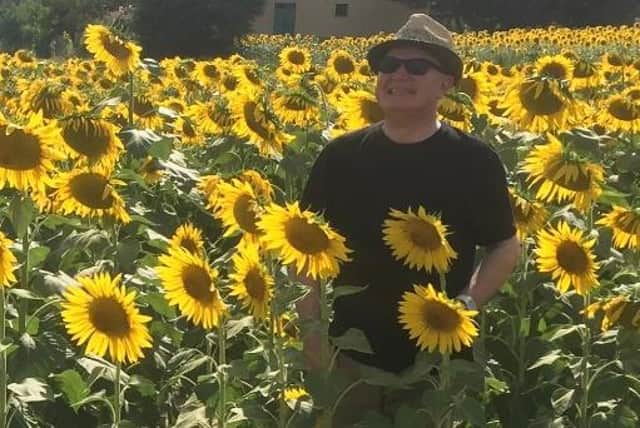 Donald John MacDonald loved the outdoors
It will probably be for his journalistic endeavours in contributing to, and latterly heading, quality commercial television news and current affairs output across Northern Scotland for close on 40 years that broadcaster Donald John MacDonald (near universally known as DJ) will be best remembered.
His sudden death, on Christmas Eve, after suffering a heart attack at the home of his sister Sarah in Westhill, Aberdeenshire, stunned the close-knit Scottish broadcasting fraternity. Members swiftly flooded social media with messages acknowledging his journalistic and managerial prowess as a reporter, producer, programme editor and ultimately, editor of Aberdeen-based STV North, since 2007.
However, judging by the flood of touching tributes that followed his untimely death, aged only 60, the lasting memory for his family, friends and colleagues at STV, of this handsome, boyish-looking man with the trademark Hebridean lilt, will lie in his abundant qualities as a warm, humorous, caring, charismatic and compassionate human being.
Some of his legacy lies within a 50-minute documentary he produced, Who Cares?, which looked at life through the lens of five people who had grown up in care in Scotland. Such was its dramatic impact that it directly led, within months, to the Scottish Government instituting a root and branch review of the entire care system in Scotland.
Jamie Kinlochan, public affairs manager of Who Cares? Scotland, an advocating and campaigning organisation for people with experience of the care system, tweeted: " Donald John created a masterpiece in 2016 with Who Cares? Working with him on it was brilliant and I was so glad to make a pal."
Jamie was closely followed by Scotland's First Minister, Nicola Sturgeon, who tweeted: "This is awful news. DJ was a true media pro, but more so a wonderful human being. In so many ways he kickstarted the campaign for Scotland to do the right thing by our care-experienced young people. He is such a loss."
That sense of loss was echoed by STV's special correspondent and former political editor Bernard Ponsonby, who produced a beautifully crafted appreciation of Donald John's life within hours of his passing, pointing to his role as president of Mental Health Aberdeen as exemplifying the concerns which were a natural extension of a personality that was always keen to understand and help.
Mourning for the man who was a gifted young footballer and a lifelong passionate supporter of Celtic FC, was especially pronounced in his homeland – the crofting community of Askernish, South Uist, for what was yet another devastating blow to a MacDonald family already accustomed to tragedy.
Donald John was the elder son of the late John Paul and Mary Kate MacDonald. His crofter father had died of a heart attack when he was just 12, and he was only 21 when his younger brother, Allan, was tragically killed in a car accident aged 19. His mother was to die shortly after he joined Grampian Television.
From a devout Roman Catholic family, Donald John seemed destined for the priesthood and studied at Langbank Junior Seminary, Renfrewshire, for two years and then a further two years at St Mary's College, Blairs, Aberdeen, but a vocation to the priesthood didn't materialise. He completed his secondary education at the Nicolson Institute, Stornoway, before graduating from Aberdeen University with an honours degree in Political Studies.
He joined Grampian Television in 1984 as a journalist on the station's flagship news programme, North Tonight – a role to which he brought boundless enthusiasm. Bilingual, he also presented the Gaelic magazine programme Crann Tara. After Grampian was bought by STV in the late 1990s, he rose through the ranks to a programme editor's role on North Tonight before being appointed editor of news programmes for STV North in 2007. In this post he fiercely ensured the voice of an audience, drawn from a culturally and economically disparate area the size of Belgium, was accurately and fairly portrayed and represented.
Bernard Ponsonby explained: "The strength of DJ's contribution was in knowing his news patch intimately. His easy-going manner and infectious enthusiasm drew loyalty from those he managed, and his ability to think more widely and deeply meant that he was taken seriously by the great and the good whenever they came calling."
"He was a journalist's journalist", said his producer colleague David McKeith. "He loved his work: the way those lucky few who love their job so much that they don't see it as that, but rather the very essence of their lives."
STV North presenter Norman MacLeod adds: "He lived for his work and enjoyed nothing more than getting his teeth into a good story on a daily basis. His work at STV was far from finished – indeed, this year he was due to undertake an enhanced mentoring role. His determination and stubbornness – characteristically Hebridean traits – earned him respect but often led to some lively discussion.
"Socially, he loved entertaining, aided by his wry sense of humour and honed by his Hebridean background. His rendition of his party piece, the song Mary Ann MacRae, was legendary."
Poignantly, in recent months a new lady came into Donald John's life – a lovely four months old red fox Labrador whom he named Breagha – "Beautiful' in Gaelic. He doted on his new four-legged friend and regularly gave updates on their burgeoning relationship in words and pictures on Facebook. Breagha is now being cared for by his son Ben, 31.
Donald John, who was buried in Hallan Cemetery, South Uist on January 5, is survived by Ben and his sisters Sarah and Ann.