Obituary: Des O'Connor, British singer and TV presenter
Des O'Connor, singer, TV presenter and butt of numerous jokes. Born: January 12 1932 in London. Died: November 14 2020 in Buckinghamshire, aged 88.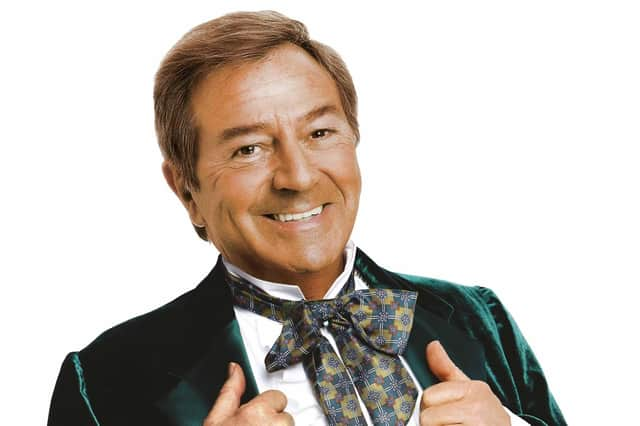 Des O'Connor in costume before starring in Andrew Lloyd's Webber's The Wizard of Oz at the London Palladium as The Wizard in 2012. Photo: PA Wire
'If you want me to be a goner, get me an LP by Des O'Connor," quipped Eric. "That's the most unusual record he's ever made," maintained Ernie. "Is this the one where he sings the right notes?" asks Eric. And so it continues until Eric compares the picture on the album to the man who has just appeared behind them and he decides he is a big fan after all.
For all his accomplishments as a chart-topping singer and television host across six decades, O'Connor's most celebrated achievement was perhaps to establish himself as the butt of so many good-humoured jokes, particularly on The Morecambe and Wise Show, and cement his place in popular culture.
O'Connor certainly seemed to take it in his stride. "One Christmas I got 13 insults across five television shows in four days," he said. And the public took him to their hearts.
O'Connor had been friends with Eric Morecambe and Ernie Wise since they met on the music hall circuit in the 1950s. He even wrote some of their gags about him and was particularly proud of the joke – "Des O'Connor's a self-made man… Well, it's nice of him to take the blame."
Before he became a punchline, or rather punchbag, on Morecambe and Wise, he had six Top Twenty hits, including the No 1, I Pretend. And he captured a certain playful if rather superficial impression of Swinging Sixties London in Dick-a-Dum-Dum…
"I gotta go to Portobello,Gotta sorta sell a little old antique or two,Blow it all on a Savile Row suit,Go to King's Road pick me up a nice real-cute girl,
Dick-a-dum-dum, Dick-a-dum-dum.'
This was 1969, a couple of years after Sgt Pepper. But O'Connor did not attempt to reinvent popular music. It was catchy, innocuous easy listening… unless, of course, you were Eric or Ernie or your tastes were dictated by the NME, in which case it was anathema.
His television show sold to broadcasters around the world, including NBC in the US, and at one point had a global audience of over 200 million viewers.
By 1969 he was a sufficiently big star for the producers of This is Your Life to choose him as the subject of the first programme when it switched from BBC and relaunched on ITV. The classic format had host Eamonn Andrews surprising the subject and then presenting a live biography show with appearances from family, friends and other celebrities.
However, the surprise was almost spoiled in this case. At the time O'Connor was appearing at the London Palladium and it was all set up for Andrews to surprise him on stage.
But before the scheduled show, O'Connor went for a short walk and was passed by a bus on which he thought he glimpsed a whole load of relatives and celebrity friends.
Producer Malcolm Morris recalled: "He said later the experience was like the one you have when you're drowning and your life flashes before you. He vowed at the time never to have a drink before a performance again and shrugged it off."
The hits dried up at the end of the 1960s (though O'Connor did have one belated Top Ten hit in 1986 when he dueted with Roger Whittaker, whistling like a dawn chorus, on The Skye Boat Song – there are no words to adequately describe it).
O'Connor remained enormously popular, with his own television show and a string of albums. And his career was arguably boosted in the 1970s by association with Morecambe and Wise. He was tapping into a national institution. A familiar, smiley, easy-going character, he was always in demand with television producers and broke records as a presenter, beginning with the game show Spot the Tune in the 1950s.
His chat show Des O'Connor Tonight ran for six series on BBC2 and 17 on ITV, from 1977 to 1999. He also had stints as presenter of the game shows Take Your Pick in the 1990s and Countdown, with Carol Vorderman, in the 2000s.
O'Connor had overcome a difficult start in life. He was born Desmond Bernard O'Connor in the East End of London in 1932, his father worked variously as dustman, milkman and in a brewery between bouts of unemployment, and his mother was a cleaner. They lost their house and possessions in the Blitz.
As a boy O'Connor suffered from rickets and he barely survived being knocked down by a hit-and-run driver, spending several months in an iron lung. He recovered fully, left school at 14 and was good enough at football to play for Northampton Town's reserves.
His talent for light entertainment was spotted during National Service in the RAF when he was caught doing an impression of one of his officers. Subsequently he got a job as a redcoat at Filey in Yorkshire and spent much of the 1950s appearing in variety theatres, honing his craft. At the end of one tour Buddy Holly gave him his guitar.
In 1963 O'Connor got his own TV variety show, which ran for more than ten years, first as The Des O'Connor Show and then as Des O'Connor Entertains. Then, as a chummy chat show host, he attracted many of the biggest international stars in showbiz, safe in the knowledge they would not be subjected to any sort of grilling.
He continued touring into his eighties. His first three marriages ended in divorce. He is survived by his fourth wife, Jodie Brooke Wilson, a hostess on Take Your Pick, and by five children, the last of which was born in 2004, when he was 72.
A message from the Editor
Thank you for reading this article. We're more reliant on your support than ever as the shift in consumer habits brought about by coronavirus impacts our advertisers.
If you haven't already, please consider supporting our trusted, fact-checked journalism by taking out a digital subscription.