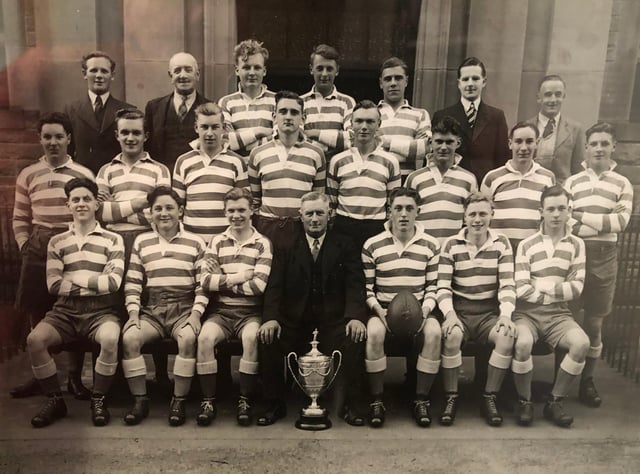 Captain Davie Rose, holding the ball, with Jed Thistle teammates and officials
Davie Rose, who has died shortly before his 90th birthday, was an outstanding rugby player, a dual internationalist in both Union and League codes, for Scotland and Great Britain respectively, in addition to being a Barbarian. The highpoint of his League career was as a member of the British team which won the inaugural Rugby League World Cup in Paris in 1954 when Davie scored a try in every match. As a Union player for Jedforest he made his international debut against France in 1951 aged 19 and won another six caps before joining Huddersfield to play Rugby League as a professional.
Rose was an exciting player, a powerful fast winger with an effective swerve who was difficult to stop and knew how to find the try line. It was cruel luck that a broken leg required him to give up the game on medical advice as he reached his peak aged 26, with surely more success to follow.
His sporting genes no doubt derived from his father, who in 1924 won the Powderhall New Year Sprint, running as "F. Best, Jarrow". In conversation recently I suggested he must have inherited his father's speed, to which Davie responded, typically humorously: "Aye, I could pull the choke out!" At the time of his death he was Jedforest's oldest surviving captain, having held that honour in season 1952/3.
David Macmurray Rose was born in Back Bongate, Jedburgh, to parents Fred and Nellie nee Macdonald, the elder brother of Eric, Walter and Helen. Father Fred became fitness trainer to Oldham Rugby League Club and Leicester City F.C. but when war broke out in 1939 the family returned to Jedburgh where Davie continued his education at the local primary school before attending Jedburgh Grammar School where he was sports champion and showed considerable rugby potential.
Aged 15 he played a few times for Jedforest 2nd XV before establishing himself in the local semi junior team, Jed Thistle, whom he captained aged 17 to success in the Borders Championship after an undefeated season, later becoming the first internationalist to have represented the club.
By now he was firmly on the radar of the town's senior team, Jedforest, for whom he would make his debut, still aged 17, against Tynedale in season 1948/9 and thereafter became a fixture in the side.
While undertaking National Service with the R.A.F., whom he represented twice, he earned his first cap for Scotland against France on January 13 1951 in Paris, marking his debut with two tries. One report stated, "Glorious bursts by D.M. Rose… produced two unconverted tries… putting his head back he went all out for the line and no Frenchman could lay a hand on him." Paris seemed a happy hunting ground as he also scored in 1953 against the hosts, as in 1954 in the World Cup final.
After another six internationals, his last against Wales in February 1953, he decided to switch to League, signing in September for Huddersfield, for whom he would play 41 times before transferring to Leeds a year later.
His Leeds debut came against St Helens in October 1954, shortly before he was selected for Great Britain for the World Cup.
Initially a reserve as understudy to the iconic Billy Boston, he was delighted to be given the opportunity to join the team when Boston withdrew late on. At home for a break in Jedburgh, police appeared at his door to inform him he was now in the side and to head south immediately. After an overnight train journey he joined the party for the coach trip to France. They were reckoned to be complete outsiders in the competition with no chance of success. But, galvanised by captain Dave Valentine from Hawick, they overcame the odds to qualify for the final, where they beat favourites France 16-12, Rose notching a cleverly taken opening try.
On his first game back for Leeds he broke his leg, writing off the rest of the season, and although he managed some games the next season, he had to retire on medical grounds, a considerable blow aged 26.
In 1957 he married local girl Doreen Fairbairn in Crailing Kirk, near Jedburgh, and the couple went on to enjoy 63 years of happy marriage, during which they had three children, Aileen, Diane and Neil. They lived in Yorkshire, where Davie worked in the textile industry, before returning to Jedburgh area in 1974, when he began working for a Kelso Concrete Products company, as manager and then Director.
He became a regular supporter of Jedforest and was a popular figure at Riverside, where he was always welcome. Some contemporaries who switched to League experienced lukewarm recognition or worse at their old clubs but that was not his experence.
Proud of his "Jedart" roots, he was a one-time trombonist in the Jedforest Instrumental Band and gifted storyteller with an excellent sense of humour, well attuned to Borders rivalries. Modest about his part in the 1954 success but lauding that played by friend and captain Dave Valentine, he would remark good humouredly, "Well, I couldn't let a Hawick man be the only Scot in the team".
A great family man, he was very pleased to see grandson Andrew Nagle lift the winner's cup at Jedforest '7's' in 2014 representing Melrose. Another enthusiasm was golf, which he enjoyed playing with friends at Jedburgh and Goswick, managing to continue till 2020. A delightful gent, he enjoyed a long life well lived and is survived by his wife, children, seven grandchildren and a great grandchild.