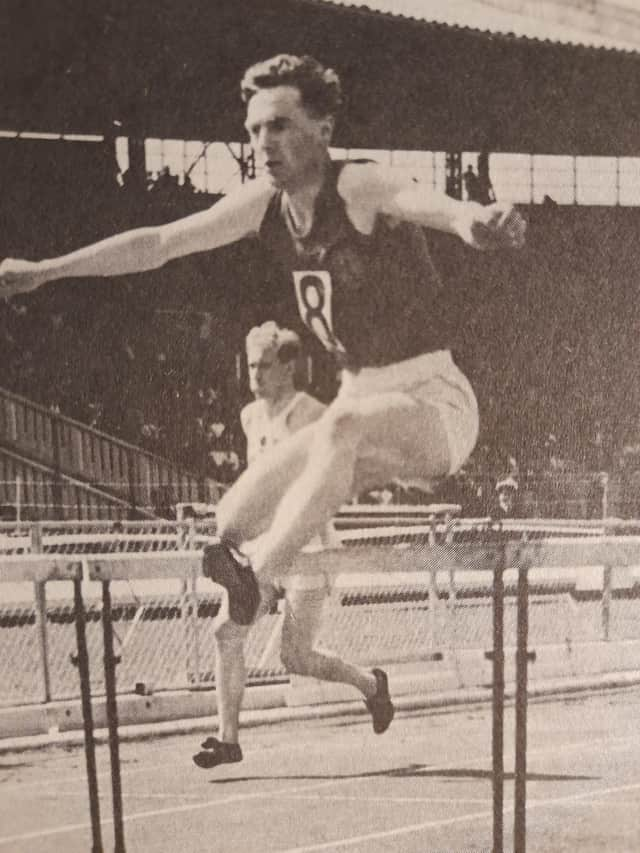 David Gracie in graceful action
David Gracie, was a world-class Scottish amateur athlete in the early 1950s, whose relatively brief career resulted in his not being accorded the extent of recognition he perhaps deserved.
The Larkhall athlete's specialist event was the 440 yards/400 metres hurdles in which he reached the 1952 Olympic Games semi-final and he was unfortunate not to advance.
Achieving this after only one year's experience of the demanding event with extremely basic training facilities and negligible coaching was remarkable and highly praiseworthy.
In a successful career he won gold at the 1953 World Student Games in Dortmund, recording the second-fastest time ever in the Games' history while also collecting a silver medal in the 4x400ms. relay.
In total he won seven Scottish Championships titles, three over the flat 440yds and four over the hurdles, while setting several Scottish and British hurdles records and winning four British international vests.
After graduating as a veterinary surgeon in 1954 he hung up his spikes to concentrate on his profession, a decision facilitated by a continuing back injury that required him to wear a special support when running.
David Keir Gracie was born in Bonnybridge and in the mid-1930's the family moved to Larkhall. His father had been a decent athlete and David showed potential when he won the sports championship at Hamilton Academy.
After two years' service in the Royal Marines at the conclusion of war, he began veterinary studies at Glasgow College before transferring to Glasgow University when the course attained degree status.
At the same time he joined his local athletics club, Larkhall YMCA, taking part in cross country and road running in winter and athletics in summer when he competed in the sprints, often at the various "Police Sports" which were then commonplace.
He first came to prominence in 1949 at the national YMCA championships held in Alloa when he won the 220 and 440 events. Having been disqualified in the 100yds for two false starts, he decided on the spur of the moment to try the 440yds which, to his surprise, he won, encouraging him to continue.
Later that summer at Hampden he won his first Scottish title at the event, earning the headline, "Unknown has all Hampden talking!", a success repeated in 1951 and '52.
At the Glasgow University athletics trials in 1951 he did not run in the 440yds flat but instead decided to try the 440yds hurdles event for the first time. He won in record time, bettering the existing Scottish Universities' record and later winning at the Scottish Universities' Championships.
A fortnight after that he claimed the first of four hurdles titles at the Scottish Championships at Hampden, setting a new record, doubling up to win the 440yds flat for good measure.
He trained at Larkhall's Royal Albert football ground over wooden hurdles made by a joiner friend and apart from some rudimentary advice from Bill Dickinson, later of rugby coaching fame, and Tony Chapman, national athletics coach, he was entirely self coached, despite which he developed excellent technique. As he only had a few hurdles, he was never able to run the full distance in training, a far cry from the facilities enjoyed by modern-day counterparts.
In 1952 he stepped up to the international stage with a series of excellent runs in the Caledonian Games in London, the Home International event and the British and Scottish Championships, which earned him selection for the Helsinki Olympics. Having qualified through the first round and quarter final on the Games' opening day, the two semi-finals were held the next day.
As he recounted to me in an interview in 1999, "I worked on 13 strides between hurdles but in the semi I had to chop my stride between the 5th and 6th hurdle, lost my momentum and just missed out on qualifying.
"Had I been in the other semi, my time would have qualified me for the final and got me 4th place in it. I did think, though, if I had got into the final I would have improved my time and possibly won a medal."
His disappointment was tempered by his Larkhall townsfolk presenting him with a framed commemorative scroll for his Olympic appearance. Helsinki triggered a golden spell of form, as in a six-day period in early August he ran superbly in the British Empire vs USA match, in meetings in Malmo and Gothenburg, and at the British Games, setting British and Scottish records – the latter standing for 18 years – while later he also performed well for Britain against France in Paris. Exposure to high quality opposition clearly brought out the best in him.
In 1953 he enjoyed World Student Games' success, retained his Scottish title and represented Britain in internationals against West Germany and Sweden. By 1954, although he retained his Scottish title, his enthusiasm and motivation had decreased and that was his final season.
Thereafter he worked as a vet, initially in practice before joining the Department of Agriculture.
In 1965 he married Marion and they had two children, David and Susan. He enjoyed golf and was a member of the Royal Burgess in Edinburgh.
A modest, unassuming and complete gentleman, David Gracie enjoyed his athletic career, commenting, "No money, no drugs and great fun."