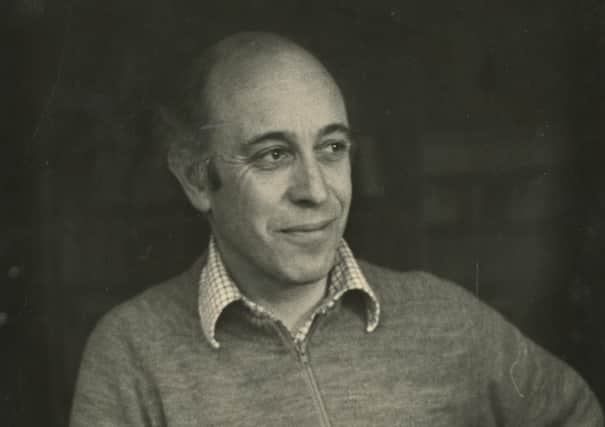 David Dorward, who has died aged 86, spent almost his entire working life as a highly respected classical music producer for BBC Radio Scotland, based at its former Edinburgh studios in Queen Street.
For nearly 30 years after joining the BBC in 1962, he was part of the two-man production team that oversaw Musician in Scotland, the highly influential long-running weekly series of broadcast chamber concerts that provided a platform for Scots-based musicians and composers, and by placing contemporary Scottish music in an international context, encouraged new generations of Scottish composers to eschew the lure of London and build their careers in Scotland.
But Dorward's vocation was arguably as a composer, in which capacity he enjoyed as much success and prolificacy as his day job permitted. Evidence of that lies in a surprisingly comprehensive canon of works, from songs and chamber music, to symphonies, a piano concerto, musical theatre and opera, even soundtracks for film and television, which Dorward produced from school age right up to the onset of ill health in retirement.
Born in Dundee in 1933 to schoolteacher parents, Dorward benefited from a rigorous grammar school education at the city's Morgan Academy, leading to a place at St Andrews University to study English and Philosophy.
By the time he graduated in 1955, however, music had taken hold as his primary enthusiasm. An early encounter with the legendary eccentricities of composer and music professor Cedric Thorpe Davie led to simultaneous enrolment on the general music course where he benefitted from Thorpe Davie's rigorous grounding in musical history, analysis, harmony and counterpoint.
Some of his earliest compositions were performed at university music society concerts, most of which were subsequently lost. A notable survivor is his early comedy overture "The Cooper o' Fife", one of several scores that ultimately secured Dorward, following two years' National Service in the Royal Artillery, a Blumenthal Scholarship to study composition during the late 1950s at London's Royal Academy of Music.
Now able to fully focus on writing music, he studied with Manuel Frankell, then with John Gardner. It was Frankell who encouraged him to revise "The Cooper o' Fife" overture, which not only won Dorward a Royal College of Music Patrons Fund Award, but resulted in its 1958 premiere by the Hallé Orchestra, and a later broadcast performance by the then BBC Scottish Orchestra under a young Sir Colin Davis.
Composition had become his passion, but his appointment to the BBC was soon to take priority. By then he had already written his First Symphony, which he completed in 1961. When asked in 1997 by former Scotsman music critic Conrad Wilson why it had taken 30 years to follow this up with his Second Symphony (written after his retirement), the reason, replied Dorward, was simply "not having the time to write it".
Prior to the premiere of the Second Symphony in 1997, he reflected on the mixed fortunes of the First: "The last one nearly ruined my career," he joked. "It was not a good performance and got savaged by one London critic. But it wasn't a bad work."
Such a comment was typical of Dorward's self-effacing wit. BBC colleagues remember not only a first-rate musician with a breadth of intellect that went beyond the bounds of his discipline, but also a "very nice man" whose affable countenance made him a pleasure to be with.
Poet and playwright Stewart Conn, who as BBC Scotland's head of radio drama worked alongside Dorward in Edinburgh, describes him as impressively well-read, with a real sympathy for poetry. "He was insightful and articulate to an extent that, in my view, could have made him a first-rate literary critic." The two men did collaborate, Dorward utilising his skill as "a wickedly gifted cartoonist" to create pen-and-ink sketches for a batch of bird poems Conn had shown him. Another regular colleague, the composer and musicologist John Purser, encountered Dorward's intelligent wit on numerous occasions.
One was a broadcast April Fool joke in which Purser purported to have discovered a lost piano score in Edinburgh by Mendelssohn, called Eine Schottische Blume". The piece that followed, written and performed by Dorward himself, turned out to be an artful and perceptive pastiche reshaping the melody of Flower of Scotland as a convincing psuedo-Mendelssohn Song Without Words. Typically, Dorward took no credit for it.
In the same way, Dorward leaves behind a wealth of original compositions to speak for themselves, many of which deserve to be heard and properly appreciated. Whether channeled through the intimacy of his chamber music, the resplendence of his 1972 setting of William Dunbar's "The Golden Targe" for chorus and orchestra, the dramatic potency of his 1969 one-act radio opera "Tonight, Mrs Morrison", the 1976 Piano Concerto that Alexander Gibson conducted at an RSNO Musica Nova concert with fellow composer Ronald Stevenson as soloist, or the molten heat of the Second Symphony, there is always in Dorward's music a very human, elegiac strain, tinged with mild melancholy, that is a true reflection of his wistful, benevolent character.
In Dorward's own words, he found his BBC work stimulating and fulfilling, but not without its challenges. "My budget was small, but I was my own boss," he once reflected. By the time he left the BBC, Musician in Scotland had been, disgracefully, axed, and Radio Scotland ceased to employ its own classical producers.
Upon retirement, Dorward clearly had every intention of refocusing on composition, which materialised as an initial burst of new works before illness took its toll. He even confessed to having "a hint of an idea" for what might have become his Symphony No 3. It wasn't to happen
After a period of declining health, Dorward died peacefully in a nursing home near his home in Prestonpans. He is survived by his wife Janet, whom he married in 1968, and their three children and grandchildren.