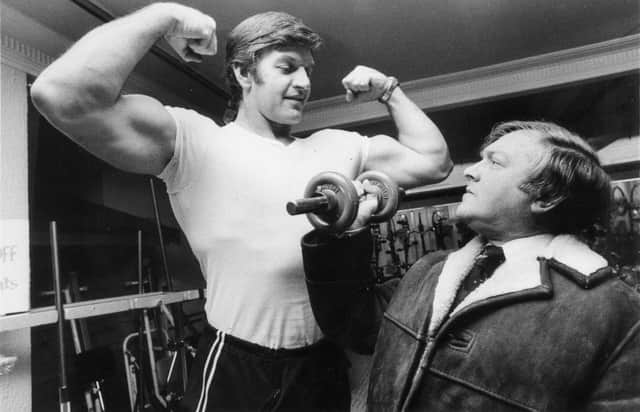 Former bodybuilder and champion weight-lifter Dave Prowse played two iconic screen figures familiar to anyone growing up in Britain in the 1970s and 1980s. Or rather he played one and a bit, for, although he was the man behind the Darth Vader mask in the original Star Wars trilogy, James Earl Jones provided the voice.
Prowse maintained that the first he knew that his voice had been dubbed was when he saw the completed film, though his rustic West Country burr had earned him the nickname of "Darth Farmer" on the set and director George Lucas was not keen on his villain sounding like Long John Silver in Disney's Treasure Island.
Prowse's voice was also dubbed in his first outings as the superhero Green Cross Code Man in public information films about road safety that had a significant effect on reducing the number of road accidents involving children. He did get to use his own voice in later adverts.
A towering figure, Prowse appeared in numerous other films, including A Clockwork Orange, often playing silent roles. He played Frankenstein's Monster in three films, including the original version of Casino Royale - though fans of James Bond will be well aware that Frankenstein does not appear in Ian Fleming's novel or the more recent version with Daniel Craig.
But it was Star Wars that earned Prowse a big cult following, even though he had a strained relationship with Star Wars creator George Lucas, regularly complaining about his treatment, on screen and off.
Prowse complained about his earnings, while Lucas blamed him for leaks about plot details and became increasingly irritated by his whingeing. Eventually Prowse was told that he would not be invited to any more official Star Wars events. He said that when he asked Lucasfilm for a reason he was told simply that he had "burnt too many bridges".
David Charles Prowse was born in Bristol in 1935. His father, a shopkeeper, died when he was five. He was forced to wear a brace on one of his legs for several years because of knee problems and he took up weight training to build up his strength.
A muscular 6 foot 6 inches tall, Prowse worked as a lifeguard and a bouncer at a dance hall, where he met his wife and he competed in bodybuilding and subsequently weightlifting competitions with considerable success. He was British heavyweight weightlifting champion and represented England at the British Empire Games in Australia in 1962.
His showbiz career began when he toured Britain, billed as "Britain's Strongest Man", tearing up phone books as he went. During this time he appeared on the same bill and became friends with Arnold Schwarzenegger, before Schwarzenegger became a Hollywood star. He also appeared in strong man events on the Scottish Highland Games circuit.
While working in a gym in London, Prowse made his acting debut in the London West End in 1964, playing the small, but significant role of Death in a play called Don't Let Summer Come. He had to come on stage and carry off actor Kenneth Griffith from his deathbed.
Other roles followed in television shows and commercials and in films. As well as Casino Royale, he played Frankenstein's Monster in the Hammer films Horror of Frankenstein and Frankenstein and the Monster from Hell.
He appeared in supporting roles in the Frankie Howerd films Up Pompeii and Up the Chastity Belt, he was a torturer in Carry on Henry, Patrick Magee's bodyguard in A Clockwork Orange and a Minotaur in Doctor Who, before being cast as Darth Vader in Star Wars.
Star Wars came out in 1977 and Prowse hoped to land the role of Superman. He seemingly thought he had it when the production company got in touch to tell him that they had found their Superman, and they wanted Prowse… to train him. The role went to Christopher Reeve.
"I spent six weeks trying to make him look like me," he said in one television interview, with more than a hint of bitterness.
Prowse had thought he would finally get to show his face in the third Star Wars film Return of the Jedi in 1983 when Darth Vader finally takes off his helmet. But that scene eventually featured actor Sebastian Shaw, leaving Prowse feeling more frustrated than ever.
"Sometimes in the cinema, I want to yell out 'Hey, that's me up there, that's me you're all watching,'" he said.
Although Prowse had worked fairly regularly before Star Wars, he made very few films after it, but he was a regular at fan conventions for many years all over the world, although he was severely affected by arthritis, needing a walking stick and hip replacements.
In the early 1990s he launched a charity called The Force Against Arthritis and in 2000 he was made an MBE for services to charity and road safety. A keen supporter of UKIP and capital punishment, he is survived by his wife Norma, to whom he was married for 57 years, and their three children.
If you have a suggestion for an obituary, or wish to submit one, please email [email protected]
A message from the Editor
Thank you for reading this article. We're more reliant on your support than ever as the shift in consumer habits brought about by coronavirus impacts our advertisers.
If you haven't already, please consider supporting our trusted, fact-checked journalism by taking out a digital subscription.