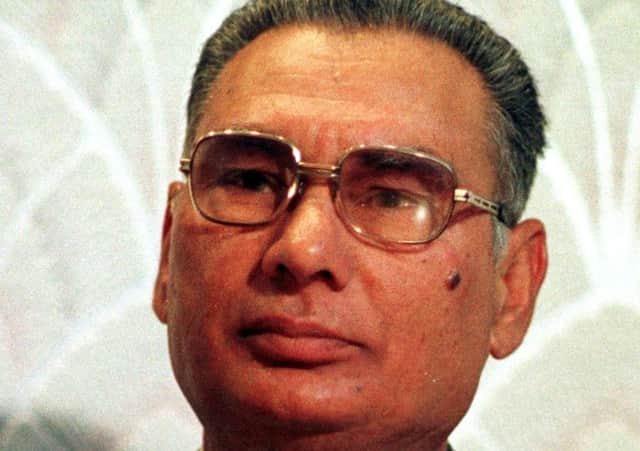 Bashir Maan
Bashir Maan, who has died aged 93, was a trailblazer, as the first Muslim to be elected to public office in Scotland. He was for many years one of the leading figures in the Scot-Asian community, and a weel-kent figure in Glasgow and across Scotland.
He was born in what was then British India, but is now Pakistan, and even as a student and a clerk in Lahore he was involved in making life easier for those Muslims caught up in the chaos of the end of the Raj and the formation of India and Pakistan, in 1947.
Bashir was already thinking of coming to the UK when his younger brother, serving in the navy at Rosyth, went on a day trip to Glasgow, met one of the first Asian families to settle in the city and was so well received that he wrote to Bashir telling him what a welcoming city it was. Bashir contacted his brother's new friend and arranged to stay with him when he arrived, virtually penniless, in the city in early 1953. He wanted to study at the Royal Technical College (now Strathclyde University) but, to support himself, had to take a job as a pedlar.
With his goods, mainly drapery, in his big suitcase, the young Bashir began to go around, selling door-to-door. In an interview in 2011 he spoke fondly of those difficult early days – learning his spiel, gaining the confidence of his clientele, to whom "Johnny the Darkie" was a new experience.
He had an advantage over many of his fellow Asian pedlars, in that he was fluent in English, although, as he said, he struggled at first with the Scots accent. The fact he could communicate easily in English and could speak and write Urdu and Punjabi meant he gradually became a community leader, as new arrivals from the sub-continent came for advice in dealing with the authorities, form-filling, licence applications and more.
He was forced to give up his studies, due to his burgeoning community work, then he graduated to owning his own shop, where he was one of the first people to sell discounted drink – although he later gave-up this line due to his devout Islamic beliefs.
In 1968 he was appointed a Justice of the Peace, the first Scots-Asian to achieve this status and, with his interest in politics growing, he was persuaded to join the Labour Party and stand for Glasgow Corporation, winning the Kingston ward in 1970.
Bashir took the ward from the sitting Progressive (Tory) councillor, who had forecast his Labour opponent would only get 20 votes – the number of Asian voters in the ward. Instead, Bashir took more than 50 per cent of the votes cast to easily win the seat.
In more than three decades in public office, he was a magistrate, District Court judge, a Bailie and Deputy Lieutenant of Glasgow. He stood unsuccessfully for Parliament in East Fife in 1974 and finally bowed out of public life in 2003, when he stood down as Convener of the Strathclyde Police Joint Board.
The following year he resigned from the Labour Party, in protest at the lies told in the lead-up to the Iraq War. His devotion to Islam saw him heavily involved in the establishment and building of Glasgow's Central Mosque.
First Minister Nicola Sturgeon led the tributes to Bashir, saying that, whilst they had political differences, he had been a fantastic trailblazer and role model to his community, a doughty fighter for Glasgow and a source of welcome advice to the FM as a young politician. Another SNP politician, Justice Secretary Humza Yousaf, also hailed the example Bashir had set for him and other younger Scots-Asians in the way he had got involved in politics and by the contribution he had made. Veteran Glasgow Labour politician Frank McAveety also praised his example and his hard work on behalf of the city.
Bashir Maan truly was a leader of the Muslim Community in Glasgow and beyond: President of the National Association of British Pakistanis, Scottish Representative on the Executive of the Muslim Council of Great Britain, Chairman of Glasgow Central Mosque Organising Committee, and Deputy Chairman of the Commission for Racial Equality. He also founded the Scottish-Pakistani Association.
His extensive community work was recognised when The Queen made him CBE in the 2000 New Year's Honours List, while he also received many Lifetime Achievment Awards from various community bodies and three honorary doctorates and two Fellowships from Scottish Universities, including all three Glasgow ones.
He wrote three well-received books: The New Scots: The Story of Asians in Scotland (1992); The Thistle and The Crescent – a study of Scottish-Islam relations (2008); and Muslims in Scotland (2015).
In 2011 he sat with his children, grandchildren and great-grandchildren for a photograph which now hangs in the Scottish National Portrait Gallery in Edinburgh, while the Bashir Maan Archive is housed in Glasgow's Mitchell Library.
Bashir, who married twice, is survived by his son, three daughters and his grandchildren and great-grandchildren. He is mourned in and beyond the Scots-Asian community for his role as a trailblazer and facilitator of greater understanding in race relations.