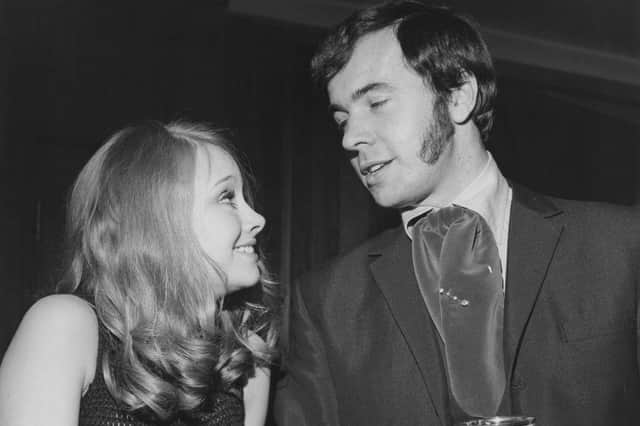 Man about town Barry Mason with English actress Linda Hayden in 1968. (Picture: Getty Images)
Seventy years ago, when he was just 15, Barry Mason met a girl in Blackpool. He lived there, she was on holiday. He fell head over heels in love. But at the end of her holiday she revealed that it was over and that she had a boyfriend at home. Her name was Delia. "I was shattered," Mason recalled many years later. "I became sick with jealousy."
Fast forward almost 20 years and Mason was making a mark for himself as a songwriter, following abortive attempts to become an actor and a pop star.
Tom Jones had enjoyed a No 1 hit with It's Not Unusual, written by Mason's friends Gordon Mills and Les Reed. Now Jones needed more big songs to match his personality and Mason suddenly remembered his holiday fling and the pain he felt when his romantic hopes were so cruelly dashed. Inspired also by Bizet's opera Carmen and the Frankie Laine song Jezebel, he wrote a song of passion, jealousy and ultimately murder. "Why, why, why Delia" did not quite work, so Delia became Delilah.
Mason wrote the lyrics, Reed the tune, Jones had another huge hit, reaching No 2 in the singles chart in 1968, and Welsh rugby fans had a new anthem – until detractors suggested it encouraged domestic abuse. The Sensational Alex Harvey Band also had a Top Ten hit with Delilah, accentuating the theatre and melodrama of lines like "I felt the knife in my hand and she laughed no more" and reaching No 7 in 1975.
Mason and Reed became a regular team. They worked and socialised together. They played golf together, but one day it started to pour just as Mason arrived to pick Reed up. While the rain fell, they got to talking about the old days in the dance halls. Reed recalled how the compere would always say "Take your partners for the last waltz", and Mason suddenly realised that might work as a song and they wrote The Last Waltz in 20 minutes flat, with Mason coming up with the words, while Reed worked away on the piano.
Mason commented later: "Everybody was into flower power and smoking dope and tripping out… and we were doing a waltz." It may not have captured the Sixties zeitgeist, but it was a No 1 hit for Jones's contemporary and rival Engelbert Humperdinck and was recorded by other artists in Japanese and Swahili.
Mason co-wrote literally thousands of songs, with several different composers, selling millions of copies. They were recorded by stars of the magnitude of Elvis Presley, Barbra Streisand and Rod Stewart, but often by more obscure artists. Some have reached new audiences in films and television, including Love Grows (Where My Rosemary Goes), which Mason co-wrote with Tony Macaulay, another of the Denmark Street-Tin Pan Alley songwriting greats of the era. It was a No 1 for a bunch of session musicians, with the great Tony Burrows on lead vocals, recording as Edison Lighthouse. It was referred to in Reservoir Dogs and was played in The Sopranos and at the end of the Jack Black comedy film Shallow Hal, in which Gwyneth Paltrow's character was called Rosemary.
Mason's success as a songwriter enabled him and his second wife and occasional collaborator Sylvan Whittingham to buy George Harrison's former home in Surrey. He was born John Barry Mason in Wigan in 1935. His father, a journalist, died when he was young and his mother married an American soldier and moved to the United States. After National Service, Mason enrolled at Ohio State University, but dropped out to try his luck in Hollywood.
Having failed to become a Hollywood star he returned to England and had a small role in Saturday Night and Sunday Morning, singing the song What Do You Want? The film starred Albert Finney and Mason worked with him again as his understudy in the John Osborne play Luther at the Royal Court Theatre in London, an experience that convinced him he did not have what Finney had and would never make the grade as an actor.
Mason became a songwriter via management. He was managing a singer called Tommy Bruce, who had a Top Ten hit in 1960 with a cover of Fats Waller's Ain't Misbehavin'. Mason wrote a song for him, which he thought would serve as a B-side. He could not write music, so he got one of Bruce's band to get it down on paper.
Bruce, however, proved pretty much a one-hit wonder. Mason then formed a songwriting partnership with Peter Lee Stirling, who later enjoyed some success as the singer Daniel Boone, and they wrote Don't Turn Around, which the Merseybeats took into the Top Twenty in 1964. Mason subsequently joined forces with Reed and their song Here It Comes Again was recorded by The Fortunes and reached No 4 in the UK and the Top 30 in the US. Other hits include I Pretend, a No 1 for Des O'Connor; Winter World of Love and the wistful Les Bicyclettes de Belsize, Top Ten hits for Engelbert; There Goes My First Love, a big hit for The Drifters; and two No 2 hits in 1976, When Forever Has Gone by Demis Roussos and You Just Might See Me Cry by Our Kid.
In later years Mason toured a one-man show, singing and talking about his hits. He also developed several stage musicals, but found it difficult to make that leap from hit single to longer form. Tim Rice, Andrew Lloyd Webber's lyricist on his early hit musicals, said: "Barry can tell the story of life in three minutes."
Mason was made an OBE for services to music last year. He is survived by partner Vanessa Martin and three children from previous marriages.
If you would like to submit an obituary, or have a suggestion for a subject, contact [email protected]
A message from the Editor
Thank you for reading this article. We're more reliant on your support than ever as the shift in consumer habits brought about by coronavirus impacts our advertisers. If you haven't already, please consider supporting our trusted, fact-checked journalism by taking out a digital subscription.