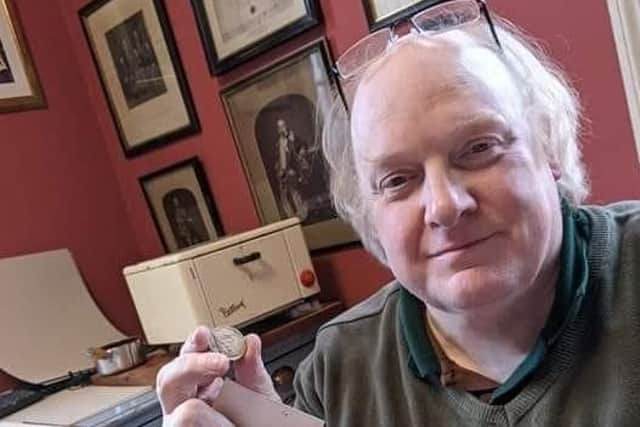 Anthony Maxwell did more than develop 21st-century heraldic design. He brought it alive digitally, demonstrating how coats of arms could be electronically applied to paper, wood, stone, glass, metal and textiles, and at considerably cheaper cost than conventional paint on vellum. "Brush and goo" was his cheerful dismissal of that method.
Anthony's clients were based everywhere from North America to the Antipodes. He rarely met any in person, working alone at home in Edinburgh on his computer.
His infectious enthusiasm greatly encouraged many to petition for coats-of-arms, and his innovative approach to design created a new wave of style in Scots heraldry.
Anthony eschewed worked from drawings or photographs, taking instead as his reference the blazon or heraldic description of the coat-of-arms.
Thus his output proved a vigorous cornucopia of colour, cross and creature. While a rampant lion would certainly bear frightening ferocity, close inspection could show an eye with a ready twinkle.
His IT skills led to a groundbreaking use of 3D printing, through which he pioneered a way of producing a bonnet badge in silver at considerably less cost than traditional silversmithing – not that Anthony's innovation in any way reduced standards of artwork.
This led to a major commission, the production of a silver crozier for an Episcopal bishop in England.
His was stimulating company, if more than occasionally exasperating. He possessed his own ideas, and he would take them his own way.
Anthony's depth of knowledge (not just of heraldry) was profound. And there were few people he didn't know, or was able to know.
When he felt that the artwork of the arms used by a Scots duke deserved better, he simply picked up the phone and called him. His effrontery paid off for both parties, for the updated ducal arms now dance with energy.
When Anthony wanted to deepen his heraldic reference library, he was initially stymied by the fact that one fine source, the 16th-century Slains Roll, was in private hands and not accessible. He worked his charms, gained 55 subscribers at £100 a time, and in 2006 privately published 55 facsimile copies.
Yet he was such a private person. We who thought we knew him actually hardly did, though we certainly were frequent recipients of his endless generosity of spirit, plus his knowledge and sheer artistry.
His career included a commission as an army officer and periods as a computer programmer, diamond dealer, and of course, as a heraldic artist. Anthony was also a graduate in fine art of Buckinghamshire New University, training as a woodcarver. Those pieces of his which survive in private hands have become treasured, if not pricey.
While his agile mind provided a stream of information to those who asked, he equally did not hesitate to criticise if he felt that the heraldic establishment deserved it. He was no snob, for he dealt with everyone in the same manner.
But as a master of the sardonic, he was no diplomat either, and put several backs up – and regularly too.
He and I occasionally worked together, and never once did we argue over quality of work – but we reached melting point a score of times over whether Latin or Scots should be the tongue employed for a motto.
A one-time committee member of the Heraldry Society of Scotland – he created their first website – he fell out spectacularly with his colleagues, thus making himself a distinctly Marmite character in the heraldic world.
He continued to delight his fans. however, with the suites of arms he produced, and low-resolution heraldic e-mail signatures, drawn in the style of Don Pottinger, the noted 20th-century heraldic artist.
His oddest assignment was to produce arms on a large decal now borne on a historic carriage at a railway heritage centre in Derbyshire.
He wasn't above applying his talents to produce oddities for himself. Wanting a pair of dress trews in Maxwell tartan, he was appalled at prices quoted to him.
"I'm only ever going to wear them once a year" he complained. So he sourced a textile printer, and had a length in cotton printed off in his tartan, then arranged with a dressmaker friend to run them up for him.
His passing robs the heraldic world of a maddeningly infuriating but delighting craftsman, someone whose working hours no trades union would have sanctioned. Anthony made himself available by phone from 10 in the morning until the same time at night. Clients would receive e-mails from him sometimes timed after four in the morning.
He enjoyed the company of several long-time girlfriends, but never married.
Anthony died a day short of his 67th birthday after being diagnosed with Covid during treatment for throat cancer.
He leaves behind a huge body of work embellishing the lives of so many, capturing the essence of their lives in imaginative matriculations. His creations added panache to heraldic expression while never lacking dignity.
If you would like to submit an obituary, or have a suggestion for a subject, contact [email protected]
A message from the Editor
Thank you for reading this article. We're more reliant on your support than ever as the shift in consumer habits brought about by coronavirus impacts our advertisers.
If you haven't already, please consider supporting our trusted, fact-checked journalism by taking out a digital subscription.