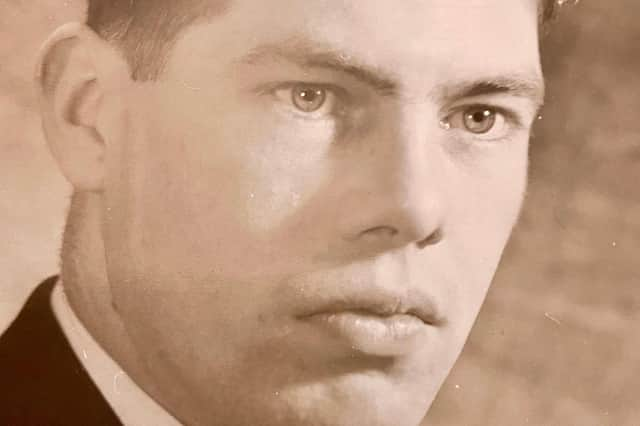 Sandy Veitch was born in Peebles in 1935, 20 minutes apart from his twin John. Their mother Mary McIntosh and father John Veitch, a tobacconist and fishing tackle maker, brought the boys up in the town's George Street. Sandy had a full and fun childhood, attending Kingsland and Peebles High School while being an active member of the Boys Brigade.
Saturdays saw the two boys play rugby in the morning, followed by football in the afternoon. One day a 1st team player at Peebles Rovers had a sore leg and the team asked Sandy to play on the wing – he ended up playing for the Rovers for the whole 1951-1952 season as part of the winning team in the Borders Cup when Peebles beat Duns.
John then went to learn Pharmacy while Sandy had the opportunity to work at Fairfield Shipyard in Glasgow while attending night school at Stow College. At the time, in 1955, the shipyard had just built the Empress of Britain for Canadian Pacific – it was launched by the Queen – and Sandy was asked to provide a technical comparison with another cruise ship that was being built in England. So began Sandy's incredible seagoing career, one that took him to all the continents.
He rose from 8th Engineer, gaining his steam and diesel tickets on cargo ships, then became Chief Engineer on three future Empress Ships, followed by promotion to Chief Superintendent, a shore-based position at Canadian Pacifics' Head Office in Trafalgar Square, London.
A glittering marine engineering future wasn't obvious when Sandy was young – he and John made a canoe and Sandy thought he knew best when it came to hull construction, riveting it together... only for it to leak on its maiden voyage. John then made a perfect repair, bonding the hull with plastic sheeting!
In 1968 Sandy met the love of his life, Barbara – his "wee flower" as he called her when they were both working on the same cruise ship; they wed on Christmas Eve that year. In February 1970 son Jonathan was born.
Barbara and Sandy moved to Petts Wood, Kent, and stayed for some 30 years, becoming known for their love of gardening, coffee mornings and generally being the best neighbours anyone could ask for. Sandy was a keen bowler, something he kept up when they returned to Peebles in 2000, after he retired from Canadian Pacific in June 1988.
Over the last five years, sadly, Sandy and Barbara's health declined, but they received incredible support from their local carers at Enhance Support and Care and the NHS. Sandy died at Borders General Hospital, Melrose, last month. Barbara predeceased him in 2019.
Sandy is survived by son Jonathan, his wife Tina, grandchildren Kirsty, Sion, Greg and Sam and great-granddaughter Millie, who unfortunately never had the opportunity to meet her grandparents, but they will be remembered fondly.
Everyone who met Sandy said what a true gentleman he was. He will be remembered as kind, generous, funny and honestly sincere.
Jonathan said Sandy would always be his inspiration and role model and he is hoping to maintain his legacy in his own career.
If you would like to submit an obituary, or have a suggestion for a subject, contact [email protected]
A message from the Editor
Thank you for reading this article. We're more reliant on your support than ever as the shift in consumer habits brought about by coronavirus impacts our advertisers. If you haven't already, please consider supporting our trusted, fact-checked journalism by taking out a digital subscription.