Obituary: Alastair Brooks, hotelier awarded Military Cross for gallantry during the Korean War
Ralph Alastair Brooks MC, hotelier and Korean War veteran. Born: 11 February, 1932 in Kelso. Died : 17 February, 2021 in Melrose, aged 89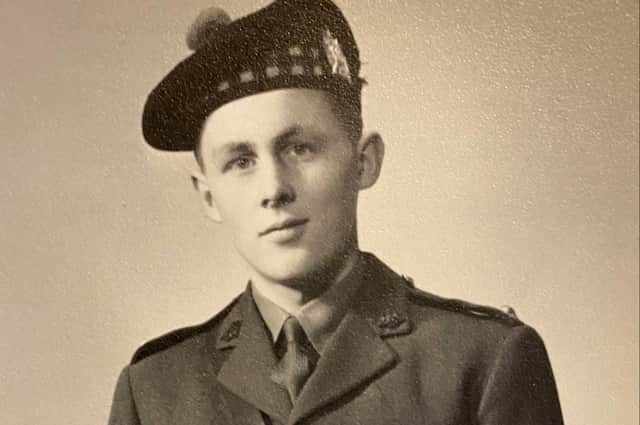 Alastair Brooks was such a fresh-faced National Service conscript that his boyish looks almost blocked his path to becoming an army officer.
Despite achieving very high marks in all his tests, the selection board considered failing him at his final interview because he was so baby-faced.
But the teenage Borders recruit, who had not yet started shaving, was ultimately put through and, after tough training at Eaton Hall, Cheshire, passed out at as second lieutenant.
Deployment to Korea swiftly followed and if anyone personified the maxim that looks can be deceptive it was Brooks.
Aged 19 he was commanding a platoon of B Company, 1 King's Own Scottish Borderers (KOSB), when he displayed such inspiring leadership under fire that he was awarded the Military Cross – one of the youngest soldiers to be recognised for such gallantry.
The company was positioned on the hills overlooking the Imjin River on the afternoon of November 4, 1951 when it came under intense artillery and mortar fire and was swiftly attacked by wave after wave of enemy troops. Despite overwhelming enemy numbers attacking the position, the platoon held firm, "entirely due to the outstanding example shown by 2/Lt Brooks," read his citation.
Brutal and confused hand-to-hand fighting followed but Brooks worked calmly from section to section, directing and encouraging his men, repeatedly leaving his own trench, despite very heavy and accurate mortar and small arms fire, and showing utter disregard for his personal safety.
On receiving orders from his company commander to withdraw, he evacuated his casualties with commendable calmness under the most difficult conditions and cleared the reverse slope of the company position, enabling the remainder of the company to withdraw with minimum loss.
Then at 3am on November 5, when all wireless communications were lost after a direct hit on the command post, he was ordered to return to battalion HQ for more wireless sets, weapons and grenades. He knew heavy enemy fire had thwarted a previous attempt but, undeterred, he organised a second party and successfully led them to his company. Communications were restored at a critical time and did much to influence the success of the future operations of both company and battalion, said the citation.
"2/ Lt Brooks' inspiring example, his coolness under fire and in the face of vastly superior numbers of enemy, and his complete disregard for his own personal safety throughout the whole operation, is demanding of the highest praise and recognition."
Ralph Alastair Brooks, known as Alastair, was born in bedroom six of Kelso's Ednam House Hotel, bought by his grandfather in 1928 and run by his parents Ralph and Ann.
Educated at St Mary's School, Melrose and Loretto, Musselburgh, he was called up for National Service at 18 and commissioned shortly before his 19th birthday. North Korea had invaded South Korea the previous year and Britain supported the South, deploying nearly 60,000 combat troops. Brooks was posted to the battlefields during the Chinese Spring Offensive.
The KOSBs had a distinguished Korean war record but Brooks never discussed his courageous exploits. He did recall the sub-zero conditions, crossing frozen paddy fields fearful that the ice would crack, and maintained he learned to sleep anywhere, even slumbering through an earthquake – he woke to discover the trench roof had collapsed, leaving a minuscule gap through which he managed to wriggle out.
He also revealed that in front of his men he used to pretend to shave, using a razor minus its blade.
Brooks loved the army and would have considered becoming a regular soldier but was expected to take over the family hotel. However, he served with the KOSB territorials until 1967 when he retired with the rank of major, finding it impossible to run the hotel and fulfil his TA commitments.
After National Service he trained at the Ecole Hoteliere de Lausanne in Switzerland, then gained experience at the Baur au Lac hotel in Zurich and London's Great Western Royal, before returning to Kelso where he was a natural host.
One major factor in his career success was marriage in 1958 to Sheila Thomson. They formed a formidable team, sharing duties and responsibilities and enhancing Ednam House's reputation which became a second home for River Tweed salmon anglers and an unofficial salmon fishing club.
The hotel trade inevitably entailed long working hours and he was there for fishers morning and night, discussing the prospects for the day ahead, while distributing packed lunches in the trademark containers he made out of old wooden wine boxes, and on hand at the end of the day to congratulate or commiserate.
An expert fisherman for 70 years – he caught two salmon in excess of 30lbs – he collected, restored and used vintage tackle, with examples currently in Kelso's River Tweed Salmon Fishing Museum of which he was a founding trustee. And he was an enthusiastic deer stalker and curler, turning out for the Lowland Brigade on the frozen Tweed in 1962 and taking part in the Grand Match on the Lake of Montieth in 1979.
Brooks, who retired in 1999, was also a talented creative who had once considered becoming an architect. He painted watercolours on the riverbank as he waited his turn to fish, turned his hand to upholstery – much of the furniture in the hotel was re-upholstered sale room finds – and loved to make clocks, repurposing the most unlikely components into eccentric creations for friends.
A master storyteller, his keenly-observed tales were vivid, full of humour and plucked from a life well lived.
He is survived by Sheila, his wife of 62 years, children Lesley, Charles and Ralph, their spouses and eight grandchildren.
If you would like to submit an obituary, or have a suggestion for a subject, contact [email protected]
A message from the Editor
Thank you for reading this article. We're more reliant on your support than ever as the shift in consumer habits brought about by coronavirus impacts our advertisers.
If you haven't already, please consider supporting our trusted, fact-checked journalism by taking out a digital subscription.
Comments
 0 comments
Want to join the conversation? Please or to comment on this article.