Obituary: Alanna Knight, novelist who worked in multiple genres
Alanna Knight, novelist and writer, born 24 February 1923, Jesmond, Newcastle Upon Tyne. Died 2 December, 2020, Edinburgh, aged 97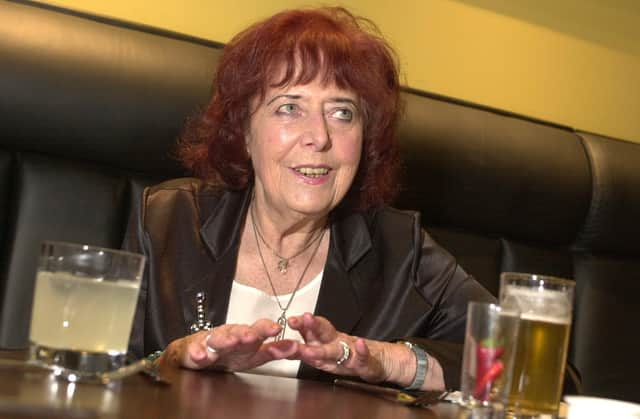 Alanna Knight pictured at the Hurricane restaurant in Edinburgh in 2012
One of Scotland's most prolific writers, Alanna Knight continued to write well into her 98th year. Best known as the creator of Edinburgh's Victorian detective, Inspector Jeremy Faro, she completed a new novel in spring which will be published posthumously next May, and was working on a new Faro story when she died.
In a varied career spanning more than 50 years, Alanna wrote between 60 and 70 books, taking in romance, suspense, historical fiction, crime, non-fiction and writing guides. A popular guest at book festivals, she was among the most-borrowed writers in UK libraries. She was an active member of writers' organisations, and an authority on Robert Louis Stevenson.
Born Gladys Cleet in Jesmond, South Shields, of Scots-Irish descent, she grew up in Newcastle. She loved to write as a child, penning short plays for classmates to perform, sending her poems to BBC Children's Hour, and writing her first novel as a teenager. Her pen name (and preferred name) Alanna was derived from her mother's maiden name, Allan.
After studying at a local commercial college, she got a job as a secretary at Newcastle University where she met her future husband Alistair Knight, a scientist, on a blind date to the theatre. They married in 1951 and were together for 57 years, until Alistair's death in 2008.
The Knights began their married life in Aberdeen where Alistair worked at the Macaulay Research Institute. In 1964, while caring for their two young sons, Christopher and Kevin, Alanna was struck by polyneuritis, a rare nervous disorder, which left her paralysed for five years. Knowing that she loved writing, Alistair bought her an electronic typewriter – she was just able to tap on the keys – on which she wrote her first short stories.
She learned her craft penning short stories for DC Thomson's My Weekly magazine. Early novels were rejected but, in 1969, Legend of the Loch, a romance set on Deeside, was published and won the Romantic Novelists' Association Netta Muskett Award. She continued to write romances with an element of suspense, and a commission for a book set on the Isle of Lewis took her into historical fiction. However, it was not until the 1980s that she found her niche – historical crime.
Having loved Treasure Island as a child, she was reintroduced to Robert Louis Stevenson when helping her son Chris with a school project. Re-reading his work as an adult was, she said, "like meeting an old friend". She would describe Stevenson as her "grand passion", writing a radio documentary, a play and several books about him, including the encyclopaedic Robert Louis Stevenson Treasury, which has been described as "a comprehensive and entertaining volume of Stevensonian scholarship".
While staying in a friend's flat in Edinburgh during one period of Stevenson research, Alanna looked out of the window and saw a man wearing a deerstalker and an Inverness cape, looking up at the houses as if he was searching for something. He became the inspiration for Inspector Faro, who would set about solving crimes in the Scotland of the 1870s – a world familiar to her through Stevenson. The Knights moved to Edinburgh when Alistair retired.
Alanna's agent was concerned at her shift into crime-writing, Scotland not yet having a reputation for "Tartan Noir", and the sub-genre of historic crime being still in its infancy. However, publishers Macmillan snapped up Faro with a three-book deal and the first novel in the series, Enter Second Murderer, was published in 1988. A television series was even spoken of in the 1990s, with Brian Cox linked to the leading role, but the costume drama aspect was considered too expensive.
Faro would go on to feature in 19 novels with the last, The Dower House Mystery, published in 2019. Alanna went on to write crime books with Faro's daughter, Rose McQuinn, as the protagonist, and in 2001 debuted time-travelling detective Tam Eildor. She wrote a new Eildor novel, Murder at the World's Edge, during spring's Covid-19 lockdown, saying that her characters helped keep her company during a time of isolation from her family. It will be published in May 2021.
Given to quoting the anecdote that Stevenson wrote Treasure Island in 14 days, Alanna had a rigorous writing schedule, always making sure she completed 1,000 words a day, and often finishing a novel in three months. While she enjoyed the solitary work of the writer, she was an entertaining raconteur, in demand to give talks at libraries and writers' groups, and a popular guest at book festivals.
She was honorary president of Edinburgh Writers Club, honorary president and a founder member of the Scottish Association of Writers, and an active member of the Society of Authors and the Crime Writers Association. In 1989, she organised a conference for crime writers in Edinburgh which included a visit to a rifle range and a talk by the Chief Inspector of the local police force, a forerunner to today's Bloody Scotland Festival which she also supported enthusiastically.
She taught writing with the Workers Educational Association, St Andrews University Summer School and the Arvon Foundation, and would encourage other writers and judge writing competitions. She said: "I love working with writers. I feel that I was given that talent and it's not for me to keep but to share, like the Greeks pouring some of the wine back into the ground." In 2014, she was made MBE for services to literature.
Alanna died on December 2 in Edinburgh after suffering a stroke. She is survived by her two sons and two grand-daughters. Her son Kevin said: "She did what she loved, and carried on doing it for as long as she could." Her legacy is all around us in bookshops and libraries, and she has left a final treat for her fans: a final novel, to be published next spring.