Obituaries: Stuart Sellar, railwayman and founding member of the Scottish Railway Preservation Society
Willilam Stuart Sellar, railwayman. Born: 1 July,1937 in Edinburgh. Died: 1 August, 2023 in Falkirk, aged 86
His lifelong love of railways was fuelled in no small part by his childhood home's proximity to the Edinburgh Suburban Railway line.
It was an interest that only intensified when young Stuart Sellar's family moved to a flat overlooking Morningside Road Station.
But when his passion progressed into railway photography it was an enthusiasm not shared by passing train drivers: the red light in his tenement bedroom-cum-darkroom – essential for developing images – was constantly being mistaken by drivers as a nearby signal, resulting in them hitting the brakes. An irate phone call from the station master duly followed.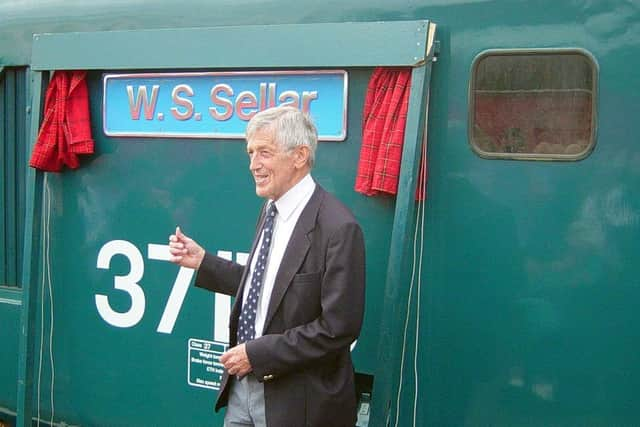 A more effective blackout solution was swiftly deployed and since then no book of Scottish railway photographs has been complete without his shots. His own memoir, Railway Reflections, a collection of photographs and personal stories gathered over his career from booking clerk to ScotRail manager, is also essential reading for fellow enthusiasts.
Born William Stuart Sellar but always known as Stuart, he was the son of bank worker William and his wife Daisy and was a trainspotting ten-year-old when they moved to Morningside Road. He had always wanted to work on the railways and after leaving Edinburgh's George Watson's College he started as a booking clerk at his local station.
Soon afterwards, in 1956, work was interrupted by his two years' National Service on the Longmoor Military Railway in Hampshire. On demob he returned to British Railways and held a variety of junior posts in the operating department.
In 1962 he was appointed as a Traffic Apprentice, a type of three-year management training scheme, and went on to take up various posts at area management level working in Operating, Terminals and Administrative Management which included supervisory and training responsibilities. In 1971 he moved into project management for the Regional Freight Manager, Scotland with a wide remit including transportation of the pipes for North Sea oil and gas pipelines.
In the early 1980s he was the project manager for the introduction of the summer tourist steam-hauled passenger service between Fort William and Mallaig.
"This was a bold move by the ScotRail management, given the official anti-steam mood of the times," recalled fellow railway enthusiast Jim Summers. "Stuart's logical mind and attention to detail, along with his remarkable network of contacts, led to an immediately successful operation, and one significant for the Scottish tourist industry. Although it is now run by a private company and is associated with a youthful wizard, the real wizardry lay with the man who used all his experience to set up an operation which has now endured for 39 years."
Sellar, a qualified steam and diesel locomotive driver himself, spent a further four years working as a project manager in the operating department at ScotRail and from 1989 on was Quality Standards Manager.
After retiring in 1993 he took on consultancy work, becoming involved in a study for Railtrack to determine the long-run incremental cost of operating infrastructure in ScotRail, Tyne and Wear PTE, MerseyRail PTE and the East Coast Main Line.
Meanwhile in the early 1960s, his love of railways had seen him become one of the founding members of the Scottish Railway Preservation Society (SRPS) which operates the Bo'ness & Kinneil Railway, a track he physically helped to construct and was involved in operating. He also helped to restore vehicles in the SRPS collection and had an encyclopaedic knowledge of carriages.
In the early 1970s, as a fundraising exercise, the SRPS ran rail tours in Scotland and further south using the vintage coaches they had restored. Sellar was involved in the marketing and operation of these, including dealings with British Rail.
The coaches were often chartered to other companies for wide-ranging journeys and Jim Summers, also a member of the SRPS, says: "Stuart built a truly enviable list of contacts around the UK. Many were present at a ceremony when he was supposed to name locomotive 37175 "Forty Years of SRPS Railtours". With his back to the engine, he pulled open the curtains without realising that the guests actually saw a plaque revealed which bore his own name: "W S Sellar".
Further afield he, he escorted parties on Great Railways Journeys, mostly to Europe, but also visited the USA, South Africa, India and travelled on the Trans Siberian Express.
His interest in railway photography continued in tandem and he provided many images for magazines and other publications. Throughout his career he had carried his camera wherever and whenever possible and during his early years had served as a relief clerk at a variety of stations, including Galashiels, Melrose and Hawick, which gave him the chance to capture the passing steam scene. He had also had the opportunity to produce unique shots at locations including on the Forth Bridge, Port Edgar and at Bonnington Crossing in Edinburgh.
Encouraged by admirers who believed his photos merited their own book, he wrote Railway Reflections: Reminiscences of Steam in Scotland which was published by the SRPS in 2021, with profits going to the Society's funds.
A keen sailor for many years, his other hobby was constructing 5in gauge live steam locomotives. His model of The Lord Provost loco was displayed at Edinburgh Waverley Station during Edinburgh's 101 Objects project which told the story of more than 1000 years of the capital's history through 101 treasured objects.
He was also a member of the Edinburgh Society of Model Engineers, Motherwell Society of Model Engineers, Caledonian Railway Association and North British Railway Study Group, among others.
Married to his wife Annet since 1967, he is survived by her, their son Stuart and daughter Catriona.
If you would like to submit an obituary (800-1000 words preferred, with jpeg image), or have a suggestion for a subject, contact [email protected]
Comments
 0 comments
Want to join the conversation? Please or to comment on this article.