Ryuichi Sakamoto was arguably one of the most influential composers of the second half of the 20th century. His work covered the spectrum from classical to techno, from the sound of a melting glacier to music for a vitamin drink commercial that was released as a single by popular demand and became the first instrumental to top the charts in his native Japan.
His biggest single hit in the UK and internationally was the song Forbidden Colours, the poignant theme from the 1983 prisoner of war drama Merry Christmas, Mr Lawrence, with lyrics sung by David Sylvian, who also shared composer credit on it.
As if writing the score for Merry Christmas, Mr Lawrence was not enough, Sakamoto also co-starred with David Bowie and Tom Conti. He played the camp commander, whose sense of honour and order is challenged by Bowie's character.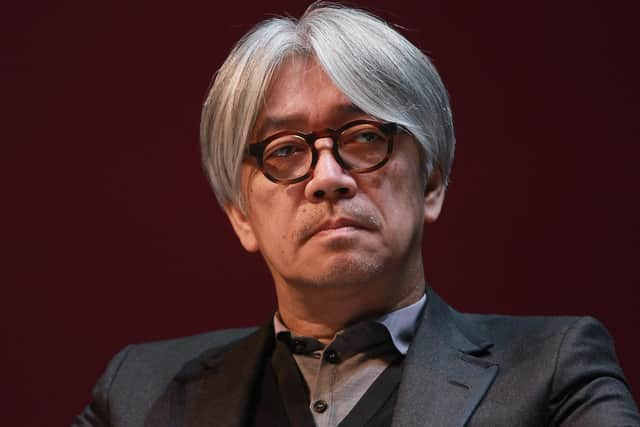 Nagisa Oshima's bold decision to cast two leads with little acting experience brought an ethereal, almost otherworldly quality to the film, a dramatisation of Laurens van der Post's 1963 novel The Seed and the Sower about clashing values and cultures (a novel that is one of the current king's favourites).
And, as if being an outstanding composer and musician and talented actor was insufficient, Sakamoto was also strikingly handsome and modelled for Gap after winning his Oscar for The Last Emperor (an award he shared with fellow composers David Byrne and Cong Su).
Sakamoto won Golden Globes for The Last Emperor and for The Sheltering Sky, both of which he made with director Bernardo Bertolucci, with further nominations for Little Buddha and most recently The Revenant, released in 2015, not long after he was first diagnosed with cancer.
The only child of a literary editor and a hat designer, Sakamoto was born in Tokyo in 1952 just at the end of the Allied occupation when western influences were merging with traditional Japanese culture. He began composing music while still at primary school – the same progressive school as Yoko Ono.
Like most of his generation, he was knocked out by the music of the Beatles and the Stones. But he was also a fan of classical composers, especially Claude Debussy, whose work he would later describe as "the door to all 20th century music", electronic pioneer Karlheinz Stockhausen and jazz musicians such as John Coltrane.
He studied music composition and ethnomusicology at Tokyo University of the Arts, pushing the boundaries in both classical and jazz music, exploring the potential of synthesisers, while also playing keyboards for a local folk singer.
In 1978 he formed Yellow Magic Orchestra with Harry Hosono and Yukihiro Takahashi, with whom he had worked as session musicians. "We invented techno pop," he said – fans of Kraftwerk and Krautrock might dispute that, but the group did prove enormously influential in the field of electronic music.
They were particularly popular in Japan, inspiring scenes reminiscent of the Beatles in this country. "That's why I hated it," said Sakamoto.
It was a far cry from the august chambers of the conservatory where he had been a student. "I knew harmony, counterpoint, how to write a sonata, a fugue," he said. His nickname in the group was Professor.
In 1980 YMO had a UK hit with Computer Game. But they were always more influential than popular in the West, with their use of electronically distorted vocals, sampling, drum machines and electronic sequencers.
Sakamoto's catchy, spacy composition Behind the Mask was composed for a Seiko advert, but it took on a life of its own. A version was a hit in the UK for Eric Clapton and covered by Michael Jackson and Human League.
Merry Christmas, Mr Lawrence marked Sakamoto's debut both as a film composer and as an actor, a combination he would repeat on The Last Emperor.
He had only a supporting role on screen in The Last Emperor, but the Academy Award he won for the music undoubtedly raised his profile in the West in general and Hollywood in particular and Madonna recruited him to appear in the video for her song Rain.
He was in huge demand to compose film music and subsequent credits include Pedro Almodovar's High Heels, Bertolucci's Little Buddha, Oliver Stone's Wild Palms and John Maybury's Love is the Devil.
He also recorded albums with Iggy Pop and John Cage, and composed music for the opening ceremony of the 1992 Olympics in Barcelona, with elements of jazz and rap, and lyrics in several different languages.
His 2017 album Async followed his diagnosis with and remission from cancer and was essentially a musical meditation on mortality.
Its creation is recorded in the documentary Coda. "I've got to keep moving my fingers – that's what I'll do," he says at the end of the film.
He continued working until very recently. In December he did a piano concert that spanned his whole career and was streamed from a studio in Tokyo, and his final solo album, entitled 12, was released in January.
He is survived by his third wife and four children. Two earlier marriages ended in divorce.
If you would like to submit an obituary (800-1000 words preferred, with jpeg image), or have a suggestion for a subject, contact [email protected]