For a generation of hormonal lads and young cavemen Raquel Welch defined female sexuality. Posters of her in her skimpy deerskin bikini from the 1966 film One Million Years BC brightened up countless bedroom walls.
Welch had hardly any dialogue in One Million Years BC (as befitted the period setting), but she provided one of the most memorable cinematic images of the decade, a little bit of glamour and a counterblast against the onslaught of social realist dramas.
In the 1960s and 1970s Welch featured in a string of fantasy films, including Fantastic Voyage, in which she is part of a scientific team shrunk and injected into the blood stream of a comatose secret agent, and light-hearted adventures, including The Three Musketeers, for which she won a Golden Globe for best actress in a musical or comedy.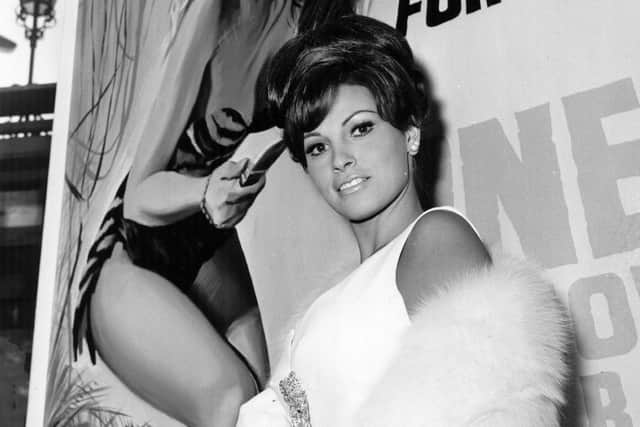 She bristled against stereotyping and the focus on her looks and sexuality, although the image she established in One Million Years BC actually divided feminists at the time. Commentator Camille Paglia called her "the indelible image of a woman as queen of nature… a lioness – fierce, passionate and dangerously physical."
Welch was arguably way ahead of her time when she played a transsexual in the 1970 movie Myra Breckinridge, adapted from a Gore Vidal best-seller that explored issues of sex and gender.
But it was a fractious shoot, earning her the reputation for being "difficult". And what worked on the page, singularly failed to work on the screen. The film flopped at the box office and was panned by critics, with Time magazine calling it "an abomination… some sort of nadir in the history of American cinema". It later developed a cult following.
Rightly or wrongly, Welch's film career did rely heavily on her sex appeal, though unlike most contemporaries she refused to appear fully naked on screen or in print. She did agree to a photoshoot with Playboy, but it proved a modest affair. "I've definitely used my body and sex appeal to advantage in my work, but always within limits," she said.
Her film career effectively ended with her sacking from the film Cannery Row in 1982. She sued MGM and won $10.8 million, but the whole episode only served to cement her reputation for trouble.
She did continue to work fairly regularly in television, with guest appearances in The Muppets, Mork and Mindy and Seinfeld, and she developed a successful business career bringing out health, beauty, fitness and yoga books and videos, jewelry and perhaps most successfully wigs.
She was born Jo-Raquel Tejada in Chicago in 1940, though the family moved to California when she was an infant. Her father was an aeronautical engineer from Bolivia. She won several beauty pageants in her teens and a scholarship to study theatre at San Diego State College, but she dropped out when she became pregnant.
She was married at 19 and took her husband's last name Welch, but the marriage was short-lived. A few years later she married again, to Patrick Curtis, whose showbiz career began when he played Olivia de Havilland's baby in Gone with the Wind. He later became an agent, manager and producer, and secured small roles for Welch in several TV shows and movies.
Early credits include The Virginian, Bewitched and the Elvis Presley movie Roustabout. Fantastic Voyage provided Welch with her breakthrough and a contract with 20th Century Fox, who promptly "loaned" her to horror specialists Hammer, for One Million Years BC.
She was not at all keen to do "a dinosaur movie". But the film turned her into a genuine star. Such was the iconic status of the movie that three decades later when Frank Darabont filmed Stephen King's novella Rita Hayworth and the Shawshank Redemption, it was a poster not of Hayworth, but of Welch from One Million Years BC that covered the escape tunnel.
Welch recalled that the distinctive pose and expression in the picture were the result of director Don Chaffey telling her to run from Point A to Point B, but stop short when she imagines she has just spotted a giant turtle rampaging towards her.
Suddenly Welch was in big demand. She consolidated her image by playing Lust in the Peter Cook-Dudley Moore comedy Bedazzled and even appeared on the poster in another bikini And she co-starred in a trio of westerns in quick succession – Bandolero!, with James Stewart and Dean Martin, 100 Rifles and Hannie Caulder, the poster for which jettisoned bikinis in favour of a poncho, with nothing underneath.
By the time she made the 1972 roller derby movie Kansas City Bomber she was sufficiently powerful within the industry to be a producer as well as star. Again she attempted to broaden her dramatic range, playing a single mum. And again cast and crew found her demanding and difficult to work with. She did many of the skating scenes herself and production was delayed when she broke her wrist.
She effectively played a variation on herself as a Hollywood star in the whodunnit The Last of Sheila and she enjoyed commercial and rare critical success in The Three Musketeers, with Michael York, Oliver Reed, Richard Chamberlain and Frank Finlay, and its sequel.
But there was a decade-long gap between the debacle of Cannery Row, on which she was replaced by Debra Winger, and an uncredited appearance as herself in Naked Gun 33 1/3: The Final Insult in 1994.
It was another four years before her next film Chairman of the Board, in which she co-starred with an American stand-up comedian called Carrot Top and for which she was nominated for a Golden Raspberry for worst actress. On the other hand her business interests were thriving, said to be worth several hundred million dollars.
Over the years she also appeared as a replacement in a couple of Broadway hits, Woman of the Year and Victor/Victoria, and had a one-woman Las Vegas show featuring singing and dancing. She was married and divorced four times and is survived by two children.
If you would like to submit an obituary (800-1000 words preferred, with jpeg image), or have a suggestion for a subject, contact [email protected]