Paul Cattermole was one-seventh of formidable pop b(r)and S Club 7, the Brit Award-winning boy/girl group known for their tweenybop appeal and their TV soap poperas. But, as is so often the case in the ruthless music industry, the numbers didn't add up for the kids pushing the product and Cattermole latterly became known for his financial struggles. Yet, like many before him, he couldn't resist coming back for more. The 46-year-old was found unresponsive at his home, months before the band were about to embark on a 25th anniversary arena tour, a sad and premature end to a story of starry highs and pathetic lows.
S Club 7 were a relatively late addition to the post-Take That wave of manufactured pop bands, conceived to appeal to the pre-teen market with their fun friendship image and cheery, catchy tunes such as Reach and Don't Stop Movin'. Every one of their singles made the UK top 3, four topping the charts, including The Carpenters-like ballad Never Had A Dream Come True. Thanks to the export of their TV shows to 100 territories, they became a global brand, exploited while the market was favourable and then left to fend for themselves.
Cattermole was the first to split from the group in 2002, citing the proverbial, euphemistic "creative differences". He had freed himself from the clutches of the pop monster but no one wanted to know. He toured student unions and nightclubs as S Club 3 with bandmates Jo O'Meara and Bradley McIntosh but later lamented that he was not considered famous enough to be invited on celebrity reality TV.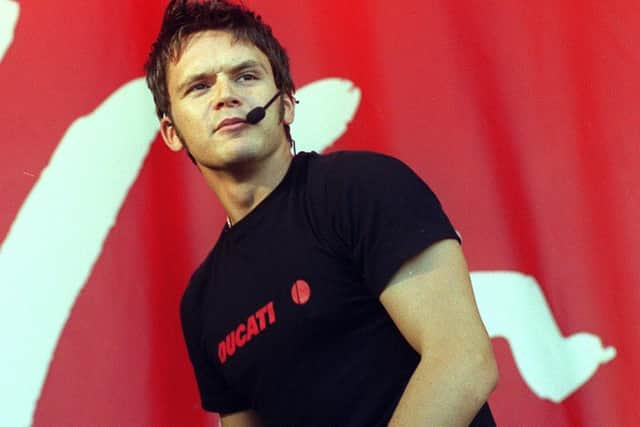 Instead, he found himself back in the spotlight for the wrong reasons when, bankrupt and at a low ebb in 2018, he attempted to auction his two Brit Awards on eBay in order to pay his bills. When he appeared on Loose Women to explain his predicament, the production team gave him a new shirt to wear because he couldn't afford to buy his own.
He remained ambivalent about his membership of S Club 7 but when speaking to author Nick Duerden for his 2022 book Exit Stage Left: The Curious Afterlife of Pop Stars, he said: "I'd consider it an honour if I could sing a song or two with the rest of the band at some point." Like the rest of his bandmates, Cattermole had signed up for the S Club reunion tour this autumn, with extra dates already added at the time of his death.
Paul Gerald Cattermole was born in St Albans to parents Gerald and Liz Cattermole and felt that music was his destiny – his great-grandfather was a managing director at Abbey Road Studios. As a teenager, he enrolled in the National Youth Music Theatre, where he first met future S Club bandmate Hannah Spearritt.
Before pop fame beckoned, Cattermole fronted Skua, a heavy metal band performing Rage Against the Machine covers but he crossed over to the light (dark?) side when he was invited – from 10,000 applicants – to audition for a new mixed-gender pop group put together by Spice Girls and later Pop Idol supremo Simon Fuller, joining O'Meara, Spearritt, McIntosh, Rachel Stevens, Tina Barrett and Jon Lee in the final line-up.
The group released 13 singles and four albums between 1999 and 2002 and their associated TV series – Miami 7, L.A. 7, Hollywood 7 and Viva S Club – chalked up 90 million viewers worldwide. Band members played versions of themselves, and "art" imitated life when Cattermole and Spearritt's onscreen relationship was replicated in reality.
The long, exhausting hours on set, plus requisite promotional duties, were not met with equivalent financial recompense – it later emerged that Fuller was signed to the band's label Polydor and the band members were merely "affiliates". In contrast, Cattermole felt underused in the studio, offered lead vocals on tracks which were never going to be released as singles.
Cattermole knew he was being played and blinked first. S Club 7 became S Club. The album they released after his departure was the poorest selling by far but this was small consolation to Cattermole, who later mused to Duerden: "If I'd had my dream job, how come I wasn't living my dreams?" He alluded to the toll on his mental health, saying: "We have a shadow self to our lighter being. I didn't even realise it was there, but it was something I was constantly running from my entire life."
Cattermole rejoined his teen metal comrades but Skua failed to gain any commercial traction. So began a piecemeal post-pop fame career of DJing, singing on advertising jingles and S Club 3 appearances in efforts to keep the wolf from the door. Cattermole eventually filed for bankruptcy in 2014 but received a brief stay of execution with the first S Club 7 reunion tour in 2015.
Between S Club gigs, however, Cattermole's career was hand-to-mouth – forced to leave a touring production of the Rocky Horror Show through injury, he sustained himself with odd jobs, tarot readings and managing a local radio station.
In 2018, with an exorbitant tax bill to pay, he attempted to quietly auction off his S Club Brit Awards for Best Breakthrough Act and Best British Single, attracting nearly £70,000 in bids. But the money was not forthcoming and Cattermole was blindsided by the public interest in the story.
Following his Loose Women interview, when he expressed the sympathetic desire to fall in love and start a family, the man described by O'Meara as "the sweetest soul" was invited to appear on First Dates Hotel – but not the celebrity version.
If you would like to submit an obituary (800-1000 words preferred, with jpeg image), or have a suggestion for a subject, contact [email protected]