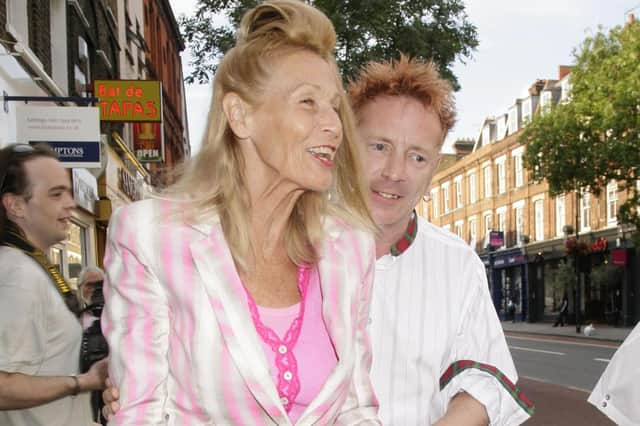 Nora Forster was often referred to in relation to her relations – as the daughter of German publisher Franz Karl Maier, the wife of punk icon John Lydon and the mother of Slits frontwoman Ari Up – but she forged her own successful and influential career as a music promoter and patron in her native Germany, working with artists and bands including Jimi Hendrix, Yes and Wishbone Ash in the Sixties and then, following her relocation to London, with punk bands including The Clash and The Sex Pistols, with the latter proving a fateful connection.
Forster has died aged 80. However, for her devoted husband, the grieving began much earlier, following an official diagnosis of Alzheimer's Disease in 2018. Earlier this year, Lydon told the Sunday Times: "It's vile to watch someone you love disappear. All the things I thought were the ultimate agony seem preposterous now. It's shaped me into what I am. I don't think I'll ever get over it. I don't see how I can live without her. I wouldn't want to. There's no point."
Forster first met the upstart Lydon in Sex, Vivienne Westwood's legendary clothing shop which became the Kings Road epicentre of London's nascent punk scene. For Lydon, the awkward, introverted yet charismatic frontman of a new punk band called The Sex Pistols, the attraction was instant. "She shone, she glowed from way across the other side of the room, she was fantastic, dressed like Lauren Bacall," he wrote, adding wryly "Nora loathed me at first sight."
"I didn't even think to be nice to him," she told the Sunday Mail in 2004. "I fell in love with John because he surprised me. He had a sweet attitude. He was more innocent and not like the rest of the group."
Forster was Lydon's rock and muse through the short, turbulent lifespan of The Sex Pistols. The couple were married against the wishes of her father in 1979 in Dusseldorf, the start of an enduring love match which ended with Lydon as her carer in their Californian home.
Earlier this year, Lydon announced that he was competing to be Ireland's entry in the Eurovision Song Contest, a curveball move even from a man known for eccentric choices. The purpose of his ultimately ill-fated bid was to raise awareness of Alzheimer's and the vehicle was a new track from his long-running band PIL (Public Image Ltd) called Hawaii, a love song dedicated to Nora and inspired by a cherished holiday. The lyrics were poignant - "remember me, I remember you" and the delivery earnest, emotional and far from the archetypal Eurovision camp and melodrama. Speaking before the performance on Eurosong 23, Lydon paid tribute to Forster, saying "there will be no replacement for her – there can't be."
Nora Forster was born Nora Maier in Munich. Her father Franz Karl Maier was a lawyer and public prosecutor, pursuing and securing the convictions of a number of high-profile politicians who had approved Hitler's Enabling Act of 1933, before pivoting to publishing after the Second World War. He edited and published Berlin daily newspaper Der Tagesspiegel (The Daily Mirror) until his death in 1984.
Nora initially worked for her father and went on to inherit a substantial share in his fortune, but her love of music set her on her own path. In 1962, she married Frank Forster, a popular schlagersinger, actor and painter who was a regular on German TV in the Sixties. Their daughter Ariane was born the same year – Yes frontman Jon Anderson was her godfather.
As an actress, Forster scored a small role in historical blockbuster Genghis Khan and appeared in German TV movies but she found her niche as a music promoter. In a sign of generosity to come, her house became a gathering place and party pad for visiting musicians, with Ariane recalling frequent police raids in her childhood.
Nora and her daughter moved to London, which by the late Sixties was most definitely swinging. She dated noted session guitarist Chris Spedding, who went on to produce the first Sex Pistols demos, and replicated the hospitality for the burgeoning punk scene, helping to champion and finance bands such as The Clash at the start of their careers. She was supportive of her daughter's performing aspirations. Ariane became Ari Up, the unique teenage frontwoman of The Slits. Nora chaperoned her on tour and became known as "a den mother to all the young punks" including another talented teenager, Neneh Cherry, who started her career touring in the Slits.
Forster and Lydon eventually settled in Los Angeles, buying Mae West's beach house in Marina Del Rey, and became guardians of Ariane's children Pedro, Pablo and Wilton before their mum's premature death from breast cancer, aged 48, in 2010. According to Lydon, this gut-wrenching bereavement was the start of Forster's decline. "A real sadness filled her," he noted, "because that's an inexplicable pain for a mother to lose her daughter."
As Nora's illness progressed, Lydon became her full-time carer, putting a new PIL album on ice to do so. However, he did take on another unusual gig, appearing on the US edition of The Masked Singer, in 2021 in the hopes of making his wife smile. "Alzheimer's is a very, very challenging illness," he said. "Any connection I can have to bring joy into her life I'm more than happy to do that."Even beneath his Jester costume, his wife recognised the distinctive whine of her husband of 42 years.
Forster is survived by Lydon and her three grandchildren.
If you would like to submit an obituary (800-1000 words preferred, with jpeg image), or have a suggestion for a subject, contact [email protected]