Obituaries: Morison Zuill, ​sportsman who played cricket for Scotland 20 times
Morison Zuill was a top-class sportsman best known for his cricket achievements which included representing Scotland 20 times, five of which were non-cap internationals.
As a scratch player he also excelled at golf, representing Stirlingshire at county level and winning on three occasions for Merchiston Castle School the prestigious Halford Hewitt Cup, the nationwide team tournament for public schools' former pupils. In cricket he was synonomous with the Stenhousemuir Club whom he served with distinction over a long period in various guises-player for some 35 years, 30 consecutively as captain, Vice President and Honorary President. He also set club records for runs scored and catches made. After retiring as captain he passed the baton to son Douglas who succeeded him for 20years. A quality opening batsman and accomplished fielder, Morison was a well known, highly respected figure in Scottish cricket.
Outwith the sporting arena, he enjoyed a successful career as a chartered accountant holding positions as financial accountant with several companies.
Andrew Morison Zuill was born in Falkirk to parents Ian and Jessie, the eldest of three children, brother of Stewart and Alison. His father was a master draper who ran the family outfitters business of Zuill and Stewart. Initially Morison attended primary school at Falkirk High before going to a prep. school, Croftinloan in Pitlochry, and then to Merchiston Castle School in Edinburgh between 1951 and '56. There his sporting talent came to the fore as captain of the 1st XI and member of the rugby 1st XV while he also played for the Fives team. He also represented Stenhousemuir when still at school, featuring in East League winning teams of 1955 and '56.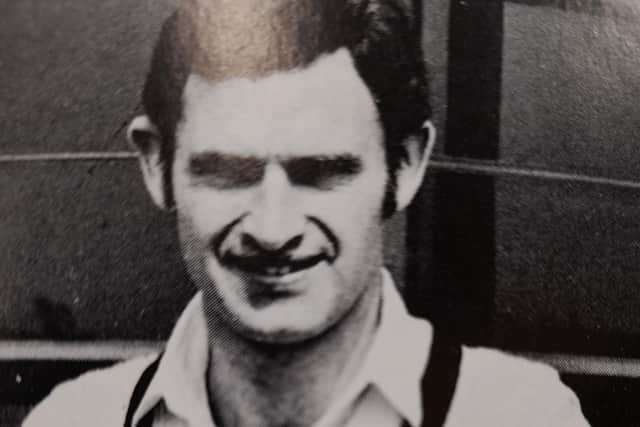 On leaving school he undertook a C.A. apprenticeship with Wallace and Sommerville in Edinburgh and in 1958 was appointed captain of Stenhousemuir aged 21, continuing in that role till 1988, leaving a huge imprint on the club.
In Morison's early days at The Tryst, it was a relatively small, fairly low-key outfit but thanks largely to his input along with others, the club became a significant player on the Scottish scene over the following decades as under his captaincy it accumulated six East of Scotland League titles, two Scottish Cups and five Masterton Trophies. He set a career club record of scoring 27,588 runs including 18 centuries and snaring 466 catches as short leg fielder, an impressive figure for a non-wicket keeper.
Given his excellent form it was no surprise that international recognition followed. He made his first-class Scotland debut in 1962 against Warwickshire, with his final appearance coming in 1979 against the touring Sri Lankans. During his long international career opponents also included the touring New Zealanders, the Australians, and the MCC, while his highest score was an innings of 62 against Ireland in 1968. On retiring from the international scene he was appointed a national selector.
As a batsman Morison was an accomplished technician whose excellent temperament and powers of concentration made him difficult to dislodge at the crease. His fielding was of the highest class while as captain he excelled as a tactician and leader who fostered a strong team spirit. Brian Hardie, well known Scottish international cricketer who played under Morison at Stenhousemuir before his successful county career with Essex, commented: "I owed everything to Morison… he taught me how to play the game. Above all he taught me to concentrate. I had the greatest admiration for him."
Although an excellent golfer, cricket was his priority during the summer and had the sports not clashed he probably would have achieved more on the links. A long-standing member at Glenbervie Golf Club, whom he represented competitively, he was also a member of the Royal and Ancient Golf Club of St Andrews and played in both the Scottish and British Amateur Championships. Illustrative of his conflicting sporting interests, on one memorable Saturday he played a semi final tie in the Eden Trophy at St Andrews in the morning before hot footing it across to Edinburgh to play Heriot's at cricket. In the Halford Hewitt Cup held in Kent, with some matches played over regular Open venue, Royal St George's, he won three times with brother Stewart also in the team, in 1970, '76 and '87 and was losing finalist in 1965 and 2000, an impressive record.
On 17 March, 1962 he married Susan Murdoch in Falkirk Old Parish Church with whom he enjoyed 61 years of happy marriage during which they had three sons, Douglas, Donald and Graham. After qualifying as C.A., Morison was financial accountant with United Glass between 1960 and '72, then with the family business of Zuill and Stewart till 1986 before working in similar posts with Johnston Press and the Institute of the Faculty of Actuaries.
He and his wife were long-term members of Falkirk Bridge Club and of the Stirling and Scottish Decorative and Fine Arts Societies where they pursued their interest in classical music, opera and art, travelling widely in that connection.
Morison was a very competitive individual as a sportsman but off the field was a friendly, quick witted gent with an excellent dry sense of humour. He is survived by his wife, sons, brother and sister.
If you would like to submit an obituary (800-1000 words preferred, with jpeg image), or have a suggestion for a subject, contact [email protected]
Comments
 0 comments
Want to join the conversation? Please or to comment on this article.