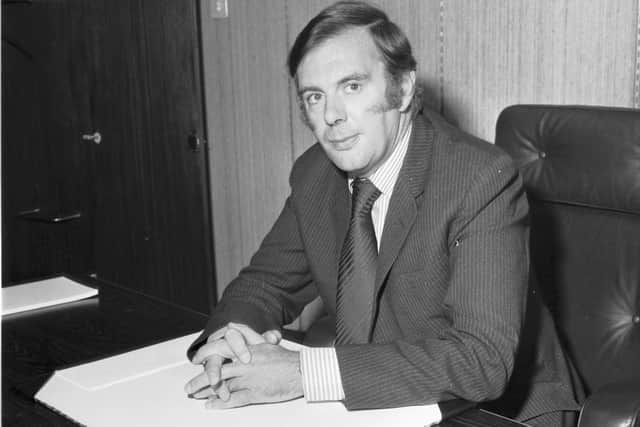 Lord Kirkhill maintained a happy knack of being the right person in the right place at the right time. His four-year tenure as Lord Provost of Aberdeen from 1971 coincided with the beginnings of that first frantic decade of the North Sea oil boom, and he moved quickly to establish an intellectual infrastructure for the nascent industry.
Appointed Scottish Office Minister of State in 1975 – and taking the title Lord Kirkhill – his easy bonhomie charmed planners and legislators into moving Scotland's transportation structures up a gear.
The speed with which oil drove the local economy blinded all at Westminster, most of Scotland and many in Aberdeen.
John Smith as Lord Provost not only recognised the immediacy of offshore wealth, but experienced the converse of oil-rich Aberdeen being in dire need of assistance to create the necessary onshore support structure.
When Smith's pounding on the doors of St Andrew's House proved in vain, his council was forced to find the money in the face of Scottish Office obdurance.
The Smith vision looked beyond the immediate financial impact on a city where many became rich on the dividends of jobs, high wages, and the service industries. His target was the creation of Aberdeen as a centre of excellence long after oil ran out.
Created a peer in 1975, he chose as his title his fishing-quarter constituency of Torry, continuing his focus on hydrocarbons. While increased rateable value from new oil business was the highest outside Edinburgh, north-east Scotland lost out pound for pound under a system of equalising return grants based on those same rates. As for service industries, his concern lay in the fact that while some local companies undoubtedly made money, the bulk of revenue from business remained in the hands of UK and international concerns.
The undeniable fact that Aberdeen suffered from ignorance and bias of Central Belt and London politicians brought Kirkhill's trademark diplomacy to the fore, and he became a close and hard-working team player in the Scottish Office group formed initially by Secretary of State for Scotland Willie Ross and laterally Bruce Millan, along with colleagues Harry Ewing, Hugh Brown, Frank McElhone and Gregor Mackenzie.
In Conservative Gordon Campbell, Secretary of State for Scotland from 1979, he found an unlikely ally, and behind the scenes the pair locked minds (and sometimes horns) in achieving ways to deliver.
For a Labour councillor representing a poor ward, John Smith presented a paradox.
He lived at one of the best addresses in the West End, he had been educated privately, he depended on the private housing market as a building society manager, and he was an unashamed conservationist. In the words of Aberdeen Conservative councillor Jack Dempsey, Kirkhill represented "a gweed Tory spylt" (a promising Tory ruined).
John Smith was last Lord Provost of Aberdeen before the Wheatley-inspired reorganisation of 1975 changed local government utterly.
Ever his own man, he fought against his own council to save Archibald Simpson's listed Newmarket building of 1842. He failed on this one, and Simpson's massive Newmarket entrance and the adjacent North British Mercantile facade were swept away in favour of a flavourless Bhs store frontage.
Born in Aberdeen the son of Alexander Smith and his wife Ann Farquharson, he showed early interest in politics while at Robert Gordon's College. He chaired playground parliaments rather than play football, and for a time would introduce himself as "John Farquharson Smythe" rather than plain John Smith.
An inveterate rail traveller, he grimaced when two decades ago he travelled to a funeral in Greenock. Writing afterwards to a rail campaigner calling for introduction of intercity trains on Scotland's prime internal routes, he said: "I just didn't know how awful our trains were, and how right you are".
For a baker's dozen of years from 1987, he was a delegate to the parliamentary assembly of the Council of Europe, a post that he looked back on with particular pride.
John Smith could have walked for Scotland. He strode everywhere, and at 74, continued to clock up an astonishing 50 miles a week. Of a Sunday he'd stroll from his west end home to the beach, then stride from the rivers Dee to the Don, some seven miles.
In London, he only ever took a Tube to the Lords in the heaviest of rain. He promenaded everywhere until arthritis in his left knee became too painful for exercise, a condition that helped him decide at 80 to give up the Lords. His home life was assured through a long marriage to his wife Frances (née Reid), and step-daughter Lindsay.
At an annual medical check-up, he replied: "I've no vices except alcohol, doctor, and I'm not giving that up now." His other failing could have been construed as his life-long following of Aberdeen Football Club. He attended his first match aged four, sitting on his father's shoulders. He was such a regular football face that in 1980 he spoke at the testimonial dinner for Joe Harper, the forward who scored 205 goals for the Dons.
If you would like to submit an obituary (800-1000 words preferred, with jpeg image), or have a suggestion for a subject, contact [email protected]
Subscribe at www.scotsman.com/subscriptions