Obituaries: Kenneth White, inspiring poet, educator and founder of geopoetics
Kenneth White was one of Scotland's greatest poets and thinkers who lived most of his life in France. He died peacefully at his home on the north coast of Brittany after a short illness. He was an inspiring lecturer and educator whose talks and readings at the Edinburgh International Book Festival between 2001 and 2009 attracted capacity audiences. Its Director, Catherine Lockerbie, called him "an intellectual nomad of genius" and Seamus Heaney said his poetry was "Erudite, elemental, big and bold, a manifestation of the kind of poetry MacDiarmid hoped for".
He conceived the theory-practice of geopoetics as the creative expression of the Earth and founded the International Institute of Geopoetics in France in 1989 which led to the formation of geopoetics groups in many different countries, including Scotland. His literary output was prodigious and many more of his books have yet to appear. He was highly critical of the "mediocracy" of Western culture generally and of universities as degree factories, proposing a creative "highliner university" instead.
He was charismatic in his ability to inspire audiences with the range of his erudition and his advocacy of radical cultural renewal by means of geopoetics. Michael Russell, former Scottish Government Minister and currently President of the Scottish National Party, recently tweeted: "Very sad news – a huge influence on me and on so many others. His Edinburgh Book Festival Lecture 'The re-mapping of Scotland' remains for me a memorable and inspirational beacon of light. Geopoetics connects our world and our culture in a way more vital than ever."
Kenneth White was born in Florence Street, Gorbals in Glasgow to Janet and William White and spent his formative years in Fairlie on the Ayrshire coast where his father was a railway signalman and avid reader. He went to local state schools and, as a teenager, borrowed books from Dugald Semple, a local vegetarian and advocate of simple living, who introduced him to Eastern thinking as well as American writers like Emerson, Whitman and Thoreau. He was also greatly influenced by his walks along the Ayrshire coast and over its moorland "up the back". He graduated from the University of Glasgow in 1959 with a double first MA (Hons) in French and German and was named first student in the Faculty of Arts. From then until 1963 he studied at the University of Paris, where he married Marie-Claude Charlut in 1959. His first collection of poetry, Wild Coal, was published by the students of English at the Sorbonne in Paris in 1963, and he returned to Glasgow then to lecture in French at the University and set up the Jargon Group outwith it.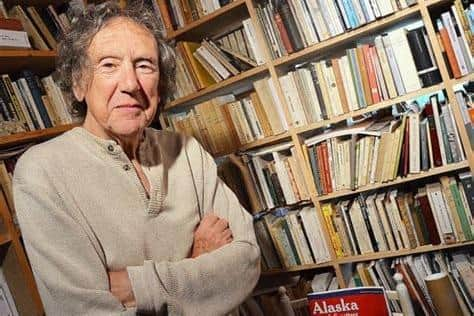 Disillusioned with the state of culture in Britain, he moved to Pau near the Pyrenees in 1967 and lived in France for the rest of his life. He lectured at the University of Bordeaux and set up another group Feuillage but his contract was not renewed because of his involvement in the student protests of May 1968. However, at the University of Paris VII he lectured until 1983 and founded yet another group and a review, The Feathered Egg.
From the 1970s onwards he and Marie-Claude travelled all over the world and these journeys formed the basis for narrative prose collections he called 'waybooks' which came out in French and later English. In 1979 on the north bank of the St Lawrence River he came up with the concept of geopoetics as a way of experiencing the natural world of which we are part and expressing it creatively. That year he also successfully defended a doctoral thesis on the theme of "intellectual nomadism" before an academic jury which included Gilles Deleuze.
In 1983 he left Pau to live in a converted farmhouse in Trébeurden on the north coast of Brittany and became Professor of Twentieth Century Poetics at the Sorbonne. In the 1960s four of his books were published by Cape in London, but from 1989 onwards he chose Scottish publishers to bring out his books in English. That year he founded the International Institute of Geopoetics in France and an archipelago of groups arose in Europe, North and South America and the Pacific. In 1995 the Scottish Centre for Geopoetics was set up in Edinburgh by the musician and teacher Tony McManus and others, and a year later the National Library of Scotland hosted an exhibition – White World, the itinerary of Kenneth White – curated by McManus, which toured Scotland and France. That same year White gave up his post at the Sorbonne to concentrate on his writing, lecturing and travelling. Polygon published his essays On Scottish Ground (1998) and The Wanderer and His Charts (2004) for the first time in English and Open World, Collected Poems 1960-2000 (2003). Four more books came out from Aberdeen University Press and two volumes of his Collected Works edited by Cairns Craig in 2021 by Edinburgh University Press. White also collaborated in creating over 100 artist-books, mainly in French.
There are many books about his work in French, but Grounding a World, Essays on the Work of Kenneth White (2005) was the first comprehensive analysis in English of his work until The Radical Field (2007) by Tony McManus. White received many awards and honours in Europe and Scotland, including honorary degrees from the University of Glasgow, Heriot-Watt University and the Open University and an honorary membership of the Royal Scottish Academy. On the slate Isle of Luing in Argyll, the Scottish Centre for Geopoetics is creating a research and resource base with a library and archive to provide short courses on geopoetics and the work of Kenneth White, as well as creative inspiration for resident artists and scientists. As the climate and ecological crisis accelerates, so too does interest in geopoetics. The life and work of Kenneth White look certain to continue to inspire people throughout the world.
He is survived by his wife Marie-Claude, who is a photographer and translator of his poetry into French.
If you would like to submit an obituary (800-1000 words preferred, with jpeg image), or have a suggestion for a subject, contact [email protected]
Comments
 0 comments
Want to join the conversation? Please or to comment on this article.