Kenneth Davidson was a remarkable individual, a man of wide interests and extensive talents who made an outstanding contribution to the many groups in which he was involved and communities where he lived. A Forestry Commission civil engineer and outdoors lover, he was one of life's enthusiasts fuelled by a constant curiosity which led him to pursue and excel in activities ranging from orienteering to wine making, competitive bridge to painting in oils and archaeology to astronomy, among others. In orienteering he represented Scotland Veterans internationally.
He liked to challenge himself to test the extent of his capability. In 1985 aged 56 he completed the demanding Ben Nevis race in a very respectable time, despite not having begun running till about age 50 while in 1984 he completed a marathon in an excellent 3 hours 31 minutes. At bridge in 1992 he and wife Lilian emerged top of 8,000 UK couples in the European Simultaneous Pairs Championships, his winemaking skills won prizes at Inverness Garden Shows and some of his paintings were exhibited at local Arts Society events.
Ken not only participated in a wide range of activities but also found time to play his part in many organisations at committee level and above. Posts included being President of the Scottish Orienteering Association, Chair of Inverness Ramblers, Secretary of the Inverness Bridge Clubs and Co Ordinator of the World Veterans' Orienteering Championships held at Strathspey in 1994.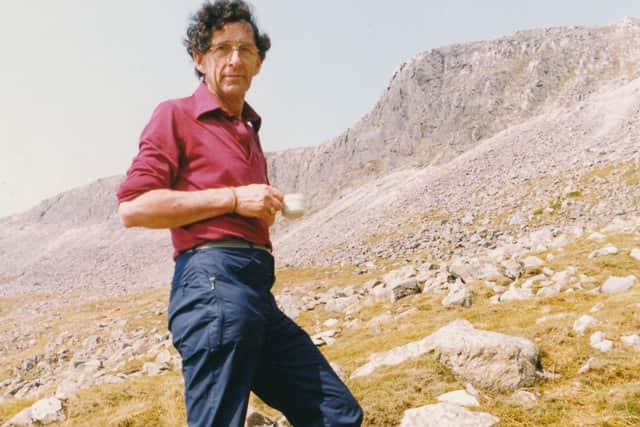 Kenneth Thomson Davidson was born in Gordonvale, North Queensland to parents William and Barbara. His father had emigrated to Queensland in 1924 as a Presbyterian Church missionary, accepting a post at Gordonvale in 1927. Before his second birthday the family returned to Scotland, his father taking up an appointment as minister at Balbeggie in Perthshire and by 1938 the family had moved to Edinburgh where Ken attended Boroughmuir High School.
He went to Glasgow University to study civil engineering and after graduating in 1952 joined the Forestry Commission. His first job took him to Aberdeen where he met future wife Lilian Smith, whom he later married on 24 December 1954 at Liberton Northfield Church during National Service leave. They enjoyed a 65-year long happy marriage during which they shared many interests and son Magnus was born.
After spells in Cyprus and Egypt, Ken was discharged in June 1956 to resume working for the Commission, principally in the construction of roads and bridges, later becoming the Commission's Civil Engineer for the North of Scotland Conservancy.
The couple initially lived in Fort Augustus before moving to Balloch, Invernesshire and then to Northumberland. In 1974 he was delighted to be posted back to Inverness in his beloved Highlands where the family settled into their home in Stratherrick Road with its delightful large garden whose yield of fruit Ken regularly converted into excellent wines.
Inverness provided the springboard for many family Highland excursions where his love of archaeology, geology and outdoors led to hikes in search of standing stones, chambered cairns, hill forts and souterrains- sunken Iron Age dwellings. At home his practical abilities enabled him build a treehouse, a telescope 'observatory' and a sundial, to Magnus' delight.
In 1978 Lilian persuaded the family to participate in orienteering for the first time at an event at Cawder, where their debut fired enthusiasm for the sport which became almost life-changing. Despite no previous running experience or sporting aptitude, Ken embraced orienteering wholeheartedly and began competing all over the UK and also in Scandinavia. He improved from a standing start to being always at or near the top of his age group, representing Scotland several times as a veteran and competing in Scottish and UK Championships with his final appearance in the former at age 80. He also 'diversified'. taking part in gruelling endurance events such as the Karrimor International Mountain Marathon and the Great Wilderness Challenge when well into his 50s. Ken, although competitive, derived more pleasure from the sport's social aspects, enjoying the camaraderie of fellow athletes and general feelgood factor.
Typically he also gave back to its organisation in numerous roles – editor of the national magazine SCORE, Vice President before being President of Scottish Orienteering and Co-Ordinator of Scottish, British and World Veterans' Championships. Unsurprisingly he was a driving force of his Inverness club holding nearly every position at different times, a planner, organiser and controller of competitions. His good humoured diplomatic skills often won the necessary co-operation of foresters, farmers and factors he knew through work, enabling events to be staged successfully.
In retirement he took up rambling, planning and taking part in a variety of walks, later Chair of the Inverness group and member of the Scottish Executive Committee. Other interests included photography, yoga, history, genealogy, and excursions with the Inverness Field Club, while he and Lilian were long term supporters of Eden Court Theatre. Ken was also Chair of North of Scotland Forestry Commission Retirement Association and a Fellow of the Society of Antiquaries of Scotland. He also enjoyed travel, including doing the Inca Trail in Peru and visiting his birthplace, Gordonvale in Australia.
In 2016 Ken and Lilian downsized to a flat in Inverness and in 2020 moved into a care home where Lilian died later that year, a devastating blow.
Ken lived a long and full life in which he achieved much and was well liked by all with whom he came into contact. While gentle, informal and laid back in manner he was professional and blessed with the ability to get things done in harmony with people. He is survived by Magnus and grandson Callum.
If you would like to submit an obituary (800-1000 words preferred, with jpeg image), or have a suggestion for a subject, contact [email protected]