Obituaries: John Rintoul, inspirational Head of Drama at Stewart's Melville College in Edinburgh
John Rintoul, drama teacher. Born: 7 July, 1937 in Bo'ness. Died: 1 July 2023 in Edinburgh, aged 85
When the cutting-edge Tom Fleming Performance Arts Centre was opened in 2010 behind the spectacular façade of Stewart's Melville College (ESMS) in Edinburgh, the interior revealed the imaginative vision of many. Fundraisers, architects, sound engineers, and sundry others had performed roles. The part played in the development of drama in ESMS by John Rintoul from his arrival as its first drama specialist had been a foundation stone of that great project. Drama had moved to the heart of the venerable building.
Principal Bertie Bellis's appointment of John in 1973 was bold, at a time when drama was typically seen as a non-examinable 'extra' subject. John's track record on the professional stage, including The Wallace in 1960, when Wendy Wood was allegedly dragged out in anger, along with other film and stage cameos established his credentials. He had qualified as a drama teacher; his proficiency in languages added another dimension entirely. His teaching career alongside his wife Alyson began with three years in Sweden, where he learned yet another language – as well as cross-country skiing and skating. This was followed by teaching English in the Turkish Girls' Lycée in Nicosia, and of course an excursion into another language.
Stewart's and Melville at that innovative moment of merger welcomed the new: John meticulously created the provision of curricular drama at the same time as introducing a professionalism and authority into stage productions. Chester Mystery Plays and The Caucasian Chalk Circle were produced; Principal Robin Morgan welcomed Oh What a Lovely War, a personal selection; Thieves' Carnival was so successful that two productions years apart were created. For over 25 years rehearsals ran through dark evenings and Edinburgh Sundays; plays rolled off the assembly line. His final production was Wormwood, that stark drama about Chernobyl.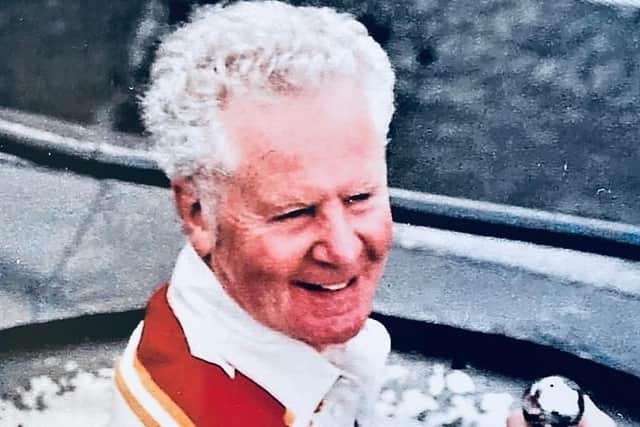 Staging a major school production demands a range of personal and organisational skills. Visualise the first audition of 12-year-olds eager to find themselves chosen for leading roles. Like tadpoles in a pond, they would swirl about a draughty school hall well after the school day had ended and the heating had been switched off. The tasks of a producer can be overwhelming. But John knew how to create order from such chaos. His high expectations had to be met; it was in the attention to the tiniest details that his professionalism was shown. Control of hand movements, precise positioning on stage, angles of delivery, enunciation, reactions from those not speaking – all preparations were meticulous. He had the ability to spot acting talent from a mere glimpse, and the progression from say a part in Pip and the Convict at age 12 through to a role in Antigone at age seventeen was then structured with care. Parents who felt anxious about their sons and daughters aiming for the stage rather than perhaps accountancy increasingly relaxed with the Rintoul Method. The school which had produced Tom Fleming and Sir Michael Boyd continued to provide actors and playwrights.
John Rintoul's interests always expanded. He and Alyson (who had always been so involved with the world of ESMG that she became President of the Mary Erskine Guild) travelled extensively. They had friends throughout mainland Europe to whom they offered generous hospitality in their Edinburgh home. While the theatre remained a passion, with particular joy taken in Giles Havergal's European portfolio on the Citizens' Theatre stage, film was also a major enthusiasm. John's memory for serious details of staging and performance never appeared to fail. This academic side was balanced by his memorable mimicry of colleagues, of actors as varied as Robert Newton, Maggie Smith, Finlay Currie, or Martita Hunt; and our current band of Scottish politicians was the subject of waspish lampoons which could have graced Spitting Image.
After retirement from his post as Head of Drama at ESMC, he and Alyson continued to assist with school productions; but John could never resist the lure of the chalk-face. On numerous occasions he would provide supply teaching for absent former colleagues – and the immaculately attired, youthful, fit, articulate, exacting and yet compassionate teacher would bring his many skills and interests to a new generation, who never suspected that he had been in Stewart's Melville 'forever' as he would say. He was also delighted to spend time with his two sons (one involved in stage productions; the other a judge in England) and their families. His close family was at his side as he died after a short illness. Alyson and he had been married for 61 years; they were the ideal grandparents.
In 1981, the film The Dollar Bottom starring Robert Urquhart and Rikki Fulton won an Oscar in the Best Short Film category. John Rintoul had played a postman, pedalling his creaking bike up Cramond Brae. "Only one take required for my bit," he would remind anyone hearing of this stardom. Few Scottish teachers have had their hands on a real Oscar. Nevertheless, there are many people in Edinburgh who felt fortunate to have experienced some of John Rintoul's stardust.
Comments
 0 comments
Want to join the conversation? Please or to comment on this article.