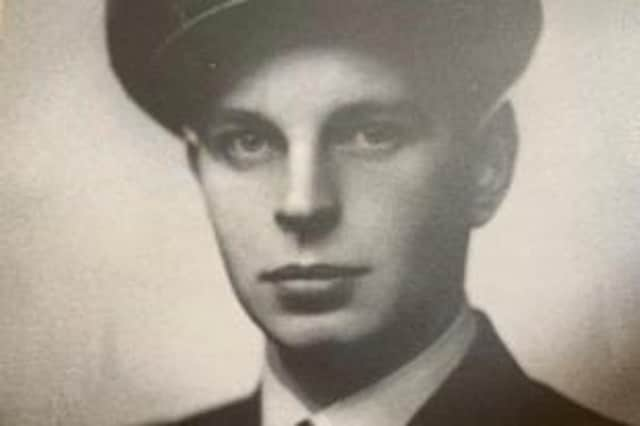 Jack Forrest was one of the last surviving Spitfire pilots of the Second World War, a teenager fresh out of school when he signed up for the RAF the day after Britain declared war on Germany.
He had planned to study marine biology at Cambridge but instead found himself training on Tiger Moth biplanes before joining a Spitfire squadron, providing air cover for troops during the D-Day landings and being Mentioned in Despatches for the daring feat of shooting down a V1 flying bomb from his iconic fighter.
It was a world away from the life his father had envisaged for him in the family firm, although he would later fulfil that role with just as much skill and ingenuity while continuing an RAF auxiliary career which saw him pilot the famous Spitfire currently suspended in Glasgow's Kelvingrove Art Gallery.
John Addie Forrest, known as Jack, was born in Airdrie and educated at Hurst Grange School, Stirling and Merchiston Castle School, Edinburgh. He enlisted in the RAF in September 1939 when barely out of school.
Initially trained as a wireless operator before going to Rhodesia, now Zimbabwe, for pilot training, he was eventually posted to 277 Squadron, an air-sea rescue unit at RAF Shoreham, flying Spitfires.
There he patrolled the English Channel, protecting flying boats from Messerschmitts and, during the invasion of Normandy, providing vital air protection.
Hitler began unleashing his V1s in the aftermath of D-Day and, although many were shot down by land-based guns, Forrest was one of the few pilots to bring one down while in flight. The doodlebugs were far faster than the Spitfire – reaching up to 500mph compared to the fighter's 280mph – but Forrest said it was just chance that had put him in the right place at the right time
"We were on patrol along the south coast towards Beachy Head," he recalled decades later in the book Glasgow's Spitfire.
"These German V1s were coming thick and fast and the Spitfire Mark 5 was not reckoned to be able to catch them. But we were told by control there was one approaching and, blow me down, it appeared about 1500ft below me just in the right position so I was able to put the nose down and get a bit of extra speed."
He fired his guns, the bomb detonated and he flew straight through the exploding missile. "It was all very exciting."
But he would later observe: "Having viewed the footage from the cockpit camera afterwards, the senior officers back at base were very surprised I survived (as was I) when they saw the result."
He subsequently converted to Hawker Typhoons in a ground attack role with 137 Squadron and saw action in France, Germany and Denmark.
Demobbed in 1946 Forrest, who had briefly joined the family business Motherwell Bridge and Engineering Company before the war, attended Glasgow's Royal Technical College and after qualifying as a mechanical engineer returned to Motherwell Bridge.
Around the same time, he joined 602 (City of Glasgow) Auxiliary Air Force Squadron, which he commanded in 1952-53, retiring with the rank of squadron leader.
Years later Forrest, who always wore a white flying suit, casually remarked to his family that in 1953 he had also taken part in a flypast over Buckingham Palace for the coronation of Queen Elizabeth II. And one on occasion had danced with the Queen Mother at the Palace of Holyroodhouse.
At Motherwell Bridge he worked in various departments and had a spell in the Middle East before becoming the firm's construction manager. Following secondment to the Chicago Bridge & Iron Company in Illinois he was responsible for the erection of the containment sphere at Dounreay and for the reactor vessel and heat exchangers at Hunterston A nuclear power stations.
He left the company in 1963 and established a yacht chandlery business, Seaward Boats Ltd, and was a director of Staffa Marine Ltd. He also spent a short time with Olscot Ltd before retiring in 1982.
Then living in Lochgoilhead, he became secretary of the local British Legion branch and Rifle Club and, in 1985, brought the Ventora Challenge Cup to Scotland from Bisley for the first time. He enjoyed sailing, curling and was still water skiing at 70. He also appeared on television in episodes of The Air Race :Two Fat Ladies and Monster Moves – Spectacular Spitfire.
Made an Officer of the Order of St John in 1987 for his work with the Association of St John of Jerusalem, in 2016 he was awarded the highest French decoration, the Legion d'Honneur, for his role in helping to liberate France. By that time he and his wife Margaret, whom he married in 1948, had moved to Inchmarlo retirement village at Banchory where, at the age of 100, his RAF recollections were published in the community's newsletter.
Over his flying career he piloted aircraft from Tiger Moths to Harvards, Hawker Typhoons – "like flying a double-decker bus" – Vampires, Meteors and seven versions of the Spitfire. But his most famous was undoubtedly Spitfire Mark 21 LA198, now on permanent display at Kelvingrove. His final flight in it was to Le Touquet in 1949, representing the RAF at the 40th anniversary of Bleriot's crossing the Channel.
Widowed in 2017, he is survived by son Hamish and daughters Lesli and twins Hazel and Sally.
If you would like to submit an obituary (800-1000 words preferred, with jpeg image), or have a suggestion for a subject, contact [email protected]