Obituaries: John Britton, badminton internationalist for Scotland and United States
John Britton Scotland Badminton Internationalist. Born: 21 June, 1952. Died: 11 April, 2023, aged 70
Lovers of badminton everywhere were shocked and saddened by the sudden death of former internationalist and Edinburgh favourite son, John Britton.
John had flown from his home in Los Angeles to visit his 94-year-old mother, Mae at her house in Portobello. He took ill suddenly and then died in hospital.
John learned to play at the St. Phillip's Church in Joppa, Edinburgh, under the watchful eye of his mum and his father Bert, both well known faces in Edinburgh badminton circles. Mae in particular became welcoming hostess and hotelier extraordinaire to the many young players John would invite to stay at their house, with the player's arrival on the doorstep frequently being the first Mae knew anything about it.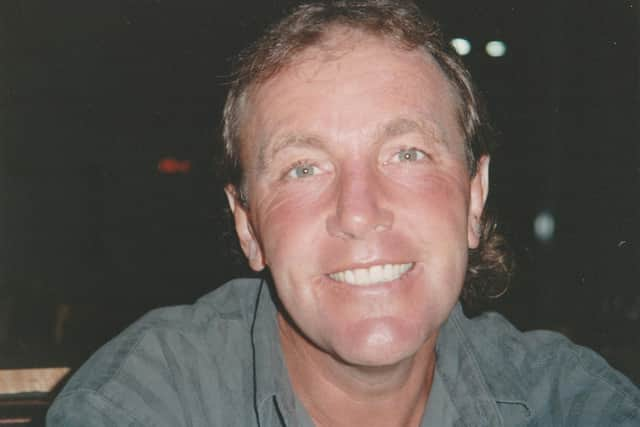 Fellow enthusiasts at St. Phillip's included Christine Black, Gillian Wilson, and Jack and Henry Calder, all fine players and soon to become regulars in the East of Scotland County team.
John was a pupil at Trinity High in Edinburgh where his sporting exploits on the rugby and football field were already legendary.
He could play any sport and excelled at every one, including tennis and waterpolo.
And his skills and co-ordination as a young man led him to an unlikely TV role as a male dancer on the New Year White Heather Club.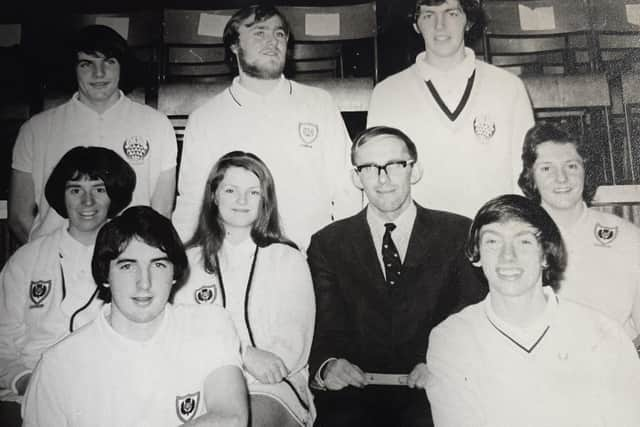 But badminton was his first love.
John was prodigiously talented, head and shoulders above the best of the promising generation of Scots players who emerged in the 1970s.
He played for Scottish schools against English schools, (winning his match) won National Junior titles, and then became a Senior Title winner at mixed and men's doubles.
He played in the European Championships in 1975 in Dublin, but his Scotland international career was cut short by his decision to move and live in the United States.
He became a prominent member of the USA international side, and regularly returned to Scotland to compete in tournaments.
On one memorable occasion he won the Glasgow Open Men's Doubles with fellow American Gary Higgins, beating the top Scottish players along the way. At matchpoint, John produced a round the back service which completely aced his astonished opponent Jim Ansari. This was a shot of John's own invention, unique to him, and never seen before or since.
John had been a PE student at Jordanhill College Glasgow, where he rejoiced in the nickname "Battler Britton". He began a teaching career at Portobello High School , but he had grown to love the USA following annual trips as a tennis coach with Camp America.
And anyone who ever met John knew that Scotland could never hold him.
And so it proved as his teaching career took off in the USA and he eventually became Professor of Sport at the El Camino College, California. He could still play soccer to a very high standard into his 40s , turning out for the LA Aztecs in the same team as one George Best, and also featuring in the Exiles, otherwise known as the Rod Stewart Los Angeles Soccer Select.
Culminating in 1999 (according to John) when his movie career took off with a minor role in the film Soccer Dog ("a heart warming tale about a soccer playing dog on the run from the dog catcher") and still available on Amazon Prime Video. As well as the 2004 sequel Soccer Dog European Cup, another 90 minutes you'll never get back.
Sadly a Hollywood career did not beckon further.
But it was as a soccer and badminton coach that his great enthusiasm encouraged and inspired a whole host of his new-found compatriots.
His other great love was rock music, of which he had an encyclopaedic collection and knowledge.
There was never anything small about John. I roomed with him on international trips.
He was uniquely gregarious, by turns exasperating and infuriating, but always deeply generous and lovable.
In later years his condition of diabetes required him to have a below the knee amputation and to wear a prosthesis.
To say that he was in no way discomfited by this development, does not remotely do him justice.
Walking beside – or more accurately behind – him on the streets of Edinburgh, it occurred to me that he would still beat me at men's doubles.
His last public badminton appearance was in 2022 at Christine Black's Lothian Disability Badminton Club, where he played against all of the members, leaving them dissolved and helpless with laughter, and possessing a whole lexicon of shots they had never dreamt of.
He is survived by his mother Mae, beloved wife Traci, children Tom, Andrew and Jaymie, and grandchildren.
"A hand open to every man and raised against none". Rest in peace John Britton.
If you would like to submit an obituary (800-1000 words preferred, with jpeg image), or have a suggestion for a subject, contact [email protected]
Comments
 0 comments
Want to join the conversation? Please or to comment on this article.