Jimmy Moncrieff was born on 28 February, 1932 to Margaret Binnie Hepburn and James Moncrieff at the family home in 181 Granton Road.
Sadly Jimmy and his older sister Thelma lost their mother to cancer in 1938, as the clouds of war were gathering across the continent.
Their father later remarried and both his children were devoted to their step-mother Jean until her death in 2004, aged 102. Jimmy and Thelma were indebted to Jean's ability to cope in very difficult war-time circumstances, including when the family had to take refuge in the Granton Road bunker, and her outstanding hospitality which brought the whole family together.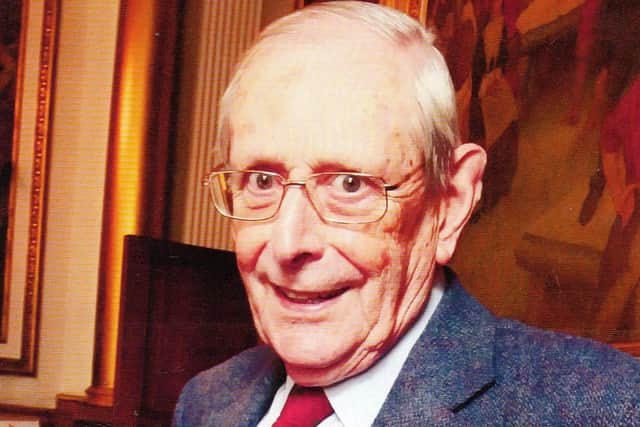 Jimmy initially attended St Colm's Prep School in Inverleith before moving onto Melville College, including a period in Brocklehurst, Annan, where the school was evacuated during the Second World War.
On leaving school in 1949, Jimmy spent a year out working at a crisp factory where his father had a controlling interest. The following year he joined the Royal Electrical and Mechanical Engineers (REME) to do two years of National Service, initially at Gosford House in Longniddry and later at Larkhall in the Salisbury Plains in Wiltshire. During this time Jimmy worked on computers and predictors – an interest which he wished he had continued in later life as he often called on his son and grandsons for help with IT issues!
Following National Service, Jimmy returned to Edinburgh and started a three-year course in Building at Heriot-Watt College. On completion of his studies he joined his father in the family building and roofing firm Barrie and Moncrieff in 1955, earning the princely sum of £5 a week.
Just five years later, Jimmy took over the firm, based in Albert Place, Leith Walk, following the death of his father. He also became chairman of the crisp factory where he had worked after school at this time, but it was sold in 1963 due to the ill-health of the other director.
Jimmy spent the rest of his working life at Barrie and Moncrieff, which became a limited company in 1986, and retired in 1995 after 40 years.
Family life also played a very important role. In 1961, Jimmy met his future wife Margaret Stewart at a Junior Unionists Conservative Association meeting. They married in Margaret's home town of Randalstown in Northern Ireland in 1963 and set up home in Cammo Hill.
Their two sons, Douglas and Andrew were born in 1965 and 1968 and the family later moved to Cumlodden Avenue, Murrayfield in 1974.
Jimmy held several roles with Stewart's Melville Former Pupils Club as a member, captain of the Golf Club and in 1987 as President of the parent club. He also served as a governor and chairman of the Melville Trust. He served as a member of the High Constables for 17 years and was Convenor of Captains in 1992.
Following his marriage, Jimmy became a member of St Columba's Church, Blackhall, then a member of Cramond Kirk and finally joined Murrayfield Parish Church on moving to the area.
He served on the church's Congregational Board for more than 30 years and put his building experience to good use as convenor of the Fabric Committee.
Jimmy's interests included gardening and he transformed the garden at Cumlodden Avenue from a wilderness over a period of years.
Golf was another passion, which brought much pleasure and lasting friendships. Jimmy was a member of the Royal Burgess Golfing Society in Barnton for more than 68 years – possibly their longest-ever member – and was made an Honorary Life Member in 2003. He carried on playing until 2020 and continued to enjoy the club on a social basis afterwards.
Travel was another keen interest, with the family spending many happy holidays on Britain's canals and the Algarve in Portugal, as well as frequent visits to Margaret's family in Northern Ireland. Indeed, three of Margaret's nieces and nephews went on to enjoy the couple's legendary hospitality when they moved to Edinburgh to live and study.
After retirement Jimmy and Margaret enjoyed holidays to various destinations including Croatia, the USA, Canada, and South Africa. Following Margaret's untimely death in December 2004, Jimmy and his eldest son Douglas undertook a trip to Australia via Bangkok in 2005, including visits to relatives there. During the pandemic lockdowns, when travel was not permitted, Jimmy took much pleasure in recalling these trips overseas.
In later life, he was delighted to become a grandfather to twin grandsons, his namesake James and his brother Roger, who were born in 2011 and gave him much pleasure over the years.
He also became a member of a local widowers' club called the Romeos, enjoying meals, theatre visits and other social outings and making firm friendships which provided great companionship over the years.
He moved to The Hermitage in Kinellan Road, Murrayfield in late 2004, where friends, family and neighbours enjoyed a series of ingenious and entertaining themed parties, and also played social bridge with a number of local groups.
Jimmy is survived by sons Douglas and Andrew, daughters-in-law Emma and Jane, and grandsons James and Roger.
If you would like to submit an obituary (800-1000 words preferred, with jpeg image), or have a suggestion for a subject, contact [email protected]