Henry McDonald, who died on 19 February in his home city of Belfast, was one of the finest journalists of his generation. His enormous output of articles and a series of superb books have contributed uniquely to our understanding of the conflict in Northern Ireland as well as its troubled aftermath.
He was born in July 1965 in the Markets, a small and close knit area close to Belfast city centre. His father Thomas worked at a cattle market, now gone, which lay close by on the other side of the main road into East Belfast and he also did a variety of labouring jobs. Florence, or Flo, his mother, was a talented dress maker, in much demand for the fine wedding dresses she made. To any visitor to the Markets she was a familiar figure, often to be seen at the gate of her small garden with her cat on one arm and a cigarette in her hand, always happy to chat with passers-by.
When the republican movement split at the end of 1969, the Markets became a stronghold of the Official IRA, which after its 1972 ceasefire adopted an increasingly Marxist view of Northern Ireland's problems and re-designated itself as the Workers Party. Conflict was in the air Henry breathed as a child with the Markets close to the eye of the storm. He recalled vividly in his memoirs Colours: Ireland – From Bombs to Boom Official IRA men sometimes got sanctuary in his parents' house and gun battles with the Army raged close by. In 1975 he and his father were watching television when a Loyalist car bomb exploded outside, showering them with broken glass.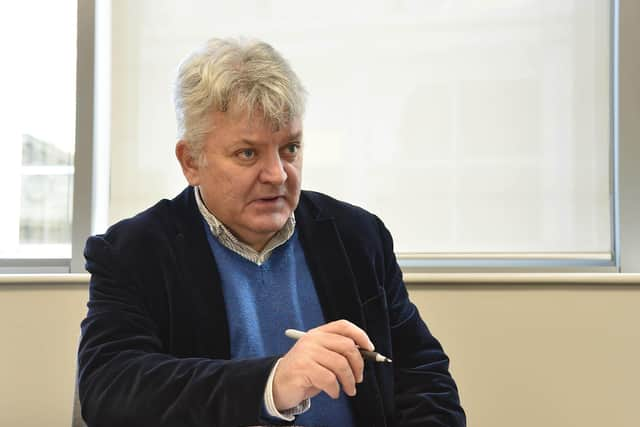 Henry achieved entry to St. Malachy's College, a prestigious school for Catholic boys. Few of his friends from the Markets got past its highly selective entry requirements. While there he worked hard but also espoused with enthusiasm Belfast's punk rock music scene. He took to it because its appeal to working class teenagers cut across sectarian divisions and this fitted the evolving views of the Official Republican movement which he had joined.
He also became a committed and lifelong supporter of Cliftonville Football Club. Based in North Belfast it had, with the demise of Belfast Celtic and the onset of the Troubles, become the club for Catholics to support. He had initially to conceal his allegiance from his parents because of the often vicious battles with loyalist supporters of other Belfast clubs that it led to. Declaring your support for an English club in Belfast has never given out the same sectarian message as a commitment to Celtic or Rangers. Henry took up the cause of Everton and supported them for the rest of his life, going to as many of their games as he could.
Once accepted to do a philosophy degree at Edinburgh University he also became and remained a well well-wisher to Hibernian. After a year he decided to return to Belfast to complete his course at Queen's University. Few young people from the Markets were there with him, he would later recall, though the two places were only a mile and a half apart.
While at Queen's he edited student newspapers and went on from there to study journalism at Dublin City University. One fellow student later recalled him arriving on the course dressed like a character in a Warner Brothers gangster film from the 1930s. In 1989 he was taken on as a reporter on Belfast's Irish News at a time of escalating Loyalist murders and continuing IRA attacks. This was an initiation into journalism at the sharp end but he thrived on it without ever losing his compassion for the human cost of the events he was covering.
In 1991 the paper sent Henry to report on the first Gulf war and he was able to stay long enough in the Middle East to cover a hazardous UN peace-keeping mission by an Irish Army battalion in South Lebanon. This led to his first book Irishbatt: The Irish Army in Lebanon which came out in 1993. He then joined the Evening Press in Dublin before returning to Belfast as the BBC's security correspondent. His workrate was phenomenal and in 1994 he brought out the first of a series of books on the Troubles.
This was INLA: Deadly Divisions, co-written with his cousin, Jack Holland. It was followed by UVF: the Endgame. He co-wrote it with Jim Cusack and in 2004 they gave us UDA: Inside the Heart of Loyalist Terror. All of these make for chilling but still essential reading. In the midst of all this Henry also completed a thoughtful and well-sourced study of David Trimble which came out in 2000.
In 1997 he joined the Observer and ten years later the Guardian covering all of Ireland for them. This demanding remit did not stop his output of books. In 2008 he brought out Gunsmoke and Mirrors: How Sinn Fein Dressed Up Defeat as Victory. This was a full-on challenge to the republican movement and apologists for the IRA, arguing that if you lose a squalid war of your own making, it's not too hard to open a new front over how its history should be re-written to your advantage.
He took a great deal of abuse over this book, not something that worried him. After all, as he said himself, he'd already lost count of the number of death threats he had received. More books followed along with high quality analysis of events in Northern Ireland and across the border. In 2017 a biography of Martin McGuiness came out. By then he had started writing novels. The Swinging Detective (2017) was a political thriller set in Berlin, Two Souls (2019) was rooted in Belfast street life and in the city's music scene as well as football. Another novel Thy will be Done is with his publisher at the moment.
Henry was generous with the time he made for friends and colleagues. Full tribute has been paid to him elsewhere for his readiness to share contacts and to support and encourage new recruits to the media in Northern Ireland. He loved company and he loved pubs, Belfast's above all. He was a welcome guest in the home of the obituarist, who learned much from him and always looked forward to meeting him. When heart trouble and then cancer came to him, his homing instinct took him back to Belfast where, until close to his death, he worked as political editor for the Newsletter.
His death was marked in the way he would have wanted by pre match tributes at Everton's ground and that of Cliftonville in Belfast. His funeral was an event full of music and laughter and of reminiscences, moving ones from his daughters Lauren and Ellen. In 1996 Henry married Claire Breen buy they later separated. He is survived by her, Lauren, Ellen, his son Patrick, his sister Cathy and his partner Charlotte Blease.
If you would like to submit an obituary (800-1000 words preferred, with jpeg image), or have a suggestion for a subject, contact [email protected]