Obituaries: Gayle Hunnicut, 'sexpot' American actress who flourished in Britain
Gayle Hunnicutt, actress. Born: 6 February, 1943 in Fort Worth, Texas. Died: 31 August, 2023 in London, aged 80.
Gayle Hunnicutt was a Texan actress who played various "sexpot" roles in American TV shows in the 1960s before relocating to England, where she dramatically extended her range in period pieces including a BBC mini-series adaptation of Henry James's The Golden Bowl and Fall of Eagles, playing the ill-fated Tsarina Alexandra.
Regarded as one of the great beauties of the age, Hunnicutt figured regularly in magazines and newspapers, not just for her television and film work, but as part of one of showbiz's celebrity couples, along with then-husband David Hemmings, star of the seminal Swinging Sixties movie Blow-Up. The Mamas and the Papas sang at their wedding in 1968 and Steve McQueen was an usher.
But it seems Hemmings was more enthusiastic about the idea of swinging than she was. Hunnicutt enjoyed conservative elements of life in England and was devastated when, within a few months of their wedding, she learned that Hemmings was having an affair with one of his co-stars, Samantha Eggar.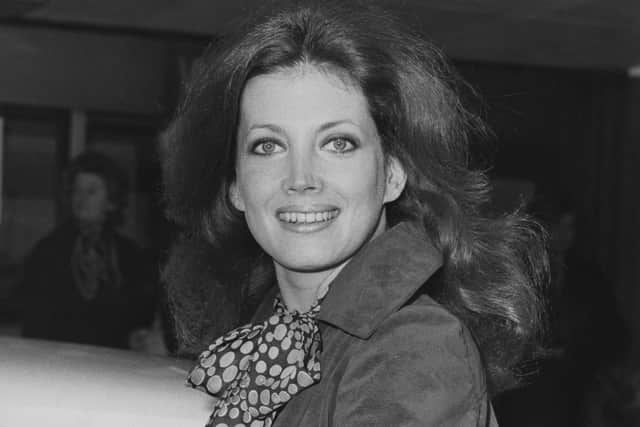 "It nearly destroyed me," she said. Despite his philandering they stayed together for several years and made two films together. She co-starred with him in the thriller Fragment of Fear and he directed her in the enigmatic drama Running Scared.
She subsequently became part of a very different sort of celebrity couple when she married Simon Jenkins, the intellectual editor of the London Evening Standard and later The Times, admitting that she was now very much part of "the Establishment".
In the late 1980s she returned to the US and had a recurring role in the glossy soap opera Dallas. Ironically she played an English woman, aristocrat Vanessa Beaumont, who years earlier had had a relationship with JR Ewing. The affair produced a son, whose existence, in true soap opera tradition, was hitherto completely unknown.
An only child, Virginia Gayle Hunnicutt was born in Fort Worth in 1943. Her father was a colonel in the US Army and was serving in the South Pacific at the time of her birth.
It was a conservative household and her parents were not keen on encouraging her ambitions to be an actress, but she won a scholarship to study literature and drama at UCLA, the University of California Los Angeles, where she was spotted in a college show by a talent scout for Warner Bros. She made her screen debut with a small role in the naval sitcom Mister Roberts in 1966.
That was followed by a supporting role in Roger Corman's motorbike gang movie The Wild Angels with Peter Fonda and Nancy Sinatra. She played a seductress with her eye on Jed Clampett's riches in two episodes of The Beverly Hillbillies sitcom. And she was a woman with secrets in Marlowe, a thriller based on Raymond Chandler's The Little Sister, with James Garner as the eponymous private detective.
"I was so young and naive in 1966, when I made my film debut in The Wild Angels," she told The Times in 2004. "After a Thanksgiving trip, I arrived back at Los Angeles airport to find the studio had sent a stretch limo to take me to a party in Santa Monica. It was at the now infamous Peter Lawford house, where President Kennedy met Marilyn Monroe.
"Across the sunken living room I saw, sitting on the back of a sofa, this magical leprechaun of a man. Our eyes locked... He said: 'I'm David Hemmings. Who are you?' It was one of those life-changing moments. I knew I was going to marry him the moment I saw him."
Hemmings called them "the poor man's Burton and Taylor" and he seemed determined to make their relationship just as stormy.
"He had an appetite for life that was quite irresistible," Hunnicutt told another interviewer. "I was totally, utterly in love with him. I didn't think I could breathe if he wasn't there."
Nevertheless they did finally divorce in the mid-1970s when Hunnicutt could no longer stand his extra-marital flings.
Although she did not find lasting happiness with Hemmings in England, Hunnicutt did find more challenging and rewarding roles, in films, television and theatre, often playing demure upper-class ladies in stark contrast to her earlier roles on the other side of the Atlantic.
"In California I was going down the path of being built up on my looks. I feel I was very lucky to escape," she said.
She was Dylan Thomas's lover in the 1978 BBC drama Dylan, she played Hedda Gabler and Peter Pan on stage in London, she co-starred with Ian Ogilvy in an instalment of The Return of the Saint and with Simon Dutton in The Saint television movie The Brazilian Connection.
She also had the distinction of playing Sherlock Holmes's formidable adversary Irene Adler in the first episode of The Adventures of Sherlock Holmes in 1984, with Jeremy Brett as Holmes.
On stage she played the American novelist Edith Wharton in The Life and Loves of Edith Wharton. It was a project very dear to her heart and she toured with it for several years.
Hunnicutt and Jenkins divorced in 2009 and the sale of their house in Primrose Hill in London became the subject of an episode of the reality TV show Selling London.
She is survived by her son Nolan Hemmings, an actor who appeared in the Second World War mini-series Band of Brothers, and by another son, Edward, from her marriage to Simon Jenkins.
If you would like to submit an obituary (800-1000 words preferred, with jpeg image), or have a suggestion for a subject, contact [email protected]
Comments
 0 comments
Want to join the conversation? Please or to comment on this article.