Obituaries: Frederic Forrest, Oscar nominee best remembered for role in Apocalypse Now
Frederic Forrest, actor. Born: 23 December, 1936 in Waxahachie, Texas. Died: 23 June, 2023 in San Monica, California, aged 86
Tens of thousands of soldiers suffered from post-traumatic stress disorder and other psychological problems after the Vietnam War and Frederic Forrest was one of those who struggled to come to terms with their Vietnam experience, even though Forrest's experience of the war was "only" in a movie.
He spent over a year in the Philippines working on Apocalypse Now, Francis Ford Coppola's 1979 Vietnam epic that proved a nightmare to shoot. Its original star Harvey Keitel was replaced after filming began by Martin Sheen, who almost died of a heart attack. A typhoon destroyed the sets and military helicopters flew off mid-scene to take part in a real war. The film went way over schedule and more than $15 million over budget.
The shoot was so stressful that Coppola considered suicide and Forrest, who played Chef on the riverboat mission deep into the jungle, described his own state as "almost catatonic". When he returned to the US he drank heavily and suffered blackouts.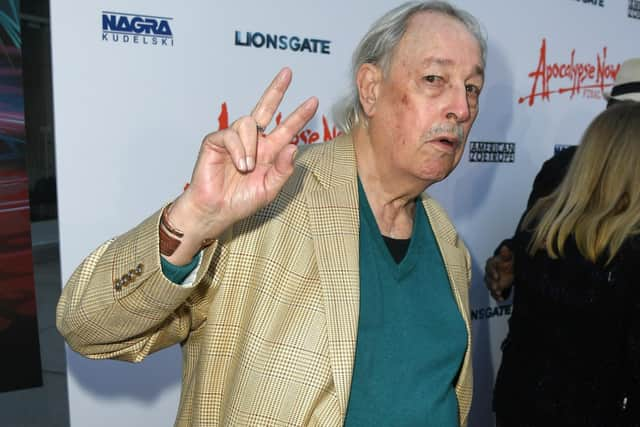 "I'd get depressed and drink," he said. "I've drunk enough to last me a lifetime."
He got an Oscar nomination the year Apocalypse Now came out, but it was for his performance as Bette Midler's chauffeur and sometime lover in The Rose. He appeared in dozens of other movies. However, it is probably with his despairing Apocalypse Now character that Forrest is most readily identified, drooping moustache, black camouflage smeared beneath his wide, staring eyes, a big tropical leaf as a hat.
He freaks out after being attacked by a tiger when he goes into the jungle for mangoes. "Never get outta the boat, never get outta the boat," he shrieks over and over again. "I didn't come here for this! I don't f***ing need it! I don't want it! I didn't get out of the goddam eighth grade for this kind of shit! All I want to do is f***ing cook! I just want to learn to f***ing cook, man!"
The film relocated Joseph Conrad's novel Heart of Darkness in Vietnam, with Sheen as a special forces assassin on the trail of Marlon Brando's crazy, renegade Colonel Kurtz and Forrest as one of the crew taking him on his mission. The film met with mixed reviews on initial release, possibly influenced by reports of a profligate production wildly out of control, but it is now widely regarded as one of the greatest films ever made.
Frederic Fenimore Forrest was born in Waxahachie, in Texas, in 1936. His father ran a furniture business, his mother was a teacher. He grew up in the countryside with summer jobs picking cotton. He would ride a horse to the local cinema, where he was enraptured by the mesmeric acting style of James Dean and Brando, with whom he would later appear in Apocalypse Now and the western The Missouri Breaks.
He had a brief stint in the army, studied film at Texas Christian University in Fort Worth and trained at the Actors Studio in New York. He began acting off-Broadway, went to Los Angeles with a stage production and decided to try to break into movies. He did indeed work as a chef, a pizza chef, before getting his big break when he was cast as a teenage Native American rodeo rider in the 1972 film When Legends Die.
Forrest was in his mid-thirties, but looked much younger. He learned to lie about his age to get work. "If I had been honest and said I was 35, they would have told me I was too old.. I had to learn to lie and ask them, 'How old do I look?' They'd tell me I looked 24 so I'd say, 'No, I'm 25,' and they'd go, 'I thought so.'"
When Legends Die secured him a Golden Globe nomination as best newcomer and he went on to play the character whose indistinctly recorded words fuel the storyline in the acclaimed Watergate-era thriller The Conversation, with Gene Hackman. It was the first of five films he made with Francis Ford Coppola.
After Apocalypse Now and his Oscar nomination for The Rose, Coppola gave him the lead role in the big-budget musical romance One From the Heart and then as the title character, the famous novelist Dashiell Hammett, in the neo-noir drama Hammett.
But both films flopped at the box office. "This is a fickle town," Forrest once said. "By the time you go down the driveway to pick up your mail, you're forgotten." Attempts to establish himself as a leading man having hit the buffers, he returned to supporting character roles and worked again in theatre and television.
He was particularly memorable as Blue Duck, the chilling villain in the television mini-series adaptation of Larry McMurtry's sprawling western novel Lonesome Dove, alongside Tommy Lee Jones and Apocalypse Now co-star Robert Duvall.
Other credits also include Tucker: The Man and His Dream, Music Box, The Two Jakes and Falling Down. His most recent film was a 2006 remake of All the King's Men. He married and divorced three times. He did not have children.
If you would like to submit an obituary (800-1000 words preferred, with jpeg image), or have a suggestion for a subject, contact [email protected]
Comments
 0 comments
Want to join the conversation? Please or to comment on this article.