David Wilson was the first National Cricket Coach for Scotland and later became President of the Scottish Cricket Union.
His love of and enthusiasm for the game was lifelong, an early school report stating:"His deep love of cricket came between David and academic distinction." While he was a decent player who claimed a career best innings of 127 with the bat and was a useful leg break bowler, it was as a coach he really made his mark. In that capacity in 1972 he joined Clackmannanshire for whom he also opened the batting, playing on into his fifties and recording a half century in one of his last matches.
Dougie Brown, well known Scottish and English international player, was one of his protégés, after coming under his wing at The Arns ground in Alloa. "David was an absolute legend in cricket throughout Scotland. He was great at bringing younger players through, full of positivity, good humour and encouragement. Thanks to him I was able through his contacts to secure a trial with Warwickshire which set up my professional career, he was pivotal to my development."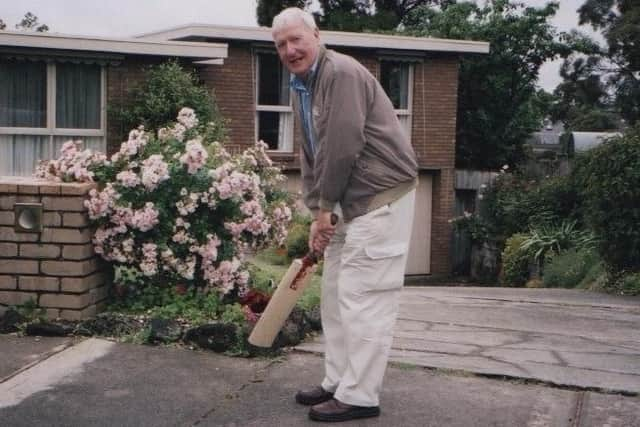 David Wilson was born in Handsworth, Birmingham to parents George and Ivy, the middle son of three, Peter the eldest and John the youngest. His father was a brewer with Mitchell and Butlers for whom he also played cricket in local leagues, having been good enough as a youngster to have represented England Schools. David attended Handsworth Grammar School where he captained the school team as his love of cricket flourished.
National Service followed, initially as a signaller with the Warwickshire regiment in Austria for a year before he volunteered to join the Leicesters in the Korean War where he went "straight into the trenches," an experience that remained with him. He joked his cricket skills saved him once when he picked up a grenade thrown towards him and threw it straight back. In 2015 the Korean government in a gesture of gratitude invited David and fellow combatants to return for what proved a memorable visit.
After National Service he went to Saltley Teacher Training College in Birmingham, leading to involvement in teaching disabled children while resuming playing cricket locally. About this time he married first wife Sheila, with whom he had a daughter Lindsay, but the couple later divorced.
He then attended Carnegie College in Leeds where he obtained a Physical Education qualification and moved to Huntingdon to teach the subject. There in 1965 he met another teacher, Susan Nicholas from Surrey, and they began going out together. In October 1971 they married in Woking and enjoyed over 50 years happy and fulfilling marriage during which they had two children, Sara and Sam.
Meanwhile David's cricket career had continued, playing an occasional game for Warwickshire 2nd XI and then for Huntingdon County Cricket club whom he captained. In addition to playing he also coached, his potential resulting in an invitation to take part in MCC coaching alongside former greats such as Bill Voce at Lord's, where he joined the MCC as country member.
In 1972 David and Sue moved to Alloa after David responded to an advertisement by Clackmannanshire for a coach with potential teaching opportunities. He became immersed in the life of the club, playing and coaching while teaching PE at local schools, Alloa Academy, Lornshill Academy and Alva Academy.
One of his initiatives was undertaking Easter coaching sessions at Largs while the Sports Council sponsored him to travel throughout Scotland hosting sessions as his abilities as a coach became widely recognised.
David's personal qualities fed into his success as a coach. An excellent communicator, he enjoyed a good sense of humour, was kind and gentle and possessed considerable technical knowledge. He was skilled at 'teaching teachers' and while he liked to win, he always sought to do so in the proper spirit.
In 1979 he was appointed the country's first National Cricket Coach following interview at Lord's, a full-time post. Among his wide responsibilities he coached the Scottish Colts and Scottish Junior Colts sides in matches against English and Welsh teams and oversaw national coaching strategy. In 1985 he was instrumental in setting up a bi-centennial re enactment of the first noted cricket match in Scotland, in 1785 between the Duke of Atholl's XI and Colonel Talbot's XI, with the teams appearing in period costume at the commemoration held at its original venue at Schaw Park, Alloa. During his 13 years at the helm, which he thoroughly enjoyed, he made significant contribution to the sport here and although fully occupied, managed to play the odd game of golf at Muckhart.
Thereafter he coached for a spell at Hong Kong Cricket Club where his team beat Pakistan, the top ranked side, in a World Cricket '7's' Tournament, before later coaching two seasons at Esbjerg, Denmark. In 2000 he was honoured to be appointed President of the Scottish Cricket Union, reflecting the esteem and affection in which he was held, a busy year including a tour to Zimbabwe alongside a variety of engagements.
His interest in cricket continued and latterly he was gratified to be able to attend Test matches at Lord's to sit in 'Death Row,' the best view at the front, so called affectionately because of its occupants' age.
David was very much a 'fun person' who delighted in jokes and had a fund of amusing anecdotes. He was also a dog lover and enjoyed pub quizzes, wine, and barbeques, especially with accompanying fireworks.
David is survived by his wife, children and grandchildren Emma, Lucy and Matthew.
If you would like to submit an obituary (800-1000 words preferred, with jpeg image), or have a suggestion for a subject, contact [email protected]