Obituaries: David Jones, leading British sprinter who enjoyed trophy-laden career
David Jones, athlete. Born: 11 March, 1940 in Hertfordshire. Died: 1 June, 2023 in Majorca, aged 83
David Jones was a leading British sprinter who at his best was on the verge of world class. Had it not been for injury which was largely responsible for cutting short his career at only 26, he may well have attained that status. A top-class performer over the shorter 100yds/m sprint, he shone particularly over the longer 220yds/m, first attracting headlines when as a 19-year-old he won the event in a high-quality field at the prestigious British Games in 1959 at London's White City stadium.
That was followed later that summer by the first of four successes in the Amateur Athletics Association Championships (British Championships) at the event and the first of many international vests for Britain in his debut against West Germany, when he also won.
The many honours collected in a trophy-laden career included an Olympic bronze medal in the 1960 sprint relay, European and Commonwealth Games bronze medals in the sprint relay in 1962 and a silver medal in the 200m in the same Commonwealth Games, a World Best Performance over 150 yds. In 1961 he secured a share in several British relay records and in a World Record for the sprint relay round two bends in 1963 when his team defeated the United States.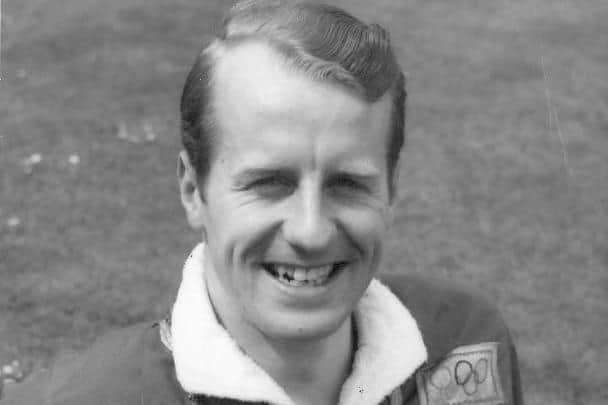 He also competed successfully at Murrayfield in the Edinburgh Highland Games which regularly attracted world-class fields of athletes and big crowds. Between 1959 and '63 he ran four times enjoying several wins at 100yds, equalling the Games Record in 1960 and also broke the old 300 yds record finishing in second place.
His high sporting profile was recognised by the boys' comic, the Victor, when in 1961 it devoted a double page spread on his career entitled "One of Britain's fastest men on two feet!".
David Henry Jones was born at Brookman's Park, Hertfordshire where he grew up during the war, his family having a narrow escape after a bomb fell in their front garden. They moved when he was aged eight to Dunmow in Essex, where his parents ran a farm with young David helping out in various tasks in the dairy operation.
After attending Orwell Park Prep, Ipswich, in 1954 he went to a public school, Felsted, in Essex where he boarded in Follyfield House. He participated in a number of sports, excelling particularly at hockey and athletics. After initially trying distance running, it became clear sprinting was his forte and in 1957, his final year, he won a first major title, the All England Schools sprint.
After leaving, he initially worked as a trainee brewer before later joining leading sportswear companies, Puma and Adidas. He continued playing hockey in the winter months for Surbiton club and in summer competed for the well known Essex club, Woodford Green. David was a very talented hockey player, many being of the opinion that had he specialised in it, he could have reached international standard. Later he was president of the 'Ghost Hockey Club', a touring outfit which also hosted matches against similar clubs visiting Britain.
Meanwhile on the track under the guidance of coach Ron Bowden, his development progressed to his breakthrough at national level in 1959. That year marked the first of three consecutive A.A.A.'s 220 yds wins, the first athlete to do so, his 1961 win adjudged in a photo finish over Scottish sprinter Mike Hildrey. He was second in 1962 before regaining the title in 1963. He also placed second and third in the 100 in the 1960 and '61 Championships.
Aged 20 he was selected for the Rome Olympics in 1960 where he ran in the 100m, the 200m and the sprint relay, reaching the quarter final in the 200 and the semi in the 100. He was unfortunate not to qualify for the latter final, being up against the later gold and silver medallists and two joint holders of the world record. As it was, it required a controversial photo finish to award the verdict in favour of American world record holder, Ray Norton. The relay team actually finished fourth but were upgraded to third after the United States' disqualification for a faulty changeover.
In 1961 his sprint times accorded him the mantle of 'Europe's fastest man' while a year later he won gold for England in the sprint relay at the 1962 Commonwealth Games in Perth, Australia, also earning a silver in the 200ms. At the European Championships that year in Belgrade he was part of the British team that won bronze in the sprint relay while finishing 5th in the 200ms. in the same time as 4th place.
A year later he played a crucial role in the celebrated British sprint relay victory over the world's best, the Americans, at London's White City. In what was described as a 'technically perfect' handover, he passed the baton to teammate Berwyn Jones on the last leg for him to squeeze home against the world's fastest man, Bob Hayes, and equal the world record. One press report referred to this as "An indignity without parallel in American sprinting history".
Injury problems meant he missed the 1964 Olympics with continuing Achilles difficulties contributing to his retirement from international athletics in 1966. At 5ft 10in tall and weighing 12.5 stones, he was a powerful sprinter, one considered a 'fierce and single minded competitor'. He later did some commentating and media work in athletics.
In 1968 he married Maggie Guild with whom he had a daughter in 1974 but they divorced in 1976. In 1981 he married Liz Earnshaw and after regular holidays in Majorca settled there in retirement in 2003, living in San Telmo.
If you would like to submit an obituary (800-1000 words preferred, with jpeg image), or have a suggestion for a subject, contact [email protected]