Obituaries: Alan Arkin, Oscar-winning star of Catch-22 and Little Miss Sunshine
Alan Arkin, actor. Born: 26 March, 1934 in New York City. Died: 29 June 2023 in San Marcos, California, aged 89
Alan Arkin played a string of eccentric, manic and curmudgeonly film characters from Yossarian, the despairing airman who is trying to get himself certified insane, in the 1970 film of Catch-22, to the drug-snorting, sex-mad, foul-mouthed Grandpa Hoover in Little Miss Sunshine 36 years later. And it was Grandpa Hoover with whom Arkin claimed the greatest affinity.
It was this role in the 2006 comedy-drama that finally won Arkin an Oscar 40 years after his first nomination as the befuddled Soviet submarine commander, stranded in Nantucket, in The Russians are Coming, The Russians are Coming. He secured a second nomination a few years later as a deaf-mute man who befriends his landlady's awkward teenage daughter in the haunting drama The Heart is a Lonely Hunter.
It was a long wait for the statuette and Arkin won against the odds, for Eddie Murphy had been favourite for the best supporting actor award that year for a serious acting role in Dreamgirls. Murphy made sure that the category got plenty of coverage in the press next day by walking out mid-show.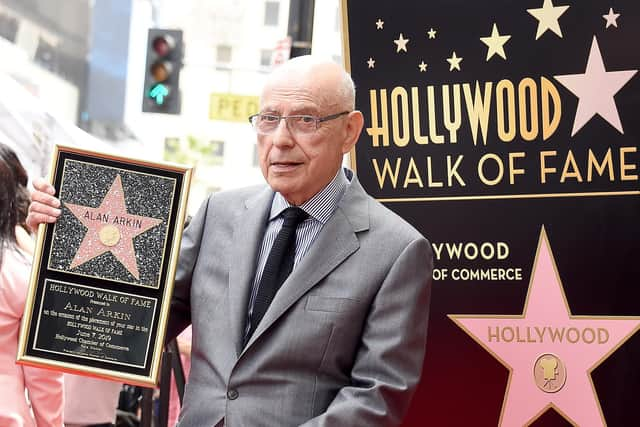 Little Miss Sunshine, in which three generations of a dysfunctional family set off on a road trip to a beauty pageant, did lose out to Dreamgirls in the best supporting actress category, when Jennifer Hudson got the nod over Arkin's precocious ten-year-old co-star Abigail Breslin.
Not that Arkin would have minded, as he had already told journalists that Breslin had had quite enough attention and did not deserve the Academy Award that he waited an entire career to pick up. "What, next year she is going to get the Nobel Prize?" he said, insisting he was not joking.
But there was more to both the actor and the man than a series of variations on Mister Angry. He wrote children's books, was a noted photographer and sang and as a young man he played guitar with The Tarriers, a folk group who had a Top Ten hit on both sides of the Atlantic in the mid-1950s with their version of the Banana Boat Songs.
He was born Alan Wolf Arkin in Brooklyn, New York, in 1934, into a Jewish family, with recent roots in Central and Eastern Europe. Arkin grew up in a creative, liberal environment. His father was a painter and writer, his uncle was a composer and Woody Guthrie and Paul Robeson were regular visitors. His father frequently took him to the movies and Arkin decided he wanted to be an actor at an early age.
The family moved to Los Angeles when Arkin was 11. His father worked as a teacher and had hoped to get employment as a set designer, but was blacklisted in the notorious McCarthy witch-hunts.
Arkin got a scholarship to Bennington College in Vermont, but dropped out to play with The Tarriers. After leaving the group, he joined the famous Second City improvisational comedy troupe in Chicago, made his Broadway debut in a Second City revue in 1961, won a Tony award for his performance in the comedy Enter Laughing (1963-64) and made an auspicious debut as a film actor in The Russians are Coming, The Russians are Coming (though The Tarriers had appeared in Calypso Heat Wave six years earlier in 1957).
In 1966 he directed the little-known Dustin Hoffman as a cockney nightwatchman in an off-Broadway production of the comedy Eh?. It was at Arkin's invitation that director Mike Nichols came to see the play, a visit that would result in Hoffman being cast in his breakthrough role in The Graduate.
On the big screen Arkin played a psychotic villain menacing Audrey Hepburn in Wait Until Dark and succeeded Peter Sellers in the third of the Pink Panther films Inspector Clouseau, but it was not a great success and Sellers subsequently returned to the role.
The 1970s provided some of Arkin's best and most memorable roles, including the lecherous restaurateur in Last of the Red Hot Lovers, a San Francisco cop causing havoc in Freebie and the Bean, the dim-witted driving instructor kidnapped by two women in Rafferty and the Gold Dust Twins and Sigmund Freud to Nicol Williamson's Sherlock Holmes and Robert Duvall's Watson in The Seven-Per-Cent Solution.
Occasionally Arkin also directed films. Little Murders is one of the blackest comedies ever made. Elliott Gould plays a photographer so disillusioned with life that he begins to specialise in pictures of excrement and finds himself subject to new levels of acclaim. The film ends with Gould shooting passers-by.
It made little impression at the time, but benefited from critical reappraisal and featured in Edinburgh Film Festival's retrospective of neglected 1970s classics in 2006. It owes more to Bunuel and European nihilism than to Hollywood traditions and it perhaps underlined how little Arkin seemed to care about the Hollywood mainstream and commercial success.
On Broadway he directed the original production of The Sunshine Boys, which subsequently became a hit film, with Walter Mattahau and George Burns.
His film career dipped in the 1980s, but he bounced back in 1992 as one of the desperate real-estate salesmen, alongside Al Pacino, Jack Lemmon, Ed Harris and Kevin Spacey, in David Mamet's Glengarry Glen Ross, nicknamed Death of a F***ing Salesman by the actors on account of the swearing.
Throughout the 1990s he remained in demand for character roles, appearing in Edward Scissorhands, Grosse Point Blank, Gattaca and Jakob the Liar, although he distanced himself physically from the movie industry, making his home in New Mexico. He told Time magazine that the state had a type of fried doughnut that you could not buy anywhere else, and that many people moved there for the doughnuts.
In the 2010s Arkin got another Oscar nomination for playing the film producer in Argo who is supposedly scouting locations for a sci-fi movie in Iran, but is really setting up a daring international rescue during the Iran hostage crisis.
He was married three times and is survived by his third wife Suzanne Newlander, a psychotherapist whose surname he borrowed for his role as a talent agent in the hit Netflix series The Kominsky Method, and by three sons, all of whom followed him into acting.
If you would like to submit an obituary (800-1000 words preferred, with jpeg image), or have a suggestion for a subject, contact [email protected]