North of Scotland to welcome record number of medical students in 2023
NHS Grampian, NHS Highland and the University of Aberdeen are to welcome almost 300 undergraduate medicine students in September 2023.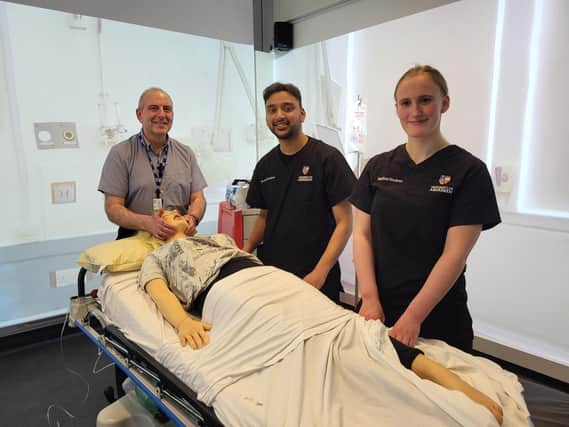 The university's medical programme was voted top in the UK for student satisfaction by final year students last year, who spend their two final academic years of study in clinical practice in hospital and general practice settings across NHS Grampian and NHS Highland.
As part of an ongoing commitment by the Scottish Government to expand medical student numbers and increase the future medical workforce, the number of students coming to Aberdeen has been increasing over a five-year period.
All five medical schools in Scotland have had their intake expectations increased by another 15 – 20 places for 2023. In 2018 the intake target for Aberdeen was 178, and with ongoing increases the target for 2023 is 296 new students entering Year 1 of the Aberdeen MBChB programme.
Professor Siladitya Bhattacharya, Head of School of Medicine, Medical Sciences & Nutrition at the University of Aberdeen commented: "The excellent feedback from our final year students represents a hugely positive reflection on the clinical learning experience provided by NHS Grampian and NHS Highland. We would like to acknowledge and thank colleagues for our strong partnership as we welcome many more students onto the programme."
During their first three years of study, medical students benefit from a wide range of clinical attachments delivered at hospitals across NHS Grampian's Foresterhill Health Campus, which remains the largest teaching hospital campus in Europe. In year 4, all students complete at least one of seven placements in Inverness and many will select the 'Remote and Rural' option which allows them to spend the whole academic year in Inverness. The final year of study sees students complete at least one clinical attachment in either Inverness, Elgin or further afield in Shetland, Orkney or the Western Isles, as well as those completed in Aberdeen.
NHS Grampian Medical Director, Nick Fluck, added: "We are pleased to support the excellent student experience enjoyed by those learning in our healthcare settings. Training the next generation of doctors is a core part of our work and we look forward to welcoming many more new faces to our highly committed teams.
"Students share fresh perspectives and inspiration, and help us to deliver high standards of service to people in our care. We hope students become our future colleagues, and we are keen to ensure they want to stay and work in the area."
The university medical school also continues to develop outreach work supporting medical student applications from a wide range of backgrounds. The Gateway2Medicine is a one-year programme which has also received continued support from the Scottish Government. It is designed to encourage students, who may not have had the same learning opportunities, to meet advertised entry requirements for medicine. This includes applicants from rural or remote areas and upon successful completion of the course students have the opportunity to progress into the five-year MBChB programme.