North-east Rotary Clubs sell milestone ticket for annual car raffle
The Rotary Clubs of Aberdeen and North-east Scotland have sold their one millionth ticket for their annual car raffle since launching the event 23 years ago, with this year's proceeds going towards Charlie House and other local good causes.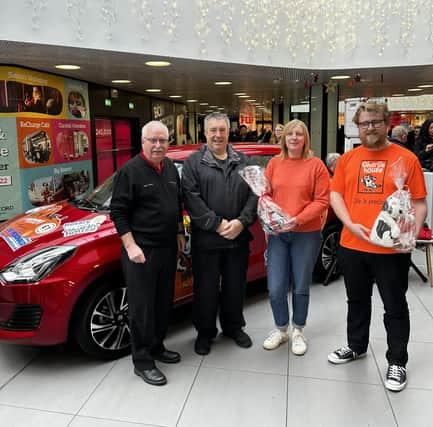 Gordon Arthur Irvine from Shetland purchased the milestone ticket on Saturday, November 4 at the Bon Accord Centre. Receiving a reward to mark the occasion, Gordon took home a bottle of Moet & Chandon Champagne from Rotary Club team members, a bottle of prosecco and Charlie Dog merchandise from primary benefiting charity, Charlie House and a hamper from C&M McDonald - the local car dealer generously supplying this year's Suzuki Swift prize.
With the 2023 winner's draw taking place on Christmas Eve, Gordon is now one of many people in with the chance of winning the brand new car, and there's still time for other members of the public to take part as tickets are available up until the 2pm draw on December 24.
Organised in partnership with Bon Accord Aberdeen and C&M McDonald, tickets cost just £1 and the total funds will be distributed between local good causes. As the primary benefiting charity, the majority share will go towards Charlie House's Big Build Appeal, an initiative to develop a dedicated support centre for children and babies with life-limiting or life-threatening conditions and their families.
Alan Pirie, chairman of the organising committee said: "Each year we look forward to hosting the car raffle, but this time it's even more exciting than usual.
"Selling our millionth ticket is a huge milestone because it means we have sold more than £1 million worth of tickets since we started these raffles more than two decades ago, and that incredible sum of money has gone towards supporting many local good causes and charities in the area.
"The success of this initiative is down to the hard work of the members of all the participating Rotary Clubs, the organisations that have partnered with us throughout this time and the general public for taking part. On behalf of all the Rotary Clubs in the region, we thank you for your generosity." 

This year marks the fourth time the raffle has supported Charlie House, with last year's competition raising an incredible £33,500 for the charity.
Ollie Middleton, fundraising team lead at Charlie House said: "We're extremely grateful to The Rotary Clubs of Aberdeen and North-east for partnering with us again this year.
"This event is the perfect form of accessible fundraising thanks to its affordable ticket prices and it has also significantly boosted our Big Build Appeal's fundraising total over the years, helping us edge ever closer to building a vital facility for families!
"In addition to the Rotary Clubs, we'd like to extend a huge thank you to Bon Accord Aberdeen for providing us retail space to promote the raffle, and to C&M McDonald for supplying such an incredible prize for entrants."
To be in for the chance of winning the Suzuki Swift, courtesy of C&M McDonald, tickets are available to purchase from ReCHarge Cafe, Curated Local Makers Market and at kiosks manned by Rotary Club team members, all of which are located within the Bon Accord Centre. Additionally, tickets can also be purchased at Charlie House's head office at 74 Carden Place.
For more information on the Rotary Clubs' annual car raffle, visit: www.charliehouse.org.uk/events/rotary-club-car-raffle