NFU Scotland vice-president role for Ythanbank farmer
Highland Perthshire farmer Martin Kennedy was elected unchallenged for the position of President of NFU Scotland at the Union's council meeting in Glasgow last Friday.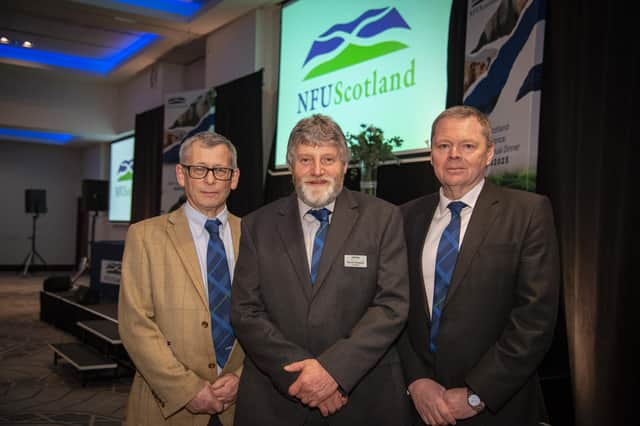 Mr Kennedy has served as President for the past two years and has been re-elected to the post of President for a further two-year term.
Three nominations for the two Vice-Presidential posts were received.
Following a vote by members of NFU Scotland's Council, Andrew Connon, North Quilquox, Ythanbank and Alasdair Macnab, Kildun Farm, Dingwall, Ross-shire were elected.
Andrew farms near Ellon running a small commercial sheep flock whilst also doing some local contract work on a beef and arable unit, working with the Online Market Places SellMyLivestock and Graindex, and is a Director of Livestock Health Scotland.
He is a long-standing member of NFU Scotland New Deer Branch and a former Branch Chair. He represented the North East Regional Board for several years, elected Vice-Chair (2017) and Chair (2020).
In February 2021, Andrew was elected NFU Scotland Vice-President and currently sits on the following committees: ELU, Combinable Crops, Horticulture, Potatoes, LFA, Crofting, Milk, Finance and Renumeration.
Mr Kennedy said: "It is an immense privilege to be asked to serve NFU Scotland as President again, a role I have enjoyed immensely over the past two very difficult years where we have had to deal with a myriad of challenges from global to local spectrums.
"I congratulate Andrew and Alasdair and thank Robin sincerely for the hard work and dedication he has shown to Scottish farming and crofting in the past two years.
Our membership has bestowed on myself, Andrew and Alasdair a huge honour at a time when the changes, challenges and opportunities facing Scottish farmers and crofters have never been so immense.
"These will be incredibly busy and significant times for the Union as we strive to secure a sustainable, profitable future for Scottish agriculture.
"As a new look top team we will remain fully committed to driving forward the work NFU Scotland is doing on behalf of more than 9200 members across Scotland.