Local support group Dads Rock has launched a new service, Dads Talk sessions, to tackle growing concerns about mental health.
Founder Thomas Lynch, a father-of-two from Edinburgh who struggled with his own mental health under current restrictions, said lockdown has hit parents hard. And he has found it can be particularly difficult for new fathers.
It comes as new research out this week revealed sixty nine per cent of dads in Scotland said their mental health had deteriorated in the last few months.
The survey from Fathers Network Scotland, who piloted the country's first project training midwives to talk to dads about their mental health, asked dads across the country how they have been coping over last few months.
Results revealed the number of dads who rated their mental health as bad or very bad shot up by 14 per cent, compared to the last lockdown.
Experts said the most startling change was that over a quarter of dads reported their relationship with their partner had got worse, while 22 per cent said their relationship with their children had been negatively affected – double the number since 2020.
Dads with kids age 2 and under or 9-12 were hardest hit, according to the findings as over half of dads said they found juggling work and family life a challenge.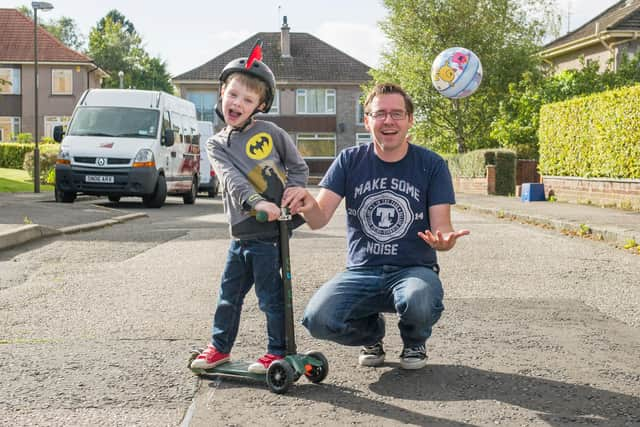 Mr Lynch, 47, started local charity Dads Rock nine years ago to provide a place for dads to have fun with their children and meet other parents after me noticed a distinct lack of services for fathers.
He said: "We have had a lot more phone calls and emails from dads who have had babies in the last year and need support. Prior to lockdown new dads didn't usually contact us but we've had phone calls from people all over Scotland looking for help.
"There is a definite increase in isolation for new parents which is quite a worry, we are concerned about some of our dad's mental health."
Dads Talk sessions run for one hour every week and aim to provide a safe space for new and expectant fathers to meet and speak to others in the same situation.
The virtual service has been running for five weeks and Mr Lynch said the conversations have been "very interesting".
"One dad spoke about birth trauma. Others spoke about not getting enough sleep and how they are managing to juggle work with children.
"I think there is a misconception that men don't talk to each other – but the sessions show that if they are given a space they will talk."
My Lynch added that many of the fathers he has worked with over the years struggle with the pressure of becoming a dad and worry that they wont be up to the task.
He said: "There is an expectation when you become a dad, you have to be the solid dependable rock. This makes it hard to be open and say you don't know what you are doing or admit when you don't feel good.
"This pressure is put on my the dad's themselves but also by other people telling dad's they have to hold it together to get through.
"This expectation has increased during the pandemic. Lockdown has been hard on everyone, all parents and especially mums but looking at what's happened to dads we can see that it's also been tough on many fathers."
Lockdown has taken a toll on Mr Lynch's own mental health and he said he has struggled to get used to life under latest lockdown.
He said: "I've had good days but I have also had really bad, really tough days because of the uncertainty of how we are living at the moment.
"We are lucky to have a garden but it still feels very restrictive, especially when you are working from home and home schooling. And I have felt guilty about asking my four-year-old to leave me alone while I am trying to work, it's a real mixture of emotions."
But he feels lockdown has been particularly hard on new dads.
He said: "A lot of the spaces that new dads can meet, speak and share information are gone and we have no idea when it will be coming back."
A new father who has been feeling the impact of this isolation is Ben Ernsten-Birns, 45, from Craigentinny.
Mr Ernsten-Birns's son Szymon is now seven months old and was born during the height of the pandemic.
Worry about his son's development due to lack of social interaction has added extra anxiety to the already daunting task of parenting.
Although Mr Ernsten-Birns, who describes himself as an introvert, thinks he is 'managing' without regular social contact he has noticed feeling more lethargic and stressed since the pandemic began.
He said he's been unable to keep up with his sport clubs and started to put weight on. Recognising he needed more support the IT professional started attending Dads Talk sessions and said it has been helpful to speak to other new dads.
Chris Miezitis, Co-Director of Fathers Network Scotland said: "It's significant that dads want spend more time with their kids. That's a positive from the lockdown, an open door to make changes in future. But there's a stark difference in the number of dads saying their mental health is worse. We don't yet know the long term effects on kids and there's still a lack of available services. While there's a strong movement of men supporting men through groups like Dads Rock, we need schools, midwives, services proactively talking to dads about mental health. Surveys like this support our calls for introduction of universal screening in Scotland for partners as well as for mums in that crucial first two years after babies are born."
A message from the Editor:Thank you for reading this article. We're more reliant on your support than ever as the shift in consumer habits brought about by coronavirus impacts our advertisers.If you haven't already, please consider supporting our trusted, fact-checked journalism by taking out a digital subscription.