New kerbside waste and recycling strategy to roll out into Kincardine and Mearns
New orange-lid bins will be making their way to households in Kincardine & Mearns from April 17 in preparation for changes to kerbside collections rolling out across Aberdeenshire.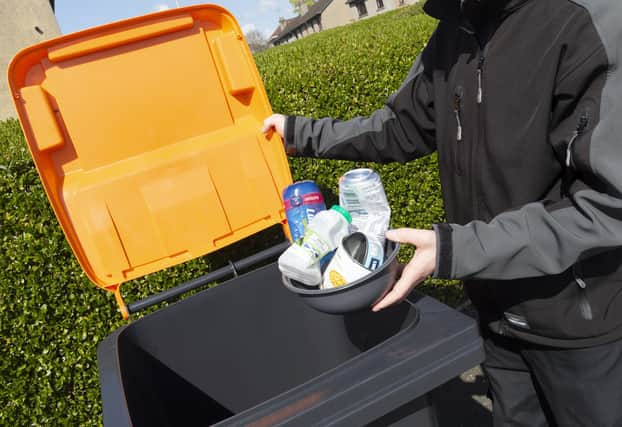 Kincardine & Mearns is the first area for the full rollout of a new kerbside collection cycle. Once all households in the area have their new bins, Kincardine & Mearns will be switched to three weekly collections to improve recycling capture and quality.
To progress the new three weekly waste strategy in alignment with Scotland's Charter for Household Recycling, Aberdeenshire Council welcomed £3.5 million in funding from the Scottish Government's Recycling Improvement Fund.
Households in Kincardine & Mearns should keep an eye out for a letter that includes a new service booklet. It will have everything residents need to know about the changes, including a schedule for when residents can start using their new orange-lid bin.
To better match the materials typically passing through kerbside collections, every household will have three different bin types, with one being emptied each week across a three-week cycle. In no particular order, those bin types are:
Non-recyclable waste bin (240l), also known as the refuse bin
The new orange-lidded bin (180l) for tins, cans, foil, aerosols, food and drinks cartons as well as plastic bottles, pots, tubs, and trays.
Blue-lidded recycling bin (240l), will then be used for paper, card, and cardboard only
The new three-weekly collection strategy will not change food waste and battery collections for households, which will continue to be collected on all weeks of the cycle. Food waste caddies and liners, along with battery recycling bags can be collected for free from your local recycling centre or service point.
Trade customers in Kincardine & Mearns will also receive a letter making them aware of when they can expect delivery of their new orange lid bins as well as a flyer outlining in detail the materials that go in each bin. Further correspondence regarding collection days for the three streams will be sent to each individual trade customer prior to the rollout starting.
A series of community events will be hosted in each area as the new bins roll out so that residents can ask questions or learn more about the new service in person.
For Kincardine & Mearns, residents can attend community events at:
Stonehaven Library on Tuesday 11 April, from 3pm to 6pm,
Laurencekirk Library on Thursday 13 April, from 3pm to 6pm, and
Portlethen Library on Thursday 20 April, from 3pm to 6pm.
In addition, local community groups who are organising functions or events of their own can request a community waste officer to attend to further inform about the changes. To request a community waste officer, contact [email protected].
The council's A-to-Z waste guide has been updated to include the new orange-lid bins and shows which typical household items can go into each household bin. It can be found via the myAberdeenshire app or the council's website: online.aberdeenshire.gov.uk/waste/AtoZ
Mindful that not everybody can accommodate an extra bin, the council will be working with communities to provide suitable alternatives, such as smaller or shared bins or bag collections. Equally, those who are excellent recyclers and have the space can request additional recycling bins for free if they need more capacity.
Large families, those with medical needs, or with two or more babies in nappies can apply for additional refuse capacity as long as they can demonstrate a thorough use of the recycling services available to them, including the food waste caddy.
Moving bin collections to the new three-weekly cycle aligns with the Charter for Household Recycling in Scotland and makes the service fit for future policy changes. The charter seeks to maximise capture rates and create greater value from recycling by improving the quality of the resources produced from waste streams for local and national benefit.
In addition to the environmental benefits of the new collection cycle, the council could save up to £765,000 every year as result of segregating paper and cardboard. Encouraging more recycling in this way reduces disposal costs, which have been increasing steadily over recent years. That resource could then be better spent on improving local services.
Once the scheduled households Kincardine & Mearns have been fully switched to the new three weekly cycle near the end of May, orange lid bins will begin to be delivered to households in South Deeside and the surrounding area for the second stage of the rollout.
Chair of the council's Infrastructure Services Committee Councillor John Crawley said: "By recycling more, we do our part to protect the environment. Recycling helps to conserve natural resources, returning them to us to be made into something new, rather than wasting energy to extract and process more raw materials.
"These changes will support households to improve the quality of their recycling by separating more of what we already collect into a new bin, reducing contamination and encouraging everyone in the region to recycle as much as they can."
Vice-chair Councillor Isobel Davidson said: "We know from analysis that refuse bins in Aberdeenshire generally contain more recyclable material than not, and much of that can be recycled from the kerbside already. To help, we're increasing the average weekly recycling capacity for households and restricting non-recyclable waste to encourage more recycling.
"As with any change in service, there will be a period of getting used to the new system, but if we form the habit and encourage each other to not let recycling go to waste, we can all help to create a healthier environment for ourselves and future generations."